Since the dawn of time, Geneva has been a multi-cultural melting pot. Be it for business, a romantic getaway or a longer stay, the city is renown for its hospitality and knows how to entertain. 1851 marks the beginning of the story of the Bristol Geneva, a plush, elegant hotel of subtle British charm. It is home to Côté Square, a gourmet restaurant. We had the pleasure to participate in its grand opening a couple of years ago and to meet Head Chef Bruno Marchal and his team. This summer, we returned to the Bristol for a two day stay during which we got to (re-)discover Geneva.
Built on the location of old fortifications, the prestige of the institutions enthroned on the rue du Mont-Blanc reflects on the Bristol Geneva, too. Proud of its privileged location, it adorns the historic centre of the city for over 160 years. Classified as a four stars (superior), this centennial hotel stands to make a historic and authentic impression.
At the heart of Geneva, wrapped in soft quietude just a few steps from the lake, a sumptuous decor welcomes you as a guest, with a mix of historic elegance and modern commodities. 100 large and light filled rooms emanate a discrete and warm hospitality. State of the art, a piano bar offers sweet melodies, whereas the wellness area muscles up to give a new meaning to the definition of relaxation. A fitness room, and a wellness area with chromo therapy, whirlpool, steam room, bio sauna and Finnish sauna are all focused on your well-being.
The charm and welcoming atmosphere that reigns at Bristol Geneva translates also into its restaurant Côté Square. Be it for a restorative bite between tasks on a busy day or to truly indulge and enjoy an extensive dinner: the menu at restaurant Côté Square is sure to whet your appetite. Bruno Marchal's inventive and creative menu favours fresh, local produce and stands for authenticity, quality and simplicity. He is a true virtuoso in the kitchen and develops each dish with a scholarly reflection. With great care and attention to detail he chooses only the best ingredients. His aim is to make haute cuisine more accessible: simply good food, authentic flavours and savoury dishes made with fresh seasonal products from local providers.
Part of the experience that was created for the opening of Coté Square was a special cooking class with Bruno. An unforgettable moment with lots of insights, tips and tricks. Thereafter, we proceeded to dinner. As starter, we enjoyed a parsnip soup with truffle, and then headed towards the orient with the tastes of cod and crabmeat, dipped in coconut milk that was infused with lemongrass. The main course consisted of savoury roasted lamb fillets accompanied by polenta cakes and eggplant caviar.
To cleanse the palate we were served a duo of currants and quince, with a red fruit coulis. The dessert was as spectacular! Beautiful colours, both sour and sweet notes: a crisp apricot tart with thyme, accompanied by an apricot mousse and sorbet – a moment of pure delight. What range of flavours! This is unequivocally one of the best tables in Geneva. Add to this Champagne Deutz – and you have a perfect night! We did that this time, too, respecting all the Corona measures, of course!
What to do and see in Geneva: tips for a two-day stay
We are quite often in Geneva for events, press conferences and such but this time, we really went to explore the city from a different angle. Corona left its traces in the city of Calvin like on any other, of course. Just before we went the security measures were reinforced: masks obligatory in all public transport, restaurants, hotels and shops as well. All nightclubs were closed as well to keep the pandemic under control. Nevertheless, there is plenty to do for every taste and every budget!
Together with local businesses, Geneva Tourism created some great packages and deals to revive the economy. Booking a getaway to Geneva is really attractive right now.
There is an offer called Geneva Box, for example, where you can book a hotel plus an activity for a much reduced price. That was the deal we got! With the booking at Hotel Bristol which is a 4-star superior, you get a choice of activities. We did several as we had a Geneva City Pass as well. That alone gives you the choice of about 50 different activities. In combination with the Public Transport we got from our hotel it was seamless getting around and composing an itinerary for the 2 days.
The day of arrival, we just had afterwork drinks at the piano bar at Hotel Bristol, followed by a wonderful gourmet dinner at the end of which we got to exchange a couple of words with the Head Chef Bruno Marchal. In the morning after breakfast, we went to our first activity: a watchmaking workshop with Initium. That is a great initiative by a collective of young entrepreneurs from the watchmaking industry aiming at preserving and transmitting the craft of Swiss watchmaking.
There are different classes that you can book, depending on the time and budget you have available. Some let you leave with your own bespoke watch. In any case, you will get to try your hand at dismantling and reassembling a watch movement and get an appreciation of how tiny the pieces are of which it is composed.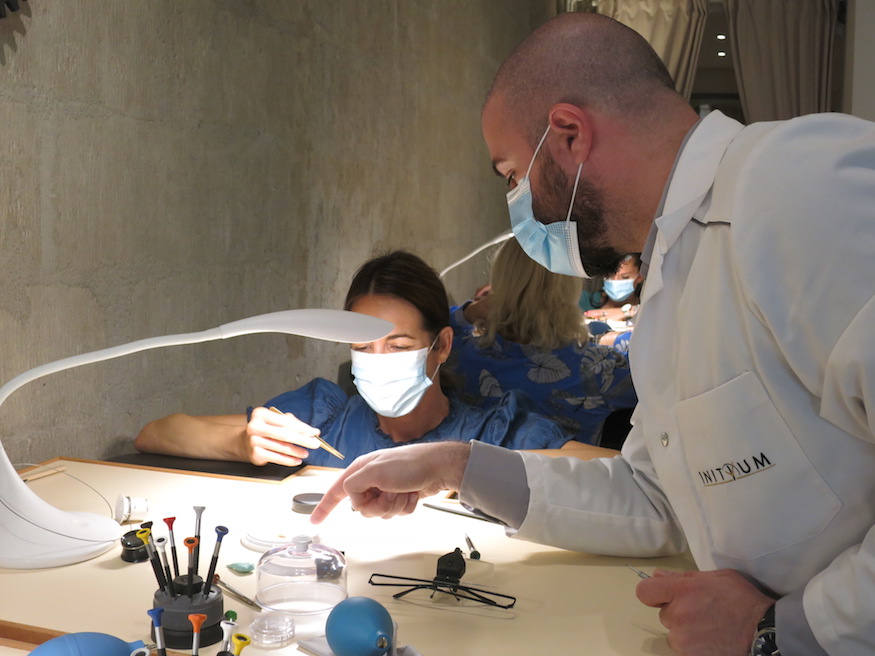 Feeling a bit peckish after that we stopped at Street Gourmet which is not too far away. They have fantastic street food inspired dishes: Lebanese Mezze, burgers, poke bowls and more! All is fresh and homemade, with no additives. We can really recommend the place. In fact, there are two shops in Geneva – 10 rue du Prince and 6 rue de la Terrassière, as well  as two pick-up points at  1 rue de la Monnaie and 3 rue des Corps-Sains. We have been at the one in rue du Prince and even got a spot on the little terrace!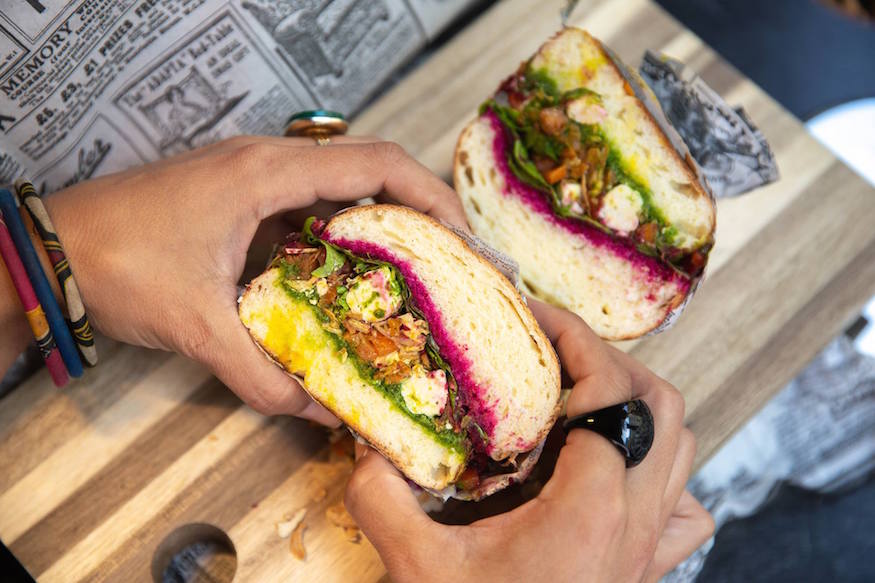 After lunch, we headed back to Rue du Rhone for a chocolate workshop at Sweetzerland Chocolatier just opposite Bristol Geneva. Guests of the hotel get 10% discount there, which is a sweet deal at any season, but Christmas is calling… so that's just a tip for you! Sweetzerland offers the finest of Swiss chocolate: only the best ingredients like double crème de Gruyère and pistachios from the Etna region, exceptional flavours and ancient artisanal techniques. The collections are developed by Master Chocolatier Elena and none of Sweetzerland's chocolates will ever contain hydrogenated vegetable fats, preservatives, or palm oil.

A quick fresh up at the hotel before heading back out again to take full advantage of our Geneva Pass: a boat ride on the lake – we took the Geneva Tour which was gorgeous and so relaxing, one hour of pure bliss! – followed by the rental of a pedal boat to watch the sun set over Lake Geneva. Then we had some spare time before dinner which was booked at half past nine. We walked along the lake and towards our dinner spot. For the aperitif we stopped at Blacktap to share a burger and shakes. The portions are more than generous and the shakes, like their name suggests, are CRAZY!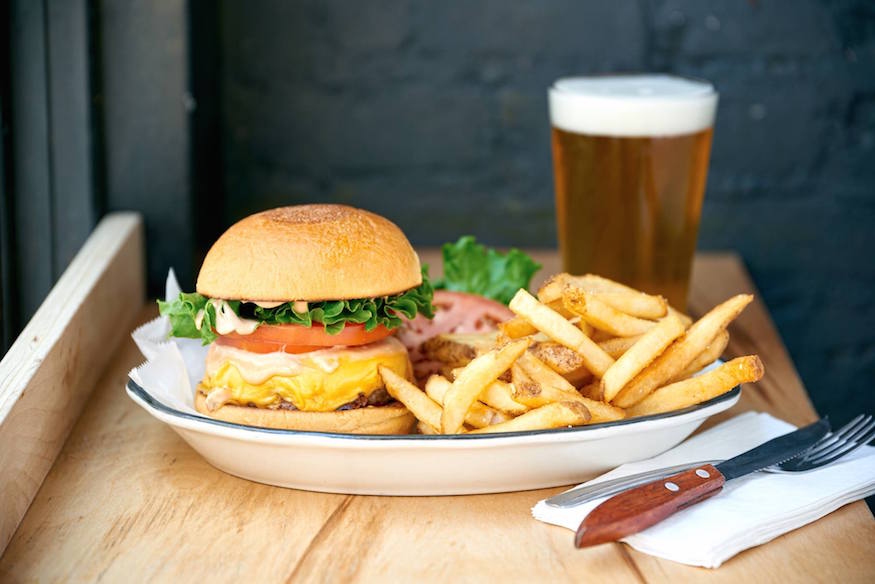 Dinner was at KHORA, a lovely greek restaurant. We had a fantastic time there with craft cocktails and fabulously authentic Greek food. In times where we cannot travel so much, it is great to find the flavours of our most beloved destinations at home. Walking back to the hotel after this feast was a great idea! Not just to burn calories but also to admire Geneva by night!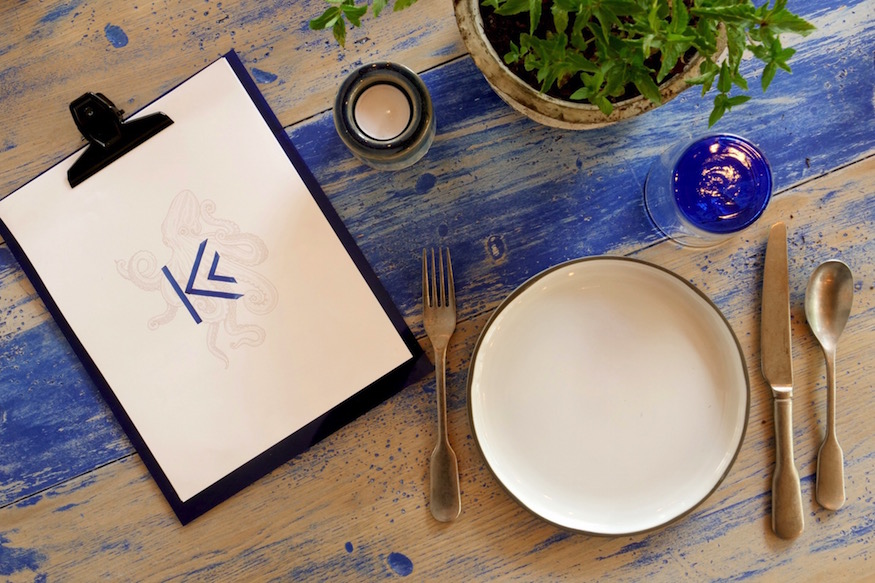 In the morning, the Bristol had organised something very special for us: an initiation class to Tai Chi. If you have not tried this before, we can truly recommend it. Tai Chi is a martial art that is directed more at defence than attack and consists of very slow, precise movements. So you are very concentrated for a couple of hours and you move in away that strengthens your muscles and mind without being too heavy on the joints. Felt really great after!
For lunch we went to Mama Thai, a new restaurant/take out in Carouge. My goodness, these flavours! It really is the Mama of one of the three founders who is cooking traditional dishes like she would at home in Bangkok. We sat in the garden and could not believe our luck to have been recommended this place that just opened by our hotel! It was so good. At 2pm, we were picked up by Taxibike for a one of kind eTukTuk ride: through the vineyards and wine tasting at Domaine Château du Crest, whose fabulous wines we were served the evening before at restaurant Côté Square.
Christina from NewInZurich wrapped our two fun-filled days in a little video. Tune in to get a feel of the Geneva vibe!