Two Michelin-starred chefs as ambassadors of the region via their cuisine, in some of the most enchanting locations in the canton.
Ticino, Switzerland's sunniest and most "Mediterranean" canton, is getting ready to host the 15th edition of the most glamorous international "Made in Switzerland" food and wine festival, with a line-up that promises quite a few sparks.
The event opens on 3 October and is set to end on 14 November with a special theme "Ticino meets the Italian Regions" which, according to its patron, Dany Stauffacher, has a very particular significance. "We have organised a kind of virtual tour aimed at tourism and cultural exchanges between our region and the diverse regions of Italy. Ticino has always distinguished itself as the canton of hospitality and fraternal cooperation, and if we can manage to network these very different realities, it can only bring benefits to our region and enable us to promote it even more".
Stauffacher continues: "By choosing this theme, I absolutely want to stage a unique event dedicated to Italy and its regions (which, in my opinion, encapsulate the best cuisine in the world); but, above all, I want to show how, with modern food and wine, it is essential to place your own region at the heart of any dishes you present; and to highlight your region and to act as an ambassador for your local culture. According to the World Food Travel Association's latest Food Travel Monitor 2020, the most important international study on food and wine tourism, 53% of travellers worldwide said they were food and wine tourists and 71% of people travelling wanted to have memorable food and wine experiences. So this is our role: to be the public voice of a sector that has suffered greatly from the current situation, without ever forgetting that quality means added value".
S. Pellegrino Sapori Ticino 2021: Guests of honour
The guests of honour at this gourmet event will be a number of Italian chefs from 2** Michelin restaurants, who will not only contribute their culinary "knowhow" but who will also testify to the many virtues of the region in which they work. From the North to the South and the Islands, we will have the opportunity to taste an incredible variety of "flavours" during the event, as each individual chef will be able to recreate, during his allotted evening, part of his own environment; thereby also conveying his personal experience: from the culture and tradition of Campania and, in particular, of Ischia, to the romantic lanes of the Langhe and Roero areas which, together with Monferrato, have joined the list of World Heritage Sites; with hills and ancient villages, vineyards and gastronomic traditions that bring us back to the landscapes of Ticino not far distant.
From the alpine charm of South Tyrol to the novelties of Italy's great capital city, passing through the charm of the Tuscan Maremma. Not forgetting wonderful places on the water, from Gargnano on Lake Garda to legendary Venice and Trieste to Cesenatico on the Adriatic Sea; and then down to the Sicilian Mediterranean Sea in Licata.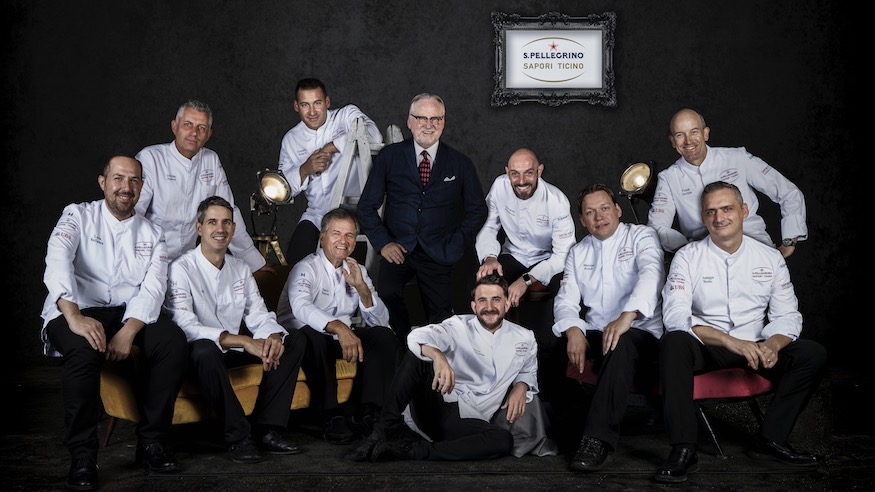 Italian chefs will be hosted by their Ticino colleagues in their kitchens, which are set in very beautiful locations; and the latter will offer their typical hospitality and demonstrate their professionalism by preparing unique, quite unrepeatable dinners.
MICHELANGELO MAMMOLITI – La Madernassa**M – Guarene (Cuneo) 11 October 2021 – Chef Luca Bellanca, Restaurant Meta*M – Lugano
DONATO ASCANI – Glam by Bartolini **M – Venice 12 October 2021 – Chef Marco Campanella Restaurant La Brezza *M – Hotel Eden Roc, Ascona
PETER GIRTLER – Gourmetstube Einhorn**M – Romantik Hotel Stafler – Mules-Vipiteno (Bolzano) 13 October 2021 – Chef Mattias Roock, Locanda Barbarossa*M – Castello del Sole Beach Resort & SPA – Ascona
NINO DI COSTANZO – Danì Maison**M – Ischia (Naples), 18 October 2021 – Chef Frank Oerthle, Restaurant Artè*M – Grand Hotel Villa Castagnola – Lugano
ALBERTO FACCANI – Magnolia**M – Cesenatico (Forlì Cesena) 24 October 2021 – Chef Davide Asietti, BLU Restaurant & Lounge – Locarno
STEFANO BAIOCCO – Il Ristorante**M – Grand Hotel a Villa Feltrinelli – Gargnano (Brescia) 25 October 2021 – Chef Riccardo Scamarcio, Villa Orselina – Locarno
ANTHONY GENOVESE – Il Pagliaccio**M – Rome, 7 November 2021 – Chef Domenico Ruberto, Restaurant I Due Sud *M. Hotel Splendide Royal – Lugano
MATTEO METULLIO AND DAVIDE DE PRA – Harry's Piccolo**M – Grand Hotel Duchi d'Aosta – Trieste 8 November 2021 – Chef Dario Ranza, Restaurant Ciani – Lugano
FRANCESCO BRACALI – Ristorante Bracali**M – Ghirlanda (Grosseto) 9 November 2021 – Chef Cristian Moreschi, Restaurant Principe Leopoldo*M – Villa Principe Leopoldo – Lugano
PINO CUTTAIA – La Madia**M – Licata (Agrigento), 10 November 2021 Chef Giuseppe Buono, Ristorante Lago – Swiss Diamond Hotel Vico Morcote-Lugano
Once again, this year's event will see the presence of many chefs who have decided to join in with the project with enthusiasm. They are embracing the aim of the event and placing their professionalism at the service of the Festival's guests, all in a region increasingly devoted to comprehensive food and wine tourism tourism. In Ticino's localities, you can find many elements and contrasts combined and, in the space of just a few kilometres, go from the Gotthard massif to the gentle hills of the Mendrisiotto. The climate and an atmosphere of dolce vita characterise the local micro-weather, while the gastronomic culture itself is so rich that we can move from tradition to innovation, from grottos to gourmet restaurants, but always under the major influence of Mediterranean cuisine; something that Stauffacher considers to be our great, good fortune.
As every year, the Festival will also stage promotional evenings beyond the Gotthard Pass dedicated to Ticino. These will take place in the establishments of certain members of the Swiss Deluxe Hotels Group, an association that brings together thirty-nine of the best and most exclusive 5-star hotels in Switzerland, where close-knit groups of top Ticino chefs will devote their culinary skills and flair to promoting the Canton: Monday 15 November at the Hotel Widder in Zurich, Sunday 21 November at the Schweizerhof in Berne and Monday 22 November at the Lausanne Palace in Lausanne.
S. Pellegrino Sapori Ticino 2021: Opening Splendide Royal
In Ticino, the Grand Opening will take place on Monday 4 October 2021 at the Hotel Splendide Royal in Lugano. It will be dedicated to the Chefs of Swiss Deluxe Hotels and will be followed by the official evenings. The Festival will close on Sunday 14 November at the Hotel Splendide Royal in Lugano, where the seal on the event will be set by some of Ticino's most talented chefs.
There will also be some special evenings, including one dedicated to women, to whom the event's patron, Dany Stauffacher, has always wanted to dedicate a special moment; and this year even more so, thanks to the addition of a new location, winemaker Gaby Gianini's Castello di Morcote estate. This venue will host Chiara Pavan * M of the Venissa Restaurant, on the Island of Mazzorbo, Venice. To round off this rich programme, an evening will be dedicated to a welcome return of one of the event's partners, Casino Lugano: on Sunday 3 October, a French evening will take place in the wake of some new games launched at Seven Lugano The Restaurant with Chef Claudio Bollini.
The latter, together with Chef Bernard Fournier, will be offering great classics of transalpine cuisine, accompanied by champagne. In addition, there will be an evening on Tuesday 2 November at the Ristorante Moncucchetto in Lugano, dedicated to the historic Osterie d'Italia, in conjunction with the Osteria della Villetta di Maurizio e Grazia in Palazzolo sull'Oglio. This is intended to send out a strong signal to the entire world of catering: S.Pellegrino Sapori Ticino is back, with its classic enthusiasm and charm.