Like all teenagers, Jon one day had the desire for freedom and mobility and a vehicle that enabled him to get around. You know what it is like to be young and to just want to get out there… At this age you want to be motorized: scooter or moped, anything else is just not cool, right? Fine. BUT: at our day and age, does it really have to be one of those noisy, gasoline-powered, environment polluting vehicles? NO! Luckily, Jon's father Knut, an engineer, has developed a clean, eco-friendly alternative: the YouMo eCruiser. It takes you from A to B in the cleanest, most noiseless fashion, be it in the city or in the countryside.
Emission-free, sustainable and stylish, the YouMo e-bike meets the Zeitgeist and has cult potential. The Swiss universities and companies already supporting YouMo would certainly agree.
We are happy to be able to offer you the possibility of a test drive with YouMo. Anyone who has always wanted to ride an eBike, who is interested in green mobility, who is looking for an environmentally friendly alternative to the conventional scooter, can now register. Just apply via the "CLICK & DRIVE" button below; we will take care of the organization.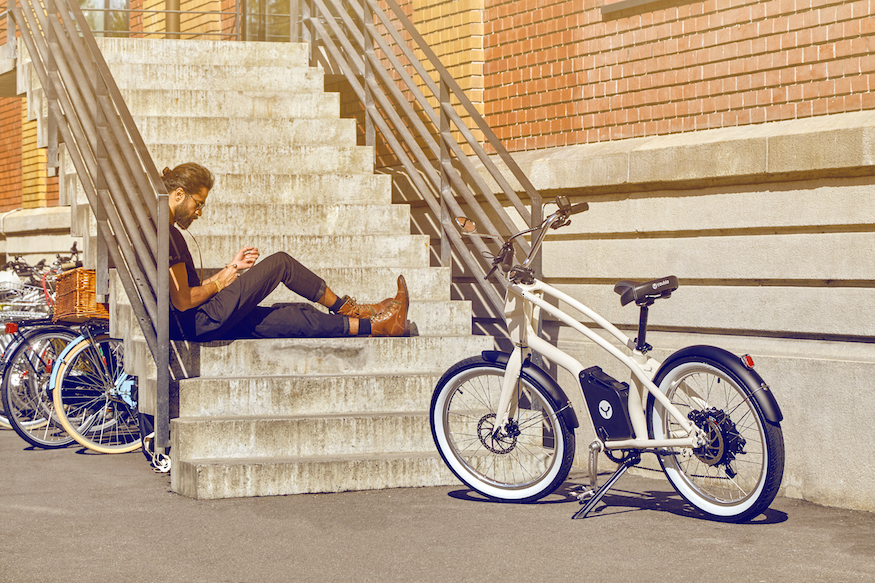 YouMo. Just cruise. – That's the brand's credo. The secret of a comfortable ride is probably in the sitting position. Upright and completely relaxed, you can easily cruise this eBike. It accelerates as fast as lightning and has many functions. If you drive by on a YouMo, you can be sure that will turn because of its remarkable, cool design. A real eye-catcher!
If you have to stop, the hydraulic disc brakes bring the bike safely to a halt. Every time you press the brake lever, it becomes a dynamo because the kinetic energy flows back into the battery as a current.
A lithium-ion battery provides 540 watt-hours of power for up to 120 km driving distance. The battery is easy to charge because it can be removed and transported anywhere.
Silent, vibration-free and smooth-running … these are the features that characterize the YouMo's powerful electric motor. You can drive up to 45 km/h with this eBike.
Why else do we find YouMo cool? One of the many reasons is that it can be personalized! There are various models, components, accessories and design options so that you can assemble your bike to your own taste. An aspect that lets the heart of any individualist beat faster.
In general, eCruising is a statement. It says: I do not want to be part of the pollution; I want to decelerate and enjoy the environment.
Now in autumn, Switzerland is so beautiful with its many lakes and the coloured foliage of the trees. It feels good to just escape the hustle and bustle of the city for a bit and to enjoy the last warm days, alone or accompanied. With such an eBike, you can upgrade your Sunday excursion, because you can go places that you would not otherwise reach within a day.
The YouMo is a great choice for getting around in the urban jungle, too. If you have to sit down after all the shopping – a stop in a café, a small snack – the shopping remains in the basket and you can take a break. Vespa was yesterday; today Dolce Vita is written with an "e" for electric drive!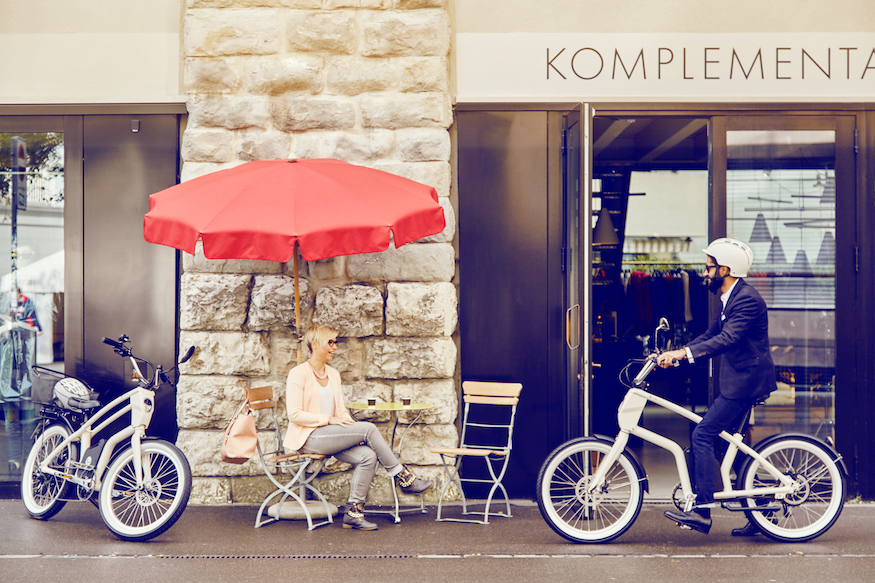 Do you see the fat balloon tires on the YouMo? These provide the necessary grip and cushion any bumps on the track. They are extra wide, which pays off in a city like Zurich: tram rails, just saying! Anyone who has ever gotten their bike wheel stuck in such a rail, will appreciate that with this Cruiser something like that cannot happen.
Talking about safety, another important aspect here: the light! The YouMo bikes have an automatic light control that turns on the front and rear lights and, in the automatic mode, adjust the brightness according to the prevailing lighting conditions. The night-light helps to stay on the right path even in the dark. The battery provides the power for the lights.
Alright, alright, BUT: if the YouMo is so cool, does one not have to be afraid that thieves will try to snatch it? Yeah maybe… but there were precautions taken against that, too. As with other motor vehicles, there is an anti-theft device. It is hidden under the hinged front and hard to crack for anyone who does not own the magic key.
The high level of recognition may also make a thief think twice about whether it is really worth taking the risk. Especially if the bike is highly personalized! Additional functions, bag concepts and trailer solutions can be individually designed. The battery cover can even bear your own personal design.
One model with which it is definitely hard to go unnoticed is the YouMo One X500 RatRod. The X-tra class, the Top Notch Edition, the crème de la crème, so to speak. Matt black and with red rims this bike oozes urban coolitude like no other! Speed kit for up to 45km/h, EVO colour display, MT4 brakes with energy recovery, stylish black leather saddle and leather handles, handlebar lock, mudguards and balloon tires… a real highlight. Literally, because only the best was used for the lighting: the M99Pro from Supernova is integrated in the front. 1'600 lumen and a high beam function turn the night into day.
A mobile connection via Bluetooth to your mobile phone enables connectivity when cruising.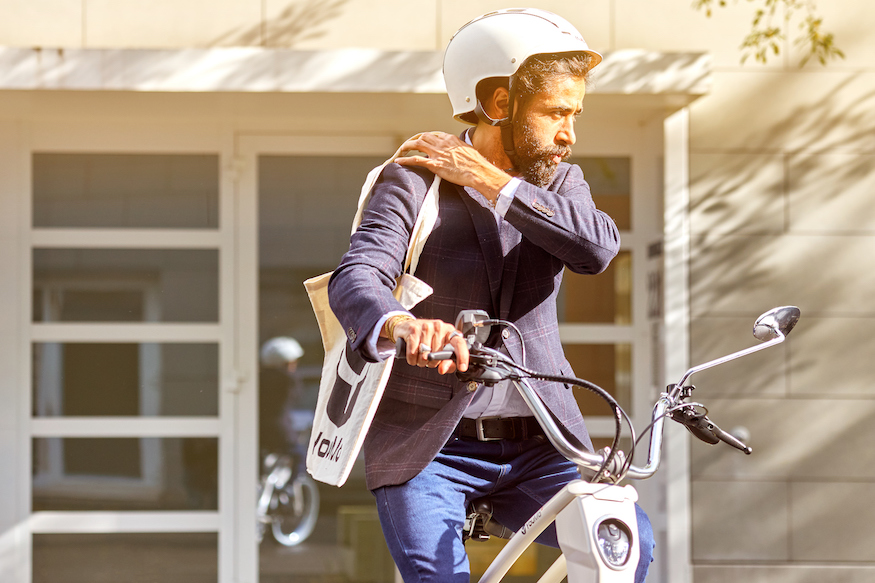 More information, all models, technical details and answers to maintenance questions can be found at www.youmo.ch.