Newby Teas Matthew Williamson: In the first collaboration of its kind, the world's most awarded luxury tea company – Newby Teas – has partnered with iconic British designer Matthew Williamson to produce a capsule collection of designer tea caddies featuring beautifully bespoke tea blends. This collaboration offers tea and design enthusiasts the opportunity to bring some of Matthew Williamson's irresistible joie de vivre to their home!
This project is the latest initiative by Matthew Williamson, a successful fashion, interior and homeware designer since his debut at London Fashion Week in 1997. His collection includes three tea blends that were developed in close partnership with Newby Teas. These loose-leaf blends are presented in eye-catching packaging that he designed himself. Matthew became personally involved in the project by taking the lead in making the drawings to his own specifications, and by tasting a variety of tea blends to choose the ones for this capsule collection. Known for his bold prints and love of bright colors, Matthew Williamson drew inspiration from the Rajasthan region of India to create evocative motifs with original watercolors, each reflecting a facet of the tea chosen and its heritage.
"India is my favorite destination," says the English designer. "I went there more than 40 times; I made my first trip at the age of 18 and immediately fell in love. It has long been a source of inspiration for my work and I am always fascinated by its colors, its dynamism, its diversity, and its know-how. I could not have done this collection without honoring one of the birthplaces of tea and my second home forever. "
Aneta Aslakhanova, International Marketing Director at Newby Teas, says: "We are very proud of this collaboration. As a luxury tea brand, we are always looking to create exceptional products in terms of quality but also with an attractive aesthetic. Matthew Williamson was the designer of choice for this collaboration, the "alchemist" of color and nature. His creations inspire people from all over the world. The result of this collaboration is, in our eyes, an amazing collection that appeals to the 5 senses. Together with Matthew, we created bespoke blends based on the classic trio of the most popular teas in our assortment, with a touch of Matthew Williamson!"
"Newby is such a wonderful heritage brand. They epitomize luxury in every sense of the word and do things with passion and flair. I've loved the process from start to finish of creating this collection, including learning so much more about the history of tea and visiting their amazing Chitra Collection for inspiration." – Matthew Williamson, February 2019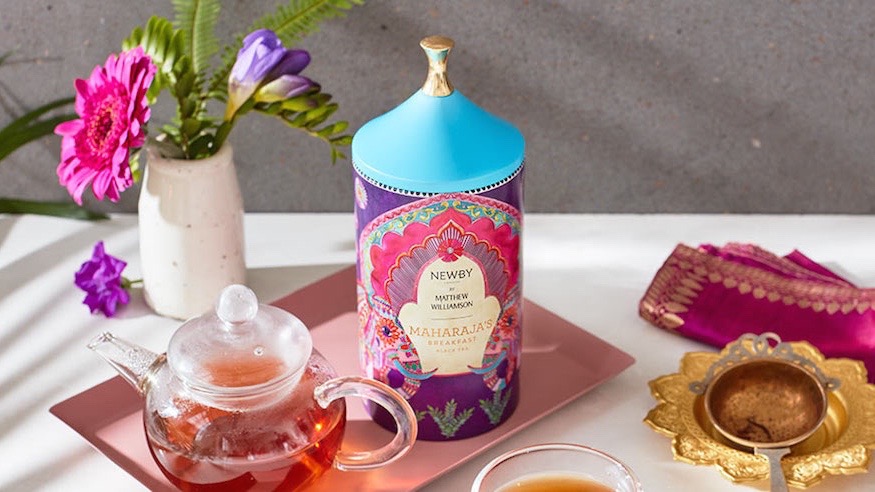 The 3 blends of the Matthew Williamson Collection:
Maharaja's Breakfast – The rich flavor of golden-tipped Assam balances with a tantalizing taste of malt and subtle sweet notes. Reflecting the vibrancy of this tea's homeland, an enchanting design gracefully enrobes its delicate leaves – a kaleidoscope of evocative hues and Rajasthani iconography recalling the palatial grandeur synonymous with the Maharaja. Ingredients: blend of Indian black teas.
Exotic Earl Grey – This blend's citrus subtlety of pure bergamot oil and spicy safflower top-notes lead you to new realms of flavor. Bright and bold with an edge of exoticism, a vibrant design perfectly encapsulates this fine Indian tea's origins and its originality. Ingredients: black tea flavored with natural bergamot oil, safflower, blueberry, and rose petals.
Jasmine Rose Garden- The sweet honeyed aroma and floral notes of jasmine and rose mingle to create a glorious bouquet – its intricacy reflected in the romantic design depicting these flowers in full bloom against a mesmerizing turquoise sky. Ingredients: green tea infused with jasmine flowers and rose petals.
About Matthew Williamson
Matthew Williamson is an award-winning British designer, known for his use of kaleidoscopic colors, intricate patterns and drawings inspired by nature and travel. A graduate of the prestigious Central Saint Martins College, Matthew Williamson presented his first collection at the critically acclaimed "Electric Angels" fashion show in 1997. In recent years, the DNA of Matthew's designs have been seamlessly integrated into interiors. His projects in interior design include the Blakes Hotel's indoor garden in London, the Aynhoe Park bridal suite, Oxfordshire and the Belmond La Residencia Suite 67. The designer's home and business were featured on the covers of the World of Interiors magazine, ELLE Decoration and Living, among others. Matthew Williamson's range of branded products for the luxury sector and interior design includes wallpaper and fabrics for Osborne & Little, rugs for The Rug Company, stationery for museums and galleries, as well as lights for One.World and luxurious room fragrances for Fragrance Group London.
Price of a Matthew Williamson tea caddy: CHF 45.- / 75 grams. Available in Switzerland from 15 September 2019. Exclusively in the e-shop www.newbyteas.ch and in the Newby flagship store in Gstaad.