"It's no secret that I'm an epicurean. I like beautiful things, I like fine things. So, when I discovered Andreas Caminada's cuisine and when I met him, I was struck by the obviousness and simplicity of his approach. The way in which he makes gastronomy less complicated whilst imbuing it with even more nobility. A real character, a man, who is an obvious choice and who perfectly embodies all that brings together the friends of the brand and the values that we uphold day after day: excellence, passion, the desire to leave a mark, to perpetuate knowledge, to take pleasure in all that we do—whether this is through sport, art, or our vocation—to transmit pleasure and to make others want to surpass themselves. Quite simply, an inspirational character." Ricardo Guadalupe, CEO of Hublot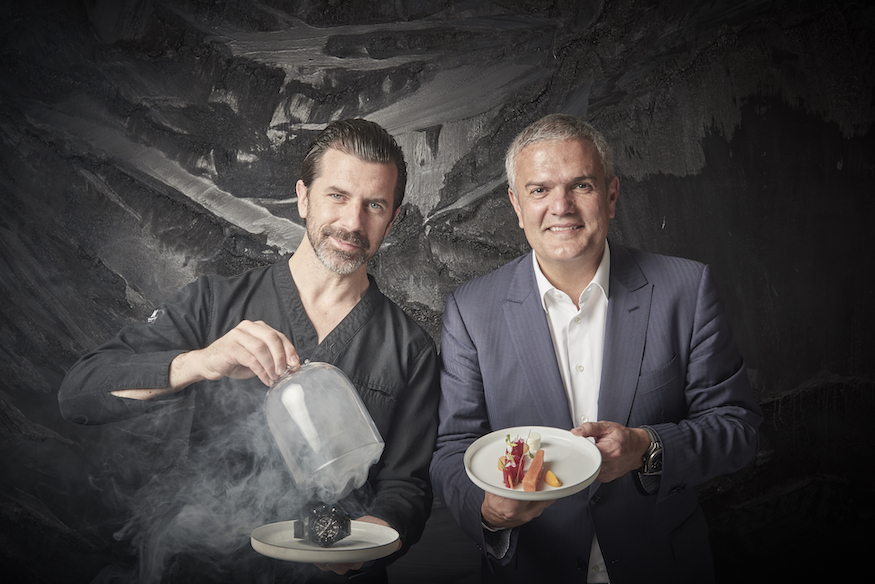 What sets apart the best from the good is talent, spirit, determination and passion. It is this quest for perfection that brings together Hublot and its friends! Wearing jeans, trainers and a black apron, Andreas Caminada met Ricardo Guadalupe, in Fürstenau, the smallest village in Europe. A prodigy whose cuisine has seduced the world. A countryman who works with local produce, grows some of it, and whose cuisine has absolute watchmaking precision. He likes simple and natural things. An international reference, he is the youngest chef in Europe to have won a third Michelin star, which he did 7 years ago, and his 19 Gault & Millau points and stars have launched him to the firmament of gastronomy. He skilfully combines audacity, innovation and tradition. Eating at his table is like sitting down at the family table, so convivial is the atmosphere he cultivates.
"The culinary art inspires dreams and induces profound emotions. You need a tough mind, ironclad courage and a creativity that reinvents itself day after day. Unlimited dedication, friendship and passion are essential ingredients for offering each and every diner a unique and unforgettable experience. Our partnership with Hublot sees two dynamic teams brought together through shared values and their will to continuously break new barriers in order to always innovate." Andreas Caminada, Michelin 3-starred chef
To announce this new partnership, Hublot went to Andreas Caminada's castle in Fürstenau—a small village in the Grisons canton—where time appears to be standing still. A place that lives and breathes the 'Swissitude' held dear by the watchmaker. A place that helps us understand who Andreas Caminada is. His castle in Fürstenau speaks volumes on the philosophy that preoccupies him. A building that retains all the assets of its history and finds new life through the features of its refined and highly contemporary interior. A little like his dishes—paced like the dial of a watch—where each ingredient has a specific function, each engaging with another to offer an explosion of unique tastes—mixing authenticity and innovation. Working instinctively, Grison-born Andreas Caminada plays with textures and the senses without ever modifying the perception of the initial taste of the ingredients he uses. He preserves the original spirit of cuisine while applying limitless creativity to his dishes. His territory of creation reinvents the classics.
By pooling their ingredients, Andreas Caminada and Hublot are preparing to bring to life a menu composed of surprising and audacious creations. A collaboration that will see the fusion of their creativity breathe new life into the manufacture's watchmaking revolution. An emulation to follow closely.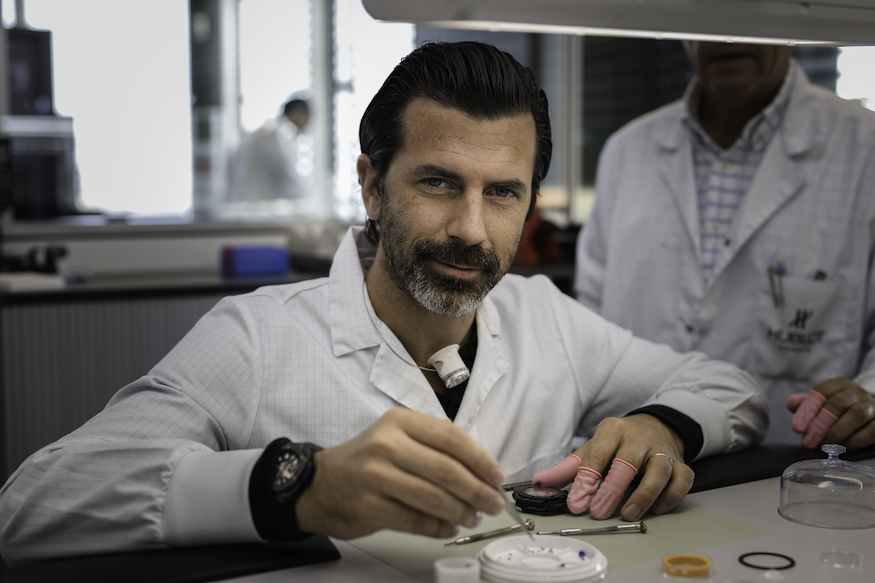 There are destinies that life brings together. 2004, the year that changed everything for Hublot and for Andreas Caminada, the year that marked the start of their dizzying rise. For Hublot, it was the arrival of Jean-Claude Biver as CEO and the birth of the Big Bang, unveiled a few months later in 2005. For Andreas Caminada, it was his first Michelin star.
Hublot & Andreas Caminada—the taste for excellence fused