Every Sunday, at Beau Rivage Geneve, it's Freaky Sundae at Albertine's! On the terrace of the restaurant, enjoy the spectacular Fantasque: a generous Ice Cream creation entirely made by Pastry Chef Kevin Ollivier, to share with your friends or family !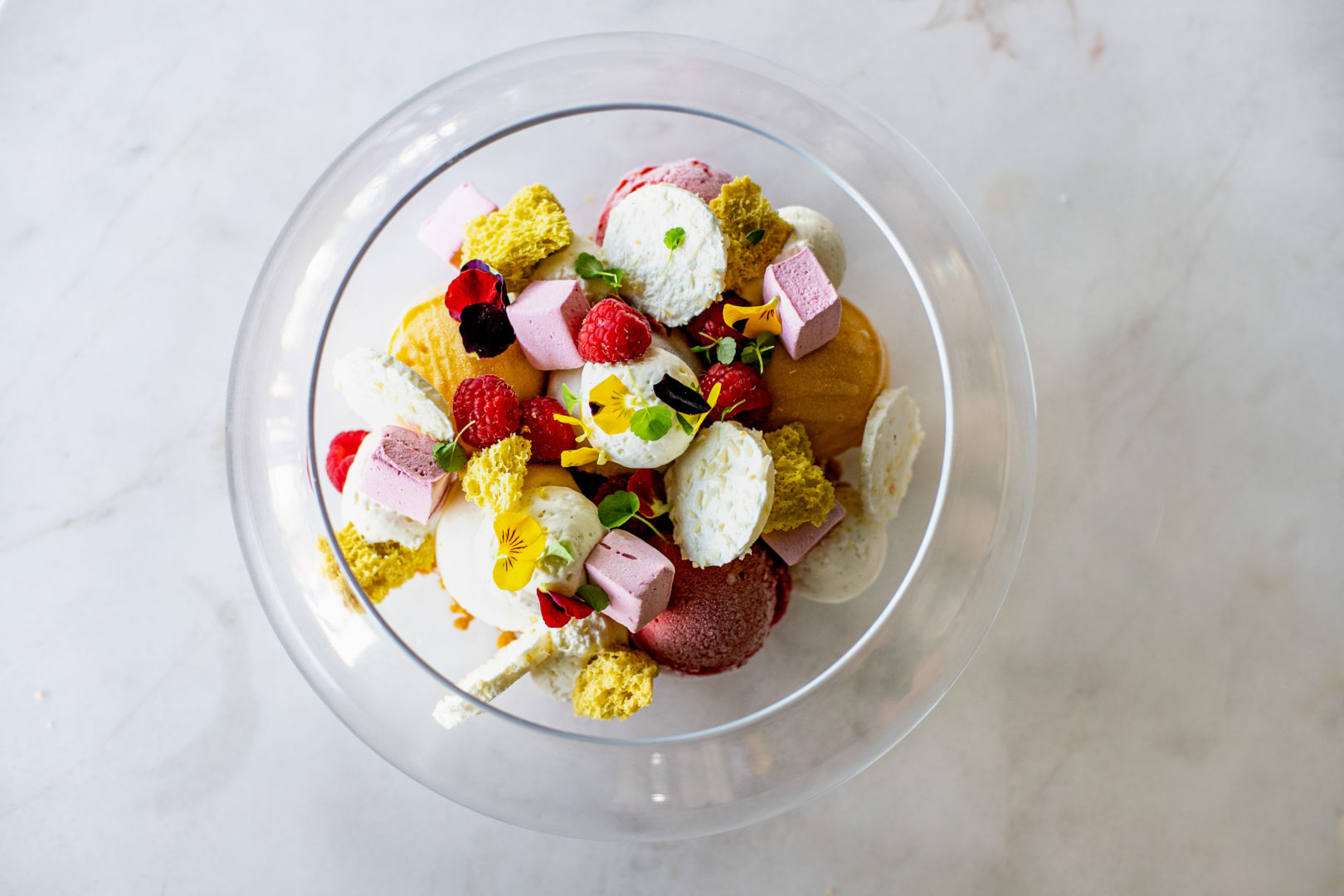 The cozy and refined atmosphere of Albertine's is the ideal place to relax over a cocktail or a chic and gourmet lunch.
All summer long, the Beau-Rivage terrace is the perfect place to enjoy a tasty and refreshing ice cream while contemplating the lake.
As beautiful as they are delicious, the hotel's ice-cream creations are entirely made by the talented Pastry Chef Kevin Ollivier, and reveal delicate flavours of orange, rose, apricot, thyme or white chocolate.
Every Sunday, go with your friends or family to savour the spectacular Fantasque, an extra large, extra greedy cup to share in all conviviality!
20 scoops of the most fabulous ice cream, served in a giant coupe! You will need help, but that shouldn't be difficult to find, right?
The ice-cream creations at Albertine's are very popular, best reserve in advance: albertines@beau-rivage.ch l +41 22 716 69 40
Stay on for Cocktails & Aperitif
As night falls and the magical evening atmosphere comes alive, the bar at Beau-Rivage Genève provides the ultimate in comfort and tranquillity as guests and visitors spend time chatting and musing.
The perfect moment crowned by the sampling of a carefully chosen aperitif or a cocktail creation, which only the bar staff know the secret to.
Why Albertine's? The restaurant is named after its legendary founder Albertine Mayer, wife of Jean-Jacques Mayer, founding couple of Beau-Rivage Genève in 1865.
Visit the drinks menu here: www.beau-rivage.com, and below some snaps from a recent aperitif at Beau Rivage. Click to enlarge!
Enjoy a delicious Gourmet Dinner & Drinks
Albertine's is the stylish contemporary chic terrace of Beau-Rivage Genève with a trendy and relaxed atmosphere in the spirit of the Côte d'Azur.
It is the fashionable place to be in Geneva for a drink after work… or anytime throughout the day!
We were invited for dinner, and these are snaps Ana brought back from the experience!
About Beau Rivage Geneve, a Swiss Deluxe Hotel
Since 1865, the Beau-Rivage has cultivated authentic art of living, becoming a mythical place where world leaders have left their mark.
Beau-Rivage Genève is an extraordinary hotel that offers guests a timeless retreat. With its exceptional location facing Geneva's jet d'eau and firmly anchored both in the past and present, Beau-Rivage Genève is one of Geneva's landmark luxury hotels, and its 52 rooms and 43 suites with their remarkable style ensure that you have a unique experience in the heart of this global city.
Welcome to the elegance and sophistication of a period building, its yesteryear charm passionately preserved, for over 150 years.
The hotel offers discreet and refined luxury in the city's beating heart. Its Michelin-starred restaurant, Le Chat-Botté, rates among the finest gourmet temples in the city.
Furthermore, the hotel offers six beautiful event spaces for various occasions, from business gatherings to cocktails and weddings.
Contact: Quai du Mont-Blanc 13, 1201 Geneva, +41 (22) 7166940, reservation@beau-rivage.ch, www.beau-rivage.com