Officially the fastest mountaineer of all time: in an extraordinary feat of endurance, Bremont ambassador Kristin Harila from Norway summits the 14 highest peaks on Earth in just 3 months, that's world-record time!
Norwegian climber and adventurer Kristin Harila faced challenging terrain and extreme weather conditions, successfully summiting all 14 peaks in the record-breaking time of 3 months, 20 hours and 45 minutes (92 days in total), making her the fastest mountaineer of all time, and breaking numerous world records in the process.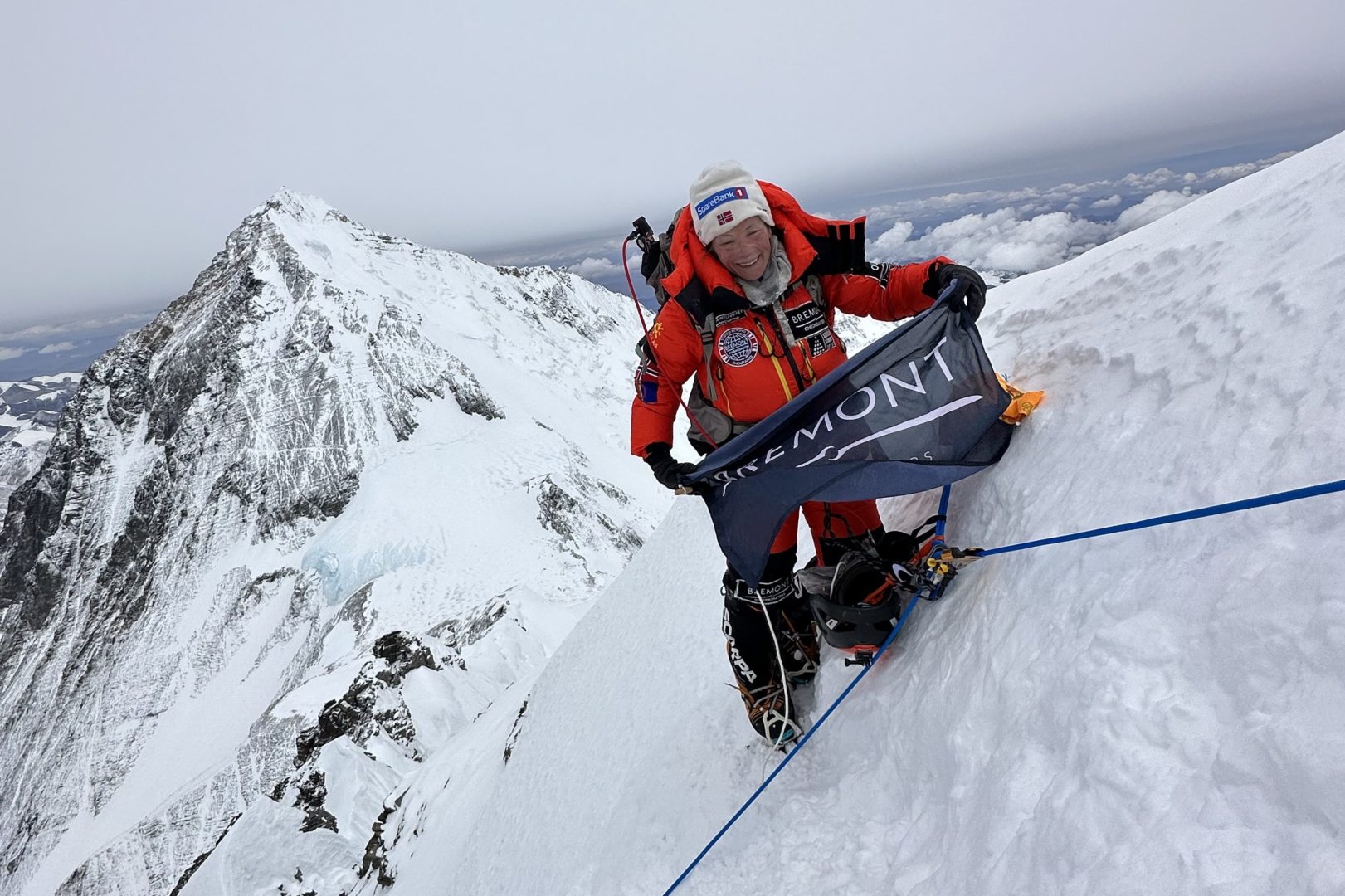 Bremont also congratulates Lama Tenjin Sherpa, Kristin's climbing partner throughout the 14 Peaks.
Their inspiring achievements reflect their unwavering determination, teamwork, and tenacity throughout this monumental endeavour.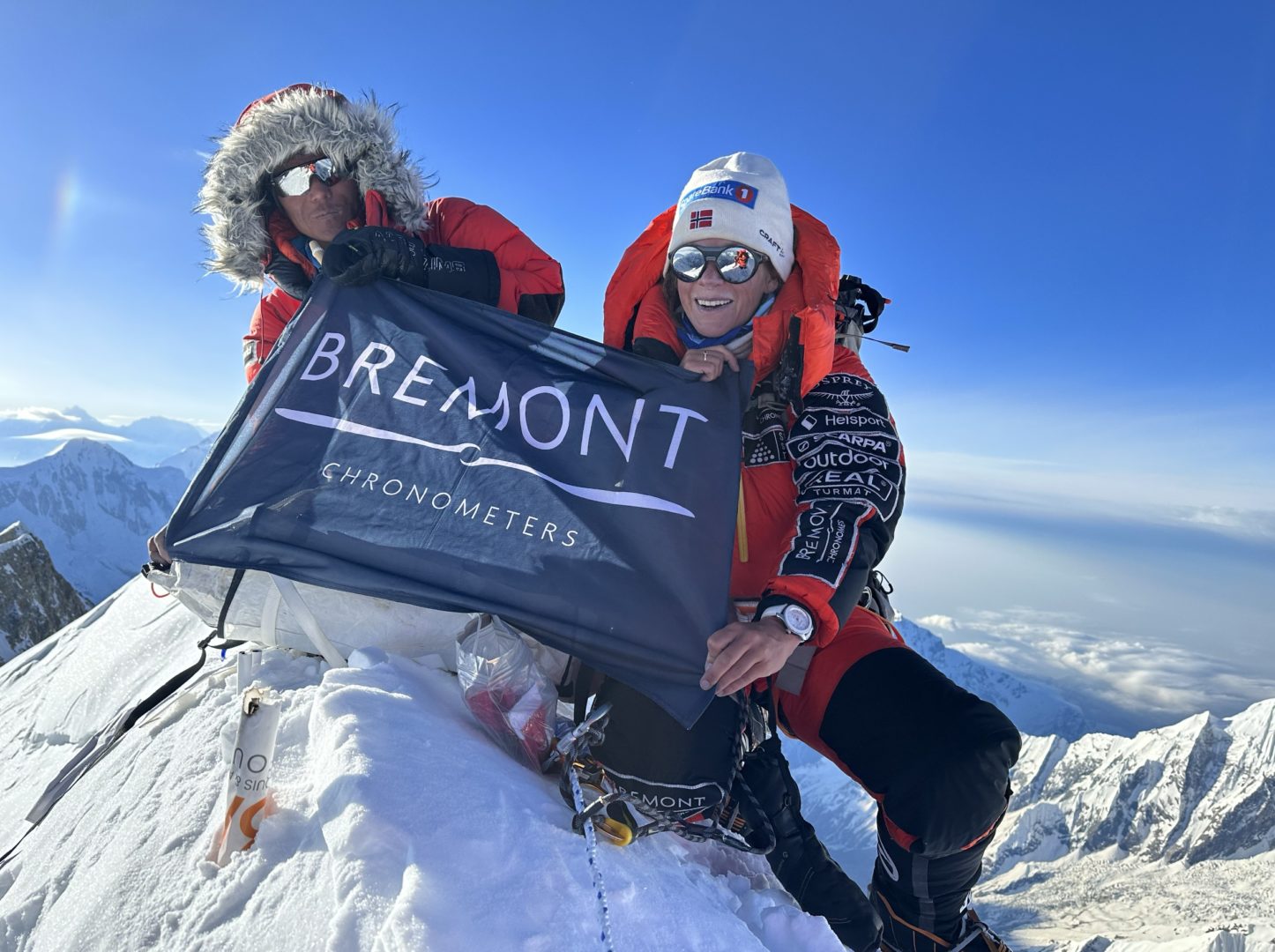 In May 2021, Kristin set a world record becoming the fastest person to climb Mount Everest and Lhotse in less than 12 hours (a record she has since bettered with a time of just over 8 hours). This success inspired her to embark on 'Bremont 14 Peaks' in 2022, a monumental challenge to beat the then perceived world record of 6 months and 6 days to climb all 14 Peaks above 8,000m.
Unfortunately, securing permits to climb the Chinese mountains Cho Oyu and Shishapangma proved problematic and ultimately forced her to pause the project despite having climbed 12 of the peaks in an unrivalled 147 days.
With supreme determination and resilience, Harila returned in April 2023 to summit all 14 mountains in one season as originally planned.
Having started with the mountains she couldn't summit previously, the Guinness Book of World Records announced Kristin's record for the 14 peaks on 11th July 2023 with a record of 1 year and 5 days. Despite this, Kristin continued to summit the rest of the 8,000ers in unprecedented time and she summitted her final mountain earlier on 23 July 2023.
Kristin has now, once again, beaten her own record. Her new world record stands at a remarkable 3 months, 20 hours and 45 minutes.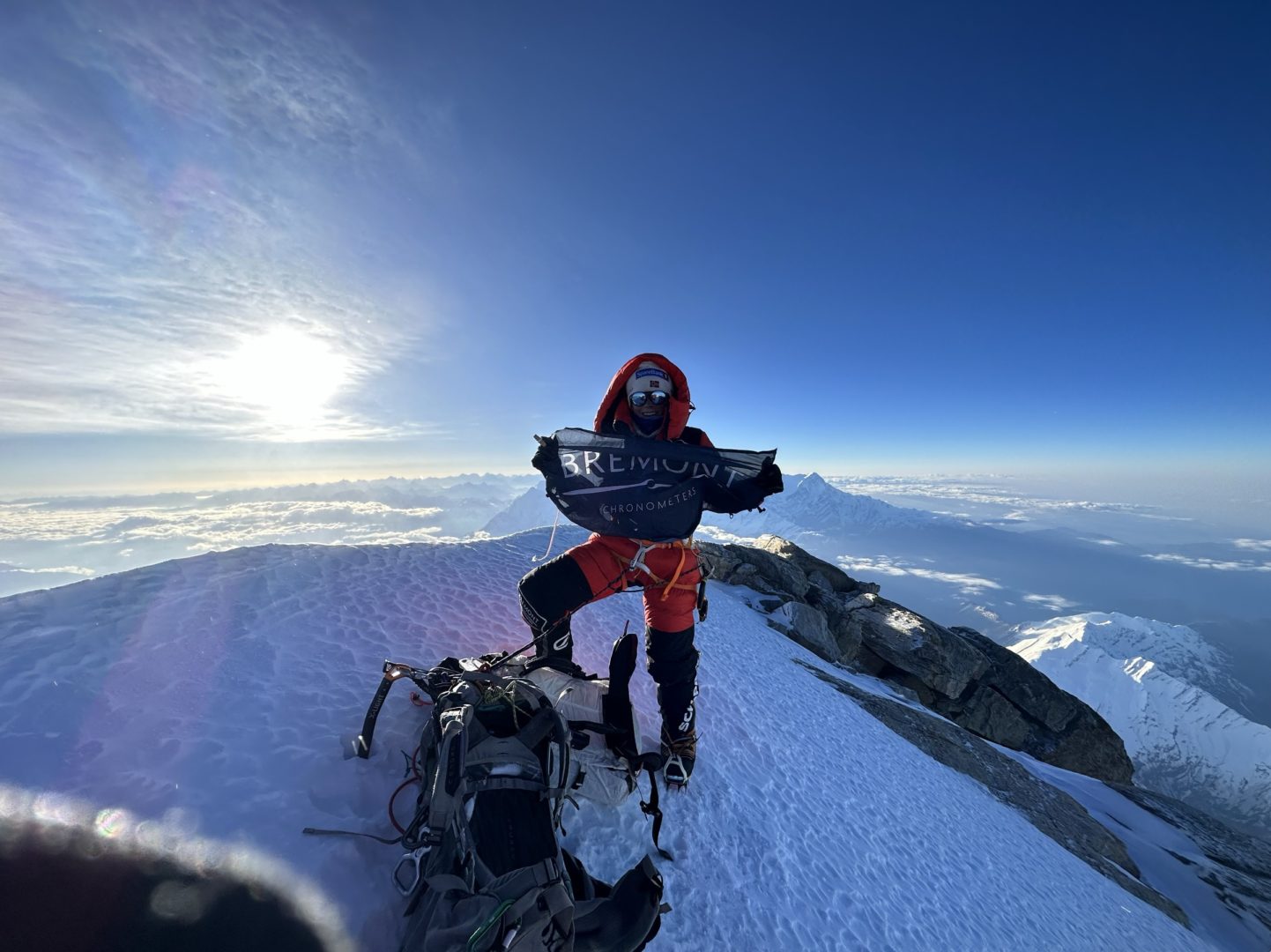 Bremont is delighted to have supported Kristin throughout as Official Timing Partner. Kristin wore the Bremont S300, which formed a critical part of her equipment in a challenge where timing is everything.
Kristin comments:
"I can certainly vouch for the Bremont Supermarine Collection being trustworthy, fit for purpose, and incredibly reliable throughout both seasons for me. My Bremont watch provides everything that I require from a tool watch whilst pushing myself and my equipment to the extremes. I'm very thankful to Bremont for believing in me and helping me bring my dreams to fruition."
Each mountain posed unique difficulties, yet Kristin and Lama's (Tenjin Sherpa) spirit, strength, and experience navigated them through every ascent, setting them apart as truly extraordinary alpinists.
The timing and order of the mountains summitted in 2023 is as follows:
1. SHISHAPANGMA, 8027M, CHINA (TIBET), 26TH OF APRIL 2023 (14TH HIGHEST)
2. CHO OYU, 8188M, NEPAL-CHINA (TIBET), 3RD OF MAY 2023 (6TH HIGHEST)
3. MAKALU I, 8485M, NEPAL, 13TH OF MAY 2023 (5TH HIGHEST)
4. KANGCHENJUNGA, 8586M, NEPAL, 18TH OF MAY 2023 (3RD HIGHEST)
5. EVEREST, 8848M, NEPAL, 23RD OF MAY 2023 (1ST HIGHEST)
6. LHOTSE, 8516M, NEPAL, 23RD OF MAY 2023 (4TH HIGHEST)
7. DHAULAGIRI I, 8167M, NEPAL, 29TH OF MAY 2023 (7TH HIGHEST)
8. ANNAPURNA I, 8091M, NEPAL, 5TH OF JUNE 2023 (10TH HIGHEST)
9. MANASLU , 8163M, NEPAL, 10TH OF JUNE 2023 (8TH HIGHEST)
10. NANGA PARBAT, 8125M, PAKISTAN, 26TH JUNE 2023 (9TH HIGHEST)
11. GASHERBRUM II, 8034M, PAKISTAN, 15TH OF JULY 2023 (13TH HIGHEST)
12. GASHERBRUM I, 8080M, PAKISTAN, 18TH OF JULY 2023 (11TH HIGHEST)
13. BROAD PEAK, 8051M, PAKISTAN, 23RD OF JULY 2023 (12TH HIGHEST)
14. K2, 8611M, PAKISTAN, 27TH OF JULY 2023 (2ND HIGHEST)
Despite extreme weather conditions and huge challenges that could have derailed her world record breaking challenge, Kristin's indomitable spirit prevailed as she continued to astound with the speed with which she summitted every mountain.
The list of Guinness World Records that Kristin now claims include:
– Fastest time to climb the world's highest 8,000m mountains (14 Peaks): 92 Days in 2023
– Fastest time to climb the 5 world's highest 8,000m mountains: 69 Days in 2022
– Fastest time to climb the world's highest 8,000m mountains twice: 439 Days. 2022 to 2023
– Fastest time to climb the 3 world's highest 8,000m mountains: 69 Days in 2022
– Fastest time to climb the 3 world's highest 8,000m mountains twice: 439 Days. 2022 to 2023
– Fastest time to climb 2 of the worlds highest 8.000m mountains – Everest and Lhotse: 8 Hours in 2023
Davide Cerrato, Bremont CEO comments:
"Kristin's spirit, perseverance and fortitude is an incredible inspiration and I hope that we can all take something from witnessing her achieve the seemingly impossible, being inspired to enjoy a life of adventure and pushing ourselves beyond our limits. We would like to wish both Kristin and Tenjin Sherpa a heartfelt congratulations and we're incredibly proud to have been with them on this journey."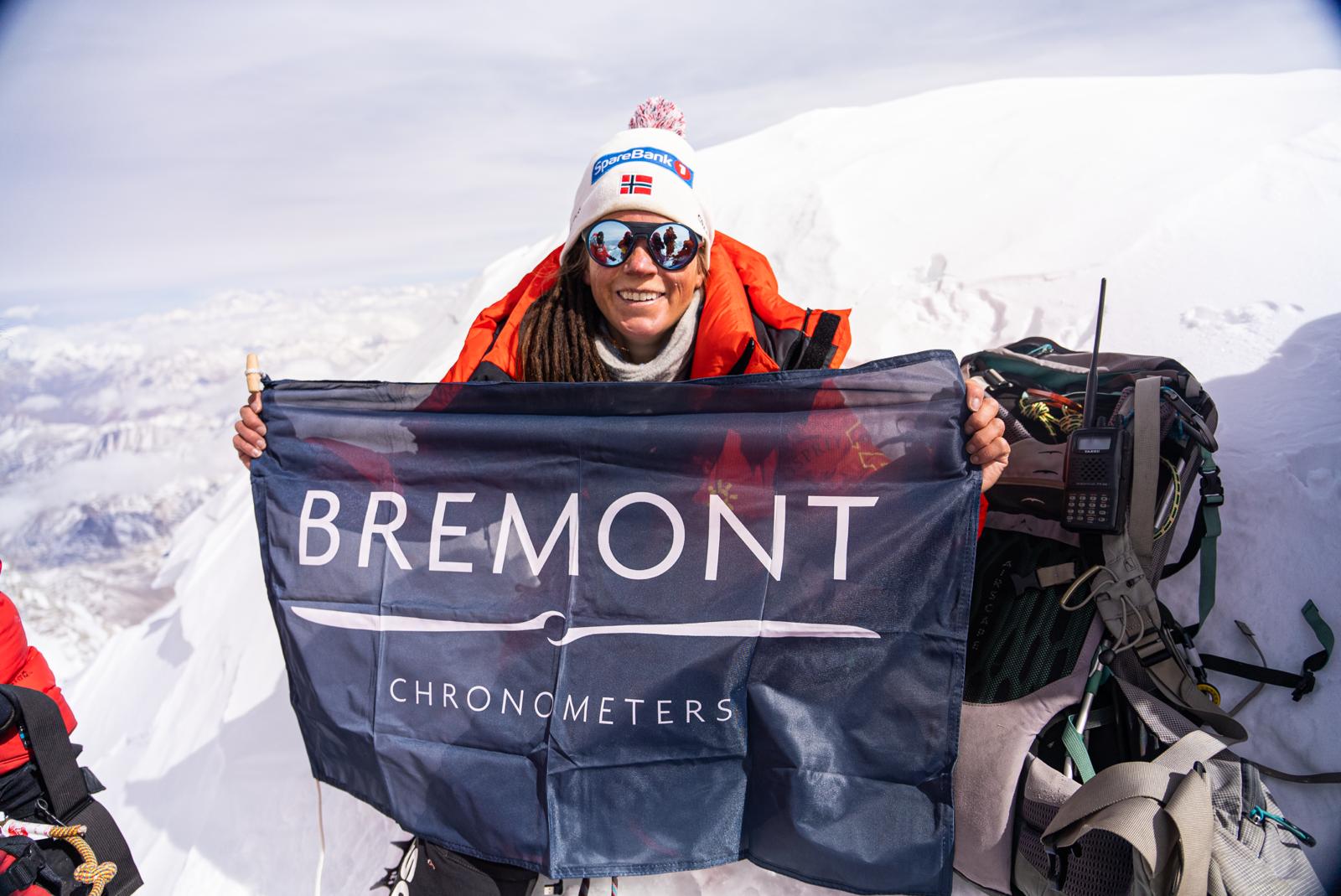 Tried & Tested by Kristin Harila on the 14 Peaks Challenge: the Bremont S300
Bremont's Supermarine S300 has become somewhat synonymous with adventure and exploration having been tested now by numerous individuals in some of the most extreme environments on earth.
The robust and tactical collection was worn by Nirmal 'Nims' Purja for his 14 Peaks challenge back in 2019 and is the timepiece of choice for renowned climber Kenton Cool as well as ex Royal Marine Commander and extreme environment expert Aldo Kane.
Bremont online: www.bremont.com, @bremontwatches, @TestedBeyondEndurance, @bremont