Wednesday, I am loving the sound of that because it chimes Weekend is approaching! And who says weekend, says cocktails – at least that's how we hold it at coolbrandz. If you follow me in Social Media, you will have picked up on the fact that I am a cocktail aficionado.
I am following a couple of Instagram accounts of likeminded people; one of them Natalie Migliarini aka @beautifulbooze. It is the most beautiful, colourful, boozy stream that you can imagine. Her recipes are inspiring and her photography fabulous.
Whenever I had a hard day, I am heading over to her blog to find inspiration and maybe recreate some of the cocktails she elaborates. Mine just never look as good, but hey, it really is the taste I am after. So for Cinco de Mayo, here three of Natalie's Tequila recipes that I recreated at home and that just blew my mind!
1. Vanilla Bean and Jalapeño Paloma
Here the ingredients you need:
1.5 tequila
1 medium grapefruit, juiced
1 teaspoon agave nectar
1 teaspoon jalapeno, sliced thin
1/8 vanilla bean, seeds scraped
1/4 to 1/2 cup of squirt soda
1 cup of ice
Garnish: Thinly sliced jalapeno and grapefruit slices
Instructions:
In a cocktail shaker add tequila, grapefruit juice, agave nectar, sliced jalapeño, vanilla bean seeds and ice
Shake for 20 seconds and then pour mixture into serving glass
Top with squirt soda
Garnish with jalapeño slices and grapefruit slices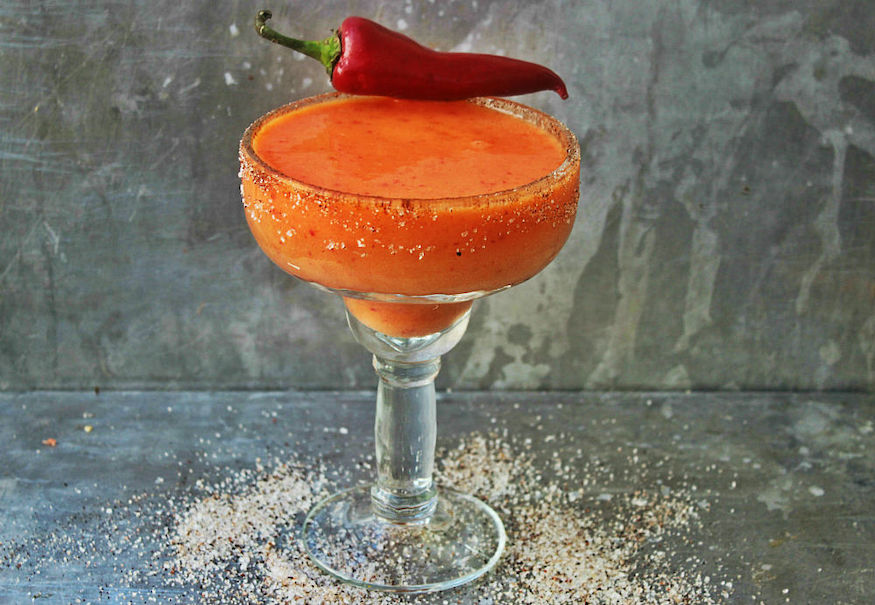 2. Spicy Fesno Margarita 
Ingredients below, instruction here:
1.5 ounces of tequila
1 lime, juiced
1 cup fresh or frozen mango
1 Fresno chili sliced
1 tablespoon of agave
½ tablespoon grenadine
1 cup of ice
Garnish: Whole Fresno chili pepper and rim glass with equal parts of salt and chili powder
Instructions
In a blender combine tequila, lime juice, mango, sliced Fresno chili, agave nectar, grenadine and ice
Blend until desired consistency
Rim serving glass with salt and chili powder
Pour blended mixture into serving glass
Garnish with whole Fresno chili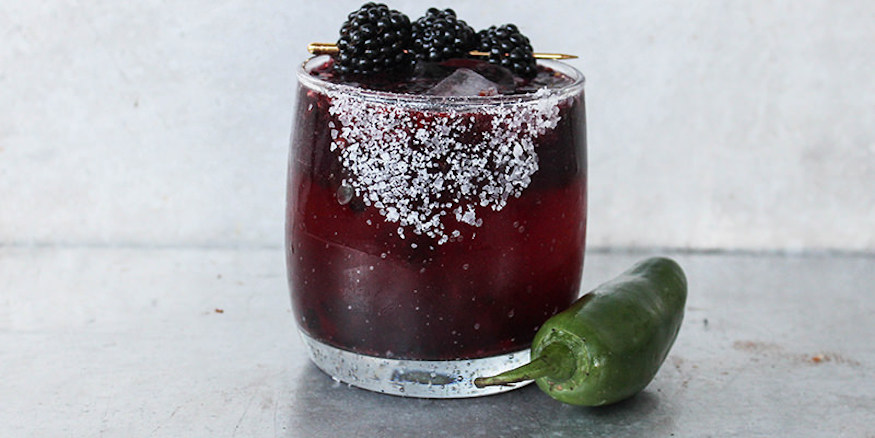 3. Spicy Blackberry Margarita
Find the ingredients and modus operandi below:
2 ounces of tequila
2 ounces of lime juice
5 blackberries plus more for garnish
3-4 slice of fresh jalapeño
1 ounce of agave nectar
1 cup of ice (½ used in the shaker and ½ used to serve the drink)
Garnish: salted rim and blackberries
Instructions
Fill cocktail shaker with tequila, lime juice, blackberries, sliced jalapeños, agave nectar
Add ½ cup of ice
Shake
Strain into a salted glass filled with ice