Croatia is situated south of Italy and about five times bigger than Switzerland. Its coastline on the Adriatic Sea is stunning. There are 1246 islands, of which 47 are permanently inhabited. Hvar, Krk or Rab are among the better known. The capital is Zagreb and its medieval upper town, Gornji Grad, is a major tourist attraction. You can also find very interesting museums there. The museum of illusions, for example, or the museum of broken relationships…
The beautiful National Park "Plitvice Lakes" is protected by UNESCO and enchants with its mighty waterfalls. It is also the oldest national park in Southeastern Europe.
Did you know that the horse breed Lipizzan comes from a town called Lipica, formerly Croatian now belonging to Slowenia? It is the oldest cult breed in Europe, dating back to 1850. These beautiful horses are born black and then turn white! Another animal that is very well known for their black and white game is the Dalmatian. The dog breed with the polka dots comes, as the name suggests, from the region of Dalmatia.
Dubrovnik is the major coastal city. Its massive 16th-century walls surround an Old Town that is characterized by Gothic and Renaissance buildings. There are hardly any sandy beaches but cliffs and rocks which make a nice contrast to the emerald-colored ocean. That said, Rey, who recently was in Croatia, unearthed some very lovely beaches. The images below proof it!
Anyone who loves sailing, yachting or jet-skiing will enjoy their time in Croatia completely. If you are considering to explore the country by boat, you can find a 7-day itinerary – starting from Dubrovnik – and a source for yacht charter at the end of this article.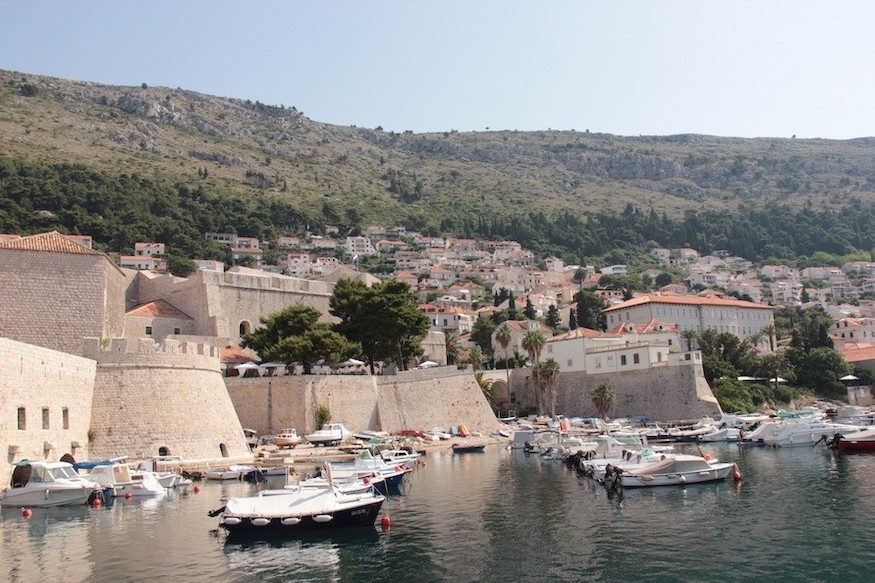 A week of relaxing: Split, Zadar, Bol
We spent about a week in Croatia and it was to relax and just really chill and resource, so mainly beach time and city dwelling, less adventure and activities.
First stop: Split, Croatia's second-largest city. If you want to really immerse in the Dalmatian lifestyle, this is the place to be. Buzzing and exuberant, this city perfectly bridges past and present. Ancient buildings and historic monuments – the Diocletian's Palace, for example – are surrounded by a multitude of bars, restaurants, and shops. From the early morning to very (very) late at night, the city walls are reverberating the humming of the life inside.
Marjan Forest Park provides great views over the city and the surrounding islands. A walk through the fragrant pine forests resources body and soul. On these grounds, you can find a 16th-century Jewish cemetery, several chapels and ancient Christian cave dwellings. Located in the idyllic surroundings of Marjan, and right in a bay on the south coast, is Kasjuni Beach. It is a pebbled beach that is a bit more secluded than other, more urban beaches.
A row of trees provides some shade, which is great, although bringing a parasol is useful, of course. It just gets extremely hot there and you cannot rent them at the beach. A few steps over the shallow shores and – hop – you can dive into the crystal blue sea. Lifeguards are surveying the area at all times. A beach bar offers refreshments. A little side note for those of you traveling with their dog: Kasjuni is pet-friendly!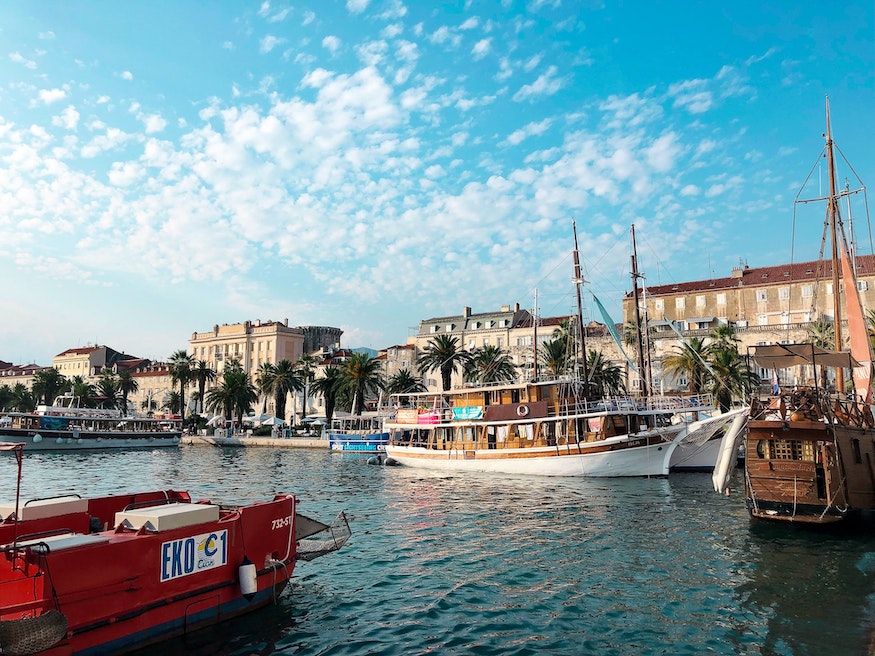 Next stop: Bol, the oldest town on the island of Brač, off the coast of Split. Here you will find Zlatni Rat, a wide gravel and sand beach which expands over 10 km. A further attraction is the Dragon's Cave which is famous for containing a 15th-century chapel with carved wall details. On a nearby cliff, there is Blaca Hermitage which is quite spectacular! Crystal clear waters, pristine nature, and beautiful, authentic island houses… this little town is utterly charming.
It is a very popular destination for tourists. Unsurprisingly, considering the beauty of the surroundings, the magnificent beaches and the many harbourside bars and restaurants. If you are into windsurfing, you will find major kicks here! Bol offers fantastic conditions for practicing this sport.
You can easily get to Bol by boat from Split Harbour. A direct catamaran leaves once a day, every day of the year. Alternatively, you can take the car or a bus. If you take a  ferry, the only way to get back later in the evening is by taxi as there are no buses after 7 pm.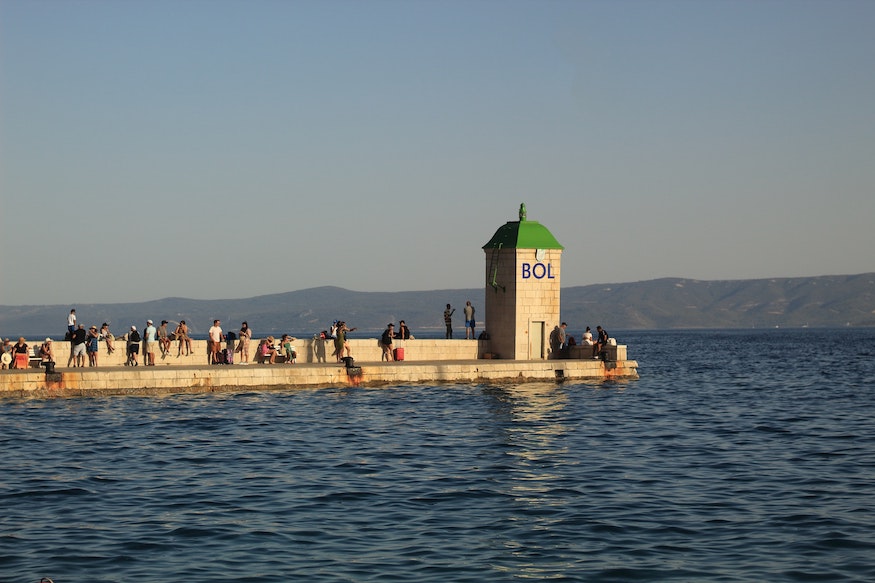 If you want to see "the most beautiful sunset in the world",  Zadar is the place to be. We have seen many, many sunsets during our travels and always thought the ones in Ibiza were the most stunning. Turns out that Zadar offered sunsets so splendid, that nothing else compares. In fact, one of Zadar's most popular attractions is the Sun Salutation, an art installation at the seafront, a monument that Croatia dedicated to the sun and that produces solar powered sounds and light shows. Another such installation by architect Nikola Basic is the Sea Organ. The sounds and harmonies that are produced by 35 pipes underneath the large marble steps are generated by the motion of the waves.
Zadar is located on Croatia's Dalmatian coast. You can enter via several Venetian gates in the city walls. The Old Town hosts Roman and Venetian ruins. Visitors are particularly attracted by the 11th-century St. Mary's Convent, that houses religious art dating to the 8th century. Then there is St. Anastasia's Cathedral, a 12th-century building and the Church of St. Donatus, with its round, 9th-century pre-Romanesque architecture, it is an icon of Zadar that is shown on many postcards.
Something else is fascinating: the atmospheric old marble streets. You cannot help but wonder how many feet have trod them to make them so smooth and shiny that they look as though they were wet. Instinctively, you want to reach down and feel the silky surface of the stones.
Croatia is definitely worth a visit. One absolutely fun thing to do is to hire a yacht and explore the country from a different perspective. You may also want to consider a Vacation Club membership in Croatia. If you have seven days – or more – here is a 7-day itinerary that perfectly suits luxury yacht travel around Dubrovnik and its surrounding islands.
7 Days in Croatia: The Ultimate Yacht Charter
Dubrovnik is a popular yachting destination thanks to the beauty of its coasts but beyond its natural looks Croatia has a lot more to offer. The area is rich in history and tradition with beautiful architecture and first-class restaurants. There are some beautiful yachts out there that you can charter or co-own. Examples are the chic Princess 54 and the larger Azimut 62 Fly. Both modern yachts have 3 cabins and so shared yacht ownership may be an option.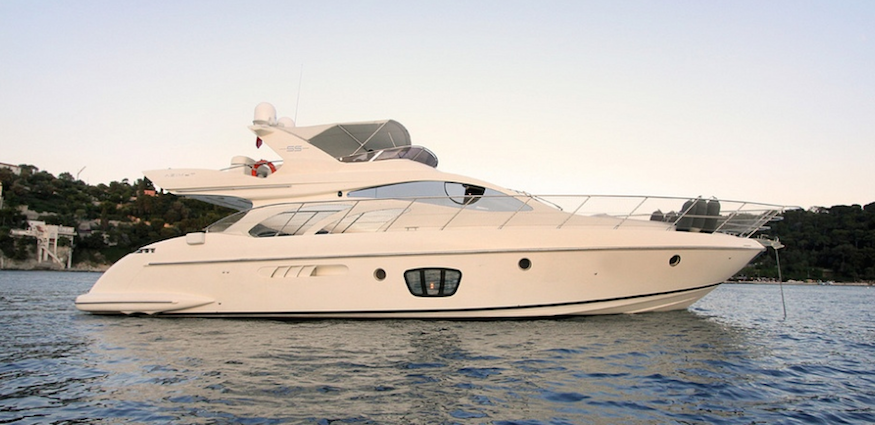 Croatia: Yacht Charter Day 1-2, Dubrovnik
The "Pearl of the Adriatic" is a justifiably popular launching point for yacht charters in the region. Dubrovnik is a medieval city and very well preserved. It is fortified by 25-metre high walls and five towers of which the Minceta Fortress is probably the most imposing. The walls overlook the Adriatic on one side and on the other pastel rooftops are punctuated by the occasional dome. Monasteries, cathedrals and churches are abound. Due to centuries of footfall across the historical town centre the limestone streets are worn down to a slippery shine.
You can find the Old Town market at the heart of the city's tourist district in a plaza. The surrounding small cafes and shops give it a particular charm. The market is a hive of activity, particularly in the morning where its main purpose is to provide daily provisions for visitors. It is full of stalls selling the Dalmatian speciality of candied citrus (orange and lemon rind). This is a good place to pick up some gifts and souvenirs. You are a fan of the TV show Game of Thrones? Do you know that many scenes of the series are filmed in the area? You might enjoy one of the locally organised tours to filming locations.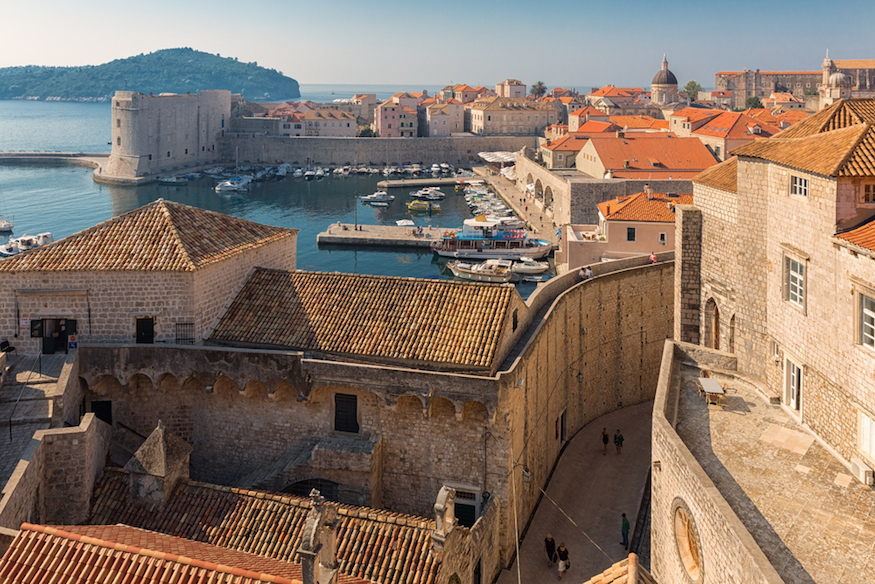 Croatia: Yacht Charter Day 2, Lokrum Island
Depart Dubrovnik for nearby Lokrum, just 15 minutes from Dubrovnik at the southern end of the Dalmatian coast. The beaches in Dubrovnik aren't very inspiring so Lokrum makes an ideal alternative to the beautiful but overcrowded city. The small island is a botanical paradise of imported plants and trees from around the world. Archduke Maximilian Ferdinand of Habsburg brought the exotic flora along with some peacocks from the Canary Islands during the mid-1800s. The peacocks and other fauna are the only inhabitants of the island. However, there is a Benedictine monastery and a restaurant complex that is open during the daytime.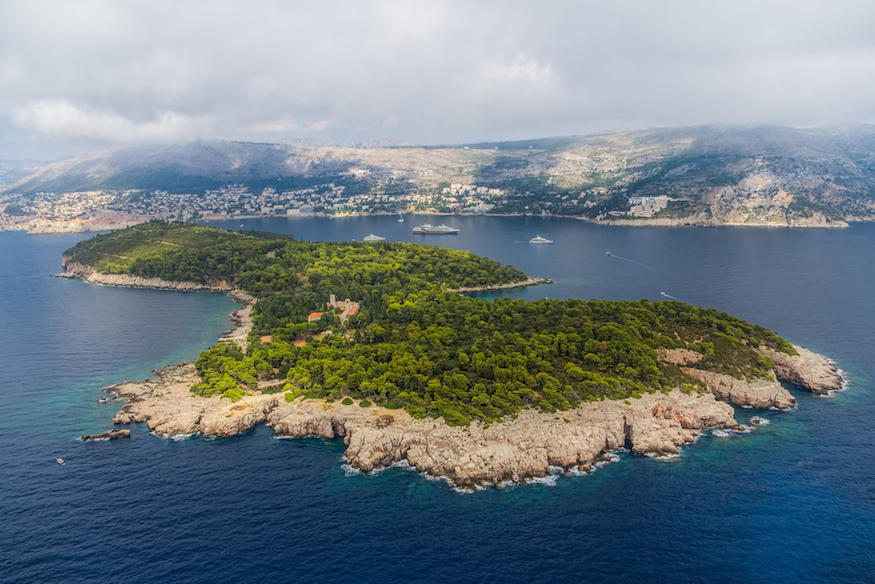 Croatia: Yacht Charter Days 2-3, Mljet Island
Ideally placed between Split and Dubrovnik, Mljet is perhaps the greenest and most beautiful island on the Dalmatian Coast. Its national park and two large salt-water lakes appeal to nature lovers. Mljet is tranquil and the beaches enjoy some of the clearest water in the Eastern Mediterranean. If you don't mind the strong heat of August, you can catch the Mljet Summer Festival. Maybe you want to stay here for 7 years like Odysseus but other Adriatic islands beckon.
Croatia: Yacht Charter Days 3-4, Korčula
Korčula is another green oasis amongst the purest blue waters. When the Greeks settled here they named it "Black Corfu" because of its densely wooded and wild appearance. Korčula Town, a medieval, walled city, is the main settlement and heavily influenced by the Venetians. The city even has its own St Mark's Cathedral.
Famous for its seafood, Korčula is a haven for foodies. Most noteworthy is the Dalmatian favourite of black squid ink risotto with fresh cuttlefish. Many high-quality restaurants along the shore serve it. The sheltered Pupnatska beach is a serene and family-friendly beach to while away a few hours in the clear water snorkelling and swimming.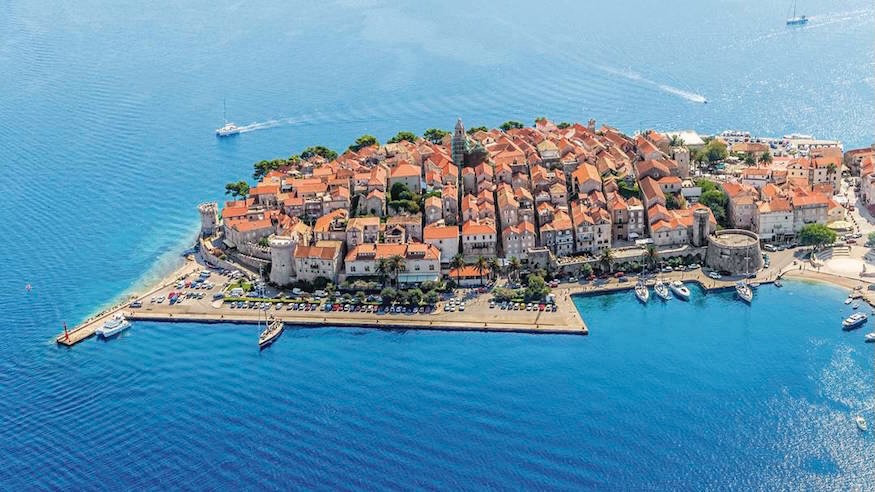 Croatia: Yacht Charter Days 4-5, Hvar
Probably the most famous Croatia's islands Hvar is undeniably beautiful. Its jagged coast is full of inlets and coves and its interior is dotted with olive groves, lavender fields and vineyards. The island's main centre is Hvar Town and despite its popularity with tourists much of its Venetian charm is retained. Hvar has a rich history, interesting culture and vibrant nightlife. The Pakleni Otoci chain of eleven islands offer the best beaches as they are located among deserted lagoons and secret coves. The largest island is Sveti Klement, and it has its own marina and restaurants at Palmižana village.
Croatia: Yacht Charter Days 5-6, Vis and Bisevo
Vis is further offshore than any of Croatia's other inhabited islands. This fact makes it both a little intimidating and utterly appealing. If you venture this far, you are rewarded with a wild mountainous interior, quiet beaches and an enigmatic ambience. The narrow cobbled streets of Vis Town are overlooked by grand summer houses built by Croatian nobles and agricultural terraces. From the 1950s right up until 1989, the island was used as a military base and not accessible to foreign visitors. Due to its relative remoteness package tourism never really gained a foothold. Hence, it has become the preferred destination for independent travellers and those seeking authenticity as well as some much-needed peace and quiet.
Near the port town of Komiza, the island of Bisevo is home to the Blue Cave. This is a grotto of shimmering light that shines an electric blue at various times of the day. Vis is also known for gastronomy. Its own distinct white grape, vugava, pairs wonderfully with fish dishes.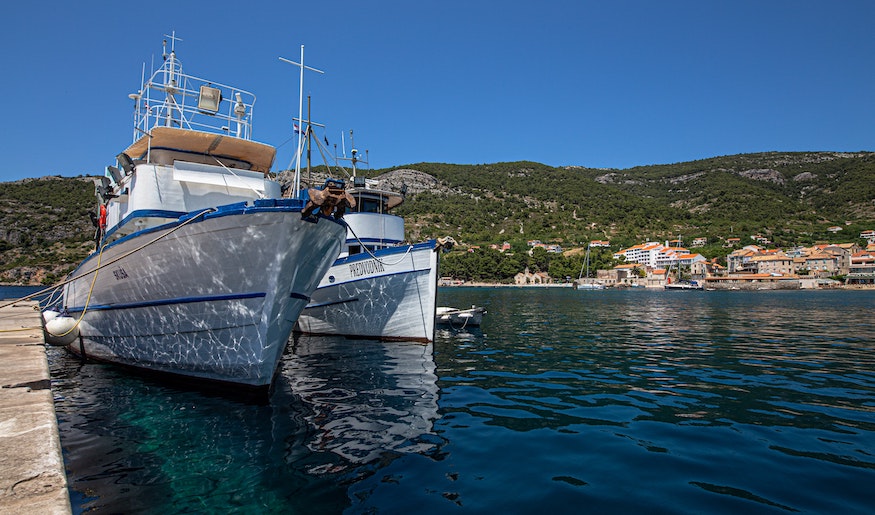 Croatia, Day 6-7, Vis to Dubrovnik
Leave Vis and make the journey south to Dubrovnik. Weave past tiny uninhabited islands. Stop off to drop anchor and swim in translucent waters until you reach the Dalmatian coast. Admire jagged cliffs that plunge dramatically into the waters below, overlooked by vineyards and pine forests. Cruise past terracotta tiled roofs and beautiful landscaped gardens.
We hope you enjoyed these few travels tips about Croatia and get to visit this interesting country yourself. If you have been already, tell us about your own experience in the comment section. We would love to hear from you!