Are you planning to spend time in Geneva? The beautiful city located on the shores of Lac Léman and close to the Alps is easy to reach by plane, train, or car. Its hotel offer is excellent and particularly advantageous on the weekends. In addition, numerous innovative services make Geneva an ideal destination for a city break: free public transport, the Geneva Pass, which offers discounts on many activities; an extremely diverse cultural offer throughout the year, and individual guided tours…
If you stay at a hotel in Geneva, you will get a Geneva Transport Card when you check in. With that, you can jump on any bus, tram, and boat that is run by the public transport system. If, in addition to that, you get yourself a Geneva Pass, further activities are accessible to you for free or at a reduced rate. With this card at hand, it is really fun to unlock the city depending on your interests, preferences, and the duration of your stay. At the Geneva Tourism website, you can find itinerary suggestions for 24h, 48h, 72h!
Corona left its traces in the city of Calvin like on any other, of course. Nevertheless, there is plenty to do and see for every taste and every budget. Now that the lockdown measures are further eased, it is maybe time to put Geneva on your travel bucket list for this summer and to (re)discover the city. Together with local businesses, Geneva Tourism created some great packages and deals to revive the economy. Booking a getaway to Geneva is really attractive right now!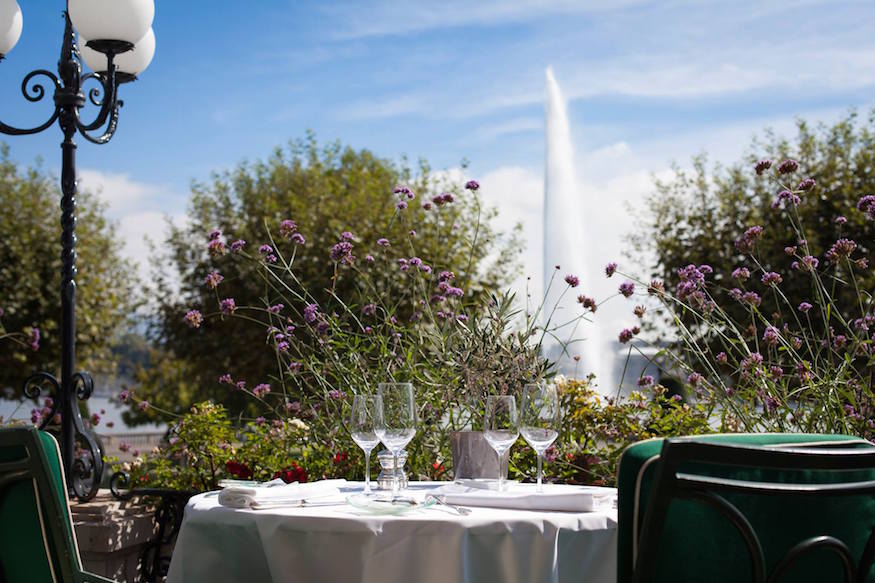 Geneva city break: 2-night stay, weekend getaway
We are quite often in Geneva for events, press conferences and such but it is always in and out, without any occasion to further discover the hospitality offer. So this time, we really went to explore the city from a different angle and tried some of the suggested activities for tourists. A fabulous experience, we can tell you that right now!
When we went, there was an offer called Geneva Box, for example, allowing to book a hotel plus an activity for a much reduced price. That was the deal we got! With the booking at Hotel Bristol which is a 4-star superior with lush interior, British charm and Côté Square, a 16 Gault & Millau restaurant, we got a choice of activities. We did several as we had a Geneva City Pass as well. That alone gives you the choice of about 50 different activities. In combination with the Public Transport Card we got from our hotel it was seamless getting around and composing an itinerary for the 2 days.
Christina from NewInZurich wrapped our two fun-filled days in a little video. Tune in to get a feel of the Geneva vibe!
Two days in Geneva: activities we tried and can recommend
The day of arrival, we just had afterwork drinks at the piano bar at Hotel Bristol, followed by a wonderful gourmet dinner at the end of which we got to exchange a couple of words with the Head Chef Bruno Marchal. In the morning after breakfast, we went to our first activity: a watchmaking workshop with Initium. That is a great initiative by a collective of young entrepreneurs from the watchmaking industry aiming at preserving and transmitting the craft of Swiss watchmaking.
There are different classes that you can book, depending on the time and budget you have available. Some let you leave with your own bespoke watch! In any case, you will get to try your hand at dismantling and reassembling a mechanical watch movement and get an appreciation of how tiny the pieces are of which it is composed.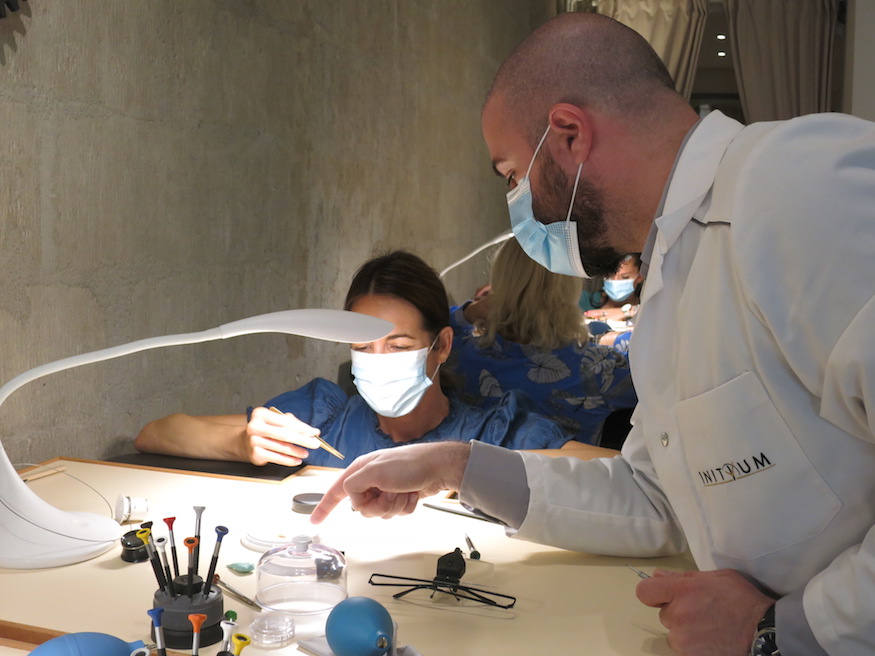 Initium is located in the Old Town which is gorgeous! La Vieille Ville is an ancient maze of small, cobble stone streets and picturesque squares, filled with fountains, historical buildings, masonry facades, cafés, restaurants, shops, museums, and galleries. It is a little walk uphill and once you have arrived, it feels like a journey back in time. You will find St. Peter's Cathedral here, Maison Tavel, The Treille Promenade, and many other landmarks. A must-see is the Bourg-de-Four Square, once a Roman marketplace, it is in fact the oldest square in Geneva.
After our stroll through the old streets, we felt peckish and went for lunch over to Streetgourmet which was recommended to us by our hotel. At Rue du Prince they have a little terrace where we reserved a table. The concept is inspired by a Brooklyn eatery, a mix of Lebanese street food and Swiss fresh, local produce. Oh how we loved it there! We ordered many different things to try and share, and some homemade lemonades. Everything is homemade, in fact: bowls, burgers, sandwiches… all sustainably sourced and prepared, healthy, with no added flavours, sugars, or conservatives of any kind. You can eat there or take out. They do popups all over the city and catering as well. Truly delightful!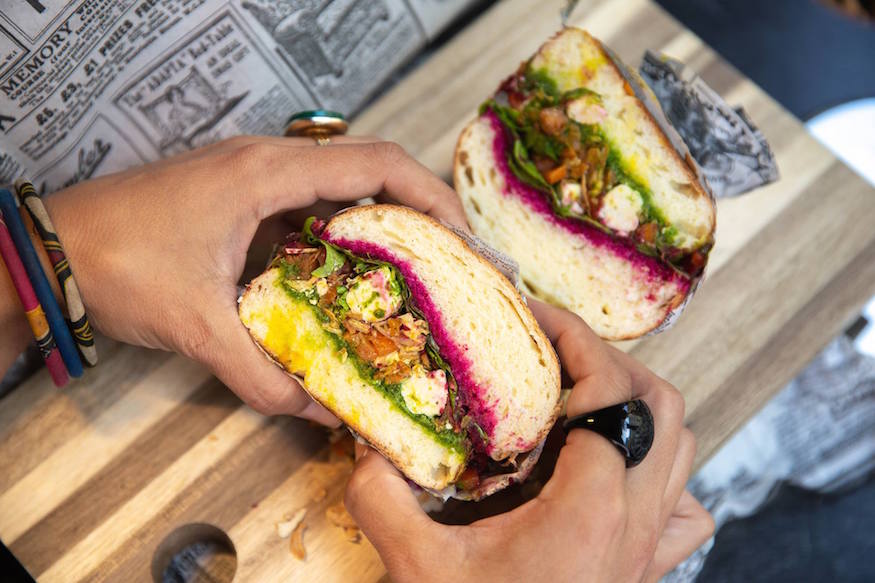 After lunch, we headed back to Rue du Rhone for a chocolate workshop at Sweetzerland Chocolatier just opposite Bristol Geneva. Guests of the hotel get 10% discount there, which is a sweet deal at any season! Sweetzerland offers the finest of Swiss chocolate: only the best ingredients like double crème de Gruyère and pistachios from the Etna region, exceptional flavours and ancient artisanal techniques. The collections are developed by Master Chocolatier Elena and none of Sweetzerland's chocolates will ever contain hydrogenated vegetable fats, preservatives, or palm oil!
If you are a chocolate aficionado, there is an offer called Chocolate Flavours Tour, allowing you to experience Geneva's award-winning chocolate creations during a 3-hour guided walking tour.

Very high on our list of top things to do in Geneva is everything you can do near, by, and on the lake! At any time of the year, there are activities involving the gorgeous Lac Léman, as the locals call it. In winter, you can book boat rides that include fondue dinners, for example, whereas in summer, you can rent a pedalo and paddle out on the water yourself. That is what we did!
After the chocolate atelier at Sweetzerland, Geneva Pass at hand, we took one of the free yellow taxi boats and went to Les Corsaires, a boat rental place. With the Geneva Pass, the first half hour was free, thereafter we could either return the vehicle or keep on going at a reduced rate. Our program was charged, so we decided to just go for 30 minutes, paddle along the beach and soak up the sun. Les Corsaires not only rents out paddle boats and kayaks, it also has sail and motorboats, and is an actual school for water sports like wakeboard as well.
One of the most popular spots in Geneva is the Bains des Pâquis, an artificial peninsula with a beautiful lighthouse at the end and surrounded by a lively beach. In summer, everybody is heading there to sunbathe or picnic. It has easy access to the water and offers magnificent views over the lake and the Jet d'Eau, Geneva's notorious water fountain. Bains des Pâquis offers two saunas, hammam and turkish baths. It really is a fantastic place to spend half a day just chilling and enjoying some me-time!
After our pedalo session, we took the possibility to go for a boat ride during the Golden Hour and watch the sunset. The Geneva Pass offer suggested different possibilities: the Mermaid Cruise, for example, or the Geneva Tour Cruise, during which you learn a lot about the city and get to see some of the most notorious landmarks, like the water fountain, Mont Blanc, or the UN Campus. Both Cruises are FREE with the Pass and take about an hour. It is so gorgeous and relaxing, you definitely wouldn't want to miss out on that!
Then we had some spare time before dinner which was booked at half past nine. We walked along the lake and towards our dinner spot close to Cours de Rive. For the aperitif we stopped at Blacktap to share a burger and shakes. The portions are more than generous and the shakes, like their name suggests, are CRAZY! If you are planning to have dinner after, keep that in mind!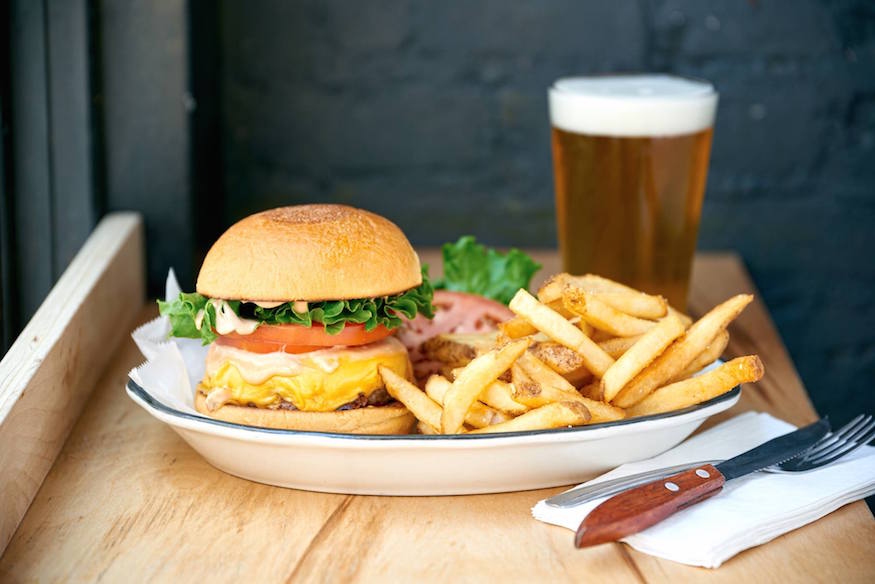 For dinner, at the recommendation of our hotel, we went to KHORA, a fantastic Greek restaurant. Oh la la, it was so good! Great craft cocktails, like the Athenaen Spritz (Tanqueray gin, Belsazar Rose Vermouth, star anise, acid solution, apricots, grilled peaches, grapefruit soda), the Aegean and Tonic (Grace Gin, 3 Cents Aegean Tonic, basil, watermelon), or the alcohol free Negroni (Seedlip Spice 94, red 0% Alc. Vermouth, bitters), vibrant atmosphere, and authentic Greek cuisine!
They have nice little terrace as well. Places are limited though, and if you want a table outside, it is better to reserve in advance. KHORA is definitely a cool place, that we can recommend!
After dinner we were so full that we decided to walk back to the hotel. Best idea! Geneva at night is very gorgeous: a thousand lights from the restaurants, bars and boats that are anchored in the harbour and a fresh breeze from the lake. Even late, the city is still hustling and bustling!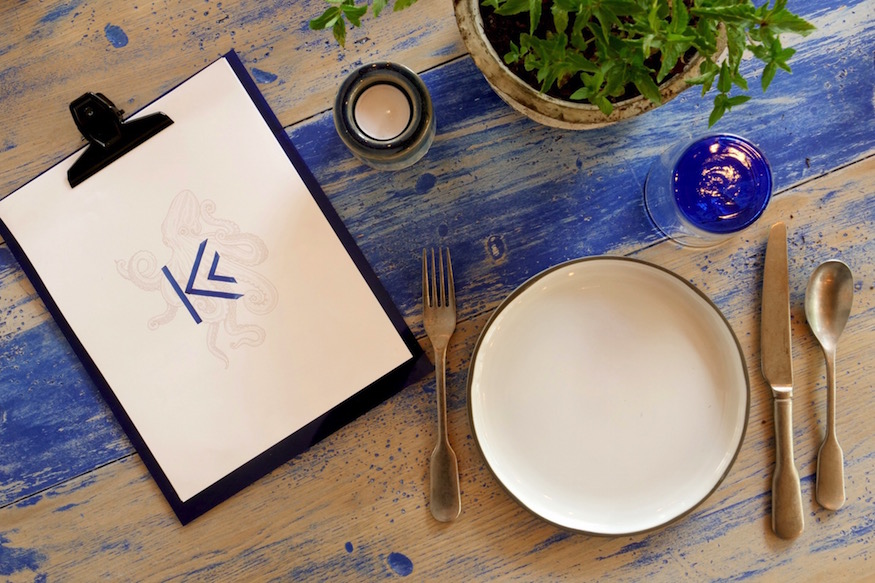 Day Two: Tai Chi in the garden, Thai lunch, Winetasting
In the morning after breakfast, the Bristol had organised something very special for us: a Tai Chi session in the garden. The teacher is a freelancer that you can hire for sessions. He comes to wherever you want him to – hotel, office, home, lake – and teaches you or practices with you the different routines. If you have not tried Tai Chi before, we can truly recommend it.
This form of martial art is directed more at defence than attack and consists of very slow, precise movements. So you are very concentrated for a couple of hours and you move in a way that strengthens your muscles and mind without being too heavy on the joints. To start the day like that? Honestly brilliant! We felt super relaxed after this initiation to Tai Chi in fresh air. If you are in Geneva and interested in this experience, leave us a message and we will send his contact details to you!
For lunch we went to Mama Thai, a new restaurant/take out in Carouge. My goodness, these flavours! It really is the Mama of one of the three founders who is cooking traditional dishes like she would at home in Bangkok. We sat in the garden and could not believe our luck to have found this place. It was so good.
At 2pm, we were picked up by Taxibike for a one of a kind eTukTuk ride: through the vineyards and wine tasting at Domaine Château du Crest, whose fabulous wines we were served during our dinner at restaurant Côté Square.
Taxibike must be the coolest way to get around town in Geneva, for sure. This is so much fun! You can book different tours with their eTukTuk: through the vineyards or to see all the graffitis, for example. There also is the RestoTuk which allows you to get food from a selection of restaurants and enjoy them aboard the vehicle.
We absolutely loved our tour through the Geneva countryside which was culminating in a visit of the vineyards at Château du Crest, meeting the winemaker and tasting a selection of their splendid wines.
The vineyards stretch out over 15 hectares and different varies are grown here: Chasselas, Cabernet, Merlot… The old vault which was excavated in 1823 was upgraded in 1994 in order to continue the ancient tradition of pressing the grapes at the castle. We found an extraordinary red wine there: Divico. It's a relatively new grape variety, a cross between Gamaret and Bronner. Deep red, almost purple, rich flavors of ripe black cherries and black berries. Nice sipping wine if you like pronounced tannins, but also great for the upcoming BBQ season as it pairs very well with grilled meats and vegetables.
A tour like that takes about 3h and is a lovely experience. You just sit back and relax, while enjoying the scenery and your driver explains different landmarks that you come across on the way.
If you don't want to go back straight after and maybe consider staying the night, there are also six gorgeous guest rooms at Domaine Château du Crest for those who seek a break away from the city and total immersion in the life of the winemaker. All rooms are named after his grandchildren, and as individually furnished.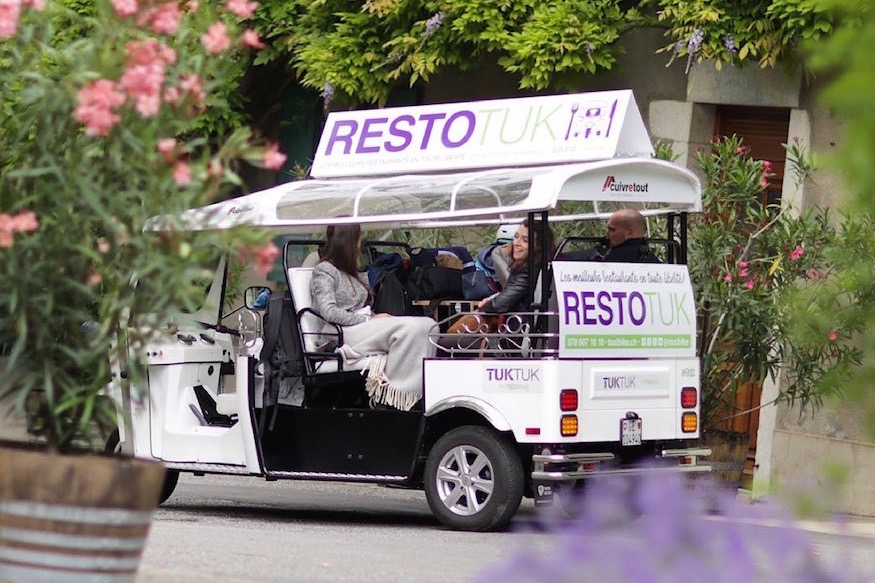 Geneva offers you its stars: Great 4-star superior and 5-star hotels
The first hotel we were staying at was the Bristol Geneva, a wonderful 4-star superior with a plush interior and British charm. It has "Ladies First" rooms that are entirely tailored to women, a great piano bar and a Gault & Millau restaurant, the Côte Square. Other fabulous 4-star superior hotels that we have been at and can recommend are Hotel N'vy, and Longemalle.
In the 5-star category we find some remarkable hotels in Geneva. Among them the Beau Rivage, the Metropole, the Ritz Carlton, the Hilton, the Four Seasons, the Fairmont, the Mandarin Oriental, and the Hotel d'Angleterre…
To find the perfect place for you, we recommend to check the Geneva Tourism website! There is an extensive list of hotels.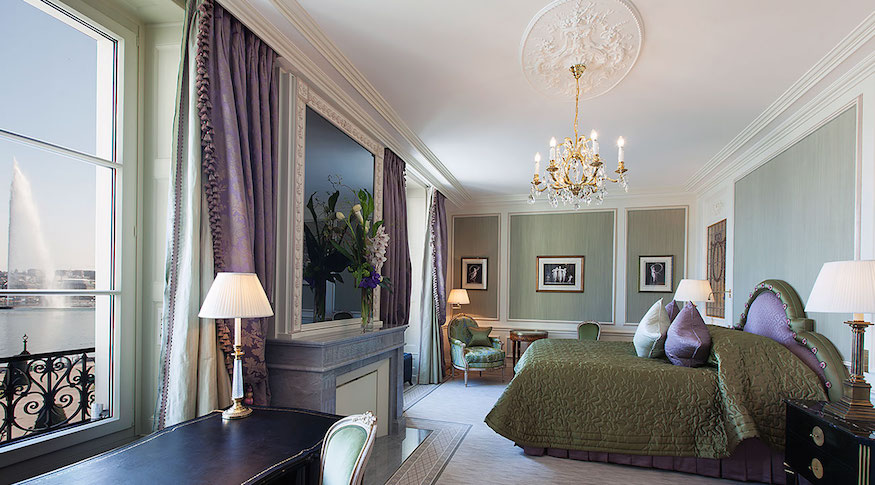 Restaurants in Geneva: Online orders, pickup, take away, terraces
In the current situation it is not so easy to keep track of who is open and who offers what. That is why we will be updating this list of cool places for food and drink regularly. What is certain, is that Geneva is a culinary hotspot. From traditional Swiss fondue to elaborate Gourmet Cuisine, from burgers to street food from every corner of the world, you will find everything here! Geneva has been elected City of Taste 2021, and again, the Geneva Tourism site provides information and inspiration about where to Eat & Drink.
Côté Square: the Gault & Millau restaurant at Hotel Bristol Geneva, has a little terrace as well
Le Floris: fantastic food spot, fine dining fusion cuisine, Swiss chalet type bistro, bar and terrace
KHORA Geneve: we spent a great night there enjoying authentic Greek food and craft cocktails
Mama Thai: a fantastic thai canteen in Carouge, the "Mama" cooks authentic dishes from Bangkok like she would for her family
Street gourmet: Lebanese street food, all homemade and healthy, take out or it in, popups, catering, and has tables outside as well
Yakumanka: Peruvian restaurant at Mandarin Oriental offering great Pisco Sours and fantastic seafood
Even more cool things to see and do when in Geneva? Whether it is for your travel bucket list or your next staycation, our blogger friends put together some ideas on their blogs as well! Cindy described her experience at Bellezarebel.com. Priscilla wrapped her Geneva staycation on The Chic Advocate, and NewinZurich also put together a list of 10 top things to see and do. Darya wrote up about her recent trip to Geneva on swissglam.ch