For years, Ibiza was my N° 1 summer holiday destination, hence the idea to share my personal Ibiza Travel Guide here with you.
Ibiza is many different things to many different people: some go for the parties, others for weddings, and others for all kinds of retreats. To me, it is all of these things and definitely a dream destination for any occasion.
In all honesty, Ibiza is one of the places I could see myself living in. It offers everything from beautiful nature, to succulent cuisine and fantastic nightlife. It is also easily accessible from Zurich (with Edelweiss Air, for example) and Geneva (Darwin Airline, former Etihad Regional) for very reasonable prices.
In just about 2h you can in find yourself in the heart of the Balearic Island, ready to explore its many facets. The first time I went, it was with Estrella Damm and to explore HEART Ibiza, a new culinary concept by the Adrià brothers. Then for a Happiness Retreat, that truly worked its magic on me, and the third time it was with Tag Heuer for the season's closing of Ushuaïa with David Guetta.
And after that, many many times. I love it so! The little guide I am putting together here is work in progress. So come back often and check what's been added. If you would like to share Ibiza tips with our community, write us on Insta!
Ibiza: multifaceted, multicultural and magical
This Balearic island is a true gem! Over the last couple of years, I had the pleasure to experience it both for business and for pleasure!
Once I have been invited to experience a new culinary concept – HEART Ibiza, another time I went with Tag Heuer for the launch of a new watch, to interview David Guetta and to live the "party life", and once I was invited to explore "the other side" of the island, the one that calls for introspection, self-reflection and deceleration.
Who am I, what is important to me, where am I going… Back to Ibiza as soon as possible, THAT I can tell you now!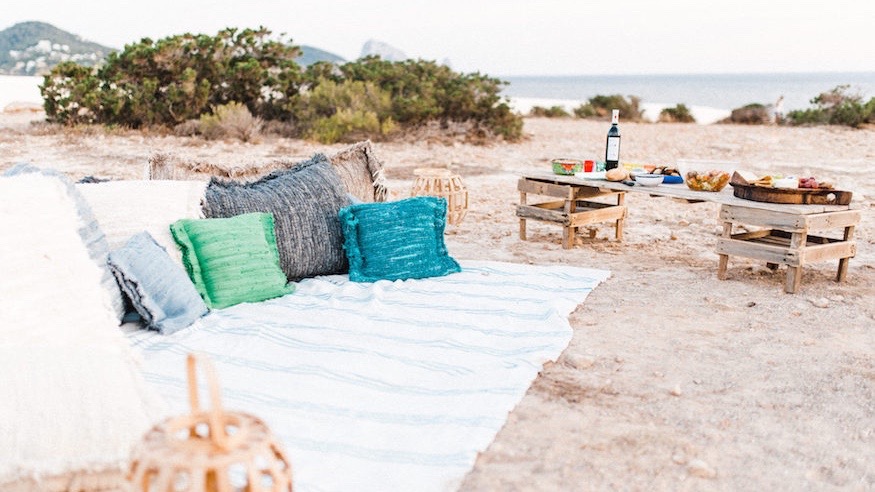 I absolutely love the island, all facets of it, actually. But the time I went for the retreat organised by a friend was very, very special.
After a longer period of traveling for events I was feeling all buzzed up. Perfect timing for a retreat of this kind – coming down, calming down, being myself again, simply…be again.
We created so many wonderful memories during this week. So many impressions I would like to share with you. And so many cool people I must absolutely introduce to you!
Isabel from Ibiza Softens Age,  Max, the Ninja Chef, and Toby from Walking Ibiza… to name just a few.
Be Again: a Lifestyle Retreat Concept 
In a nutshell: Be Again is a fantastic concept by Swiss entrepreneur Avieta Zgraggen.
During one week, you stay at a beautiful finca – ours was Villa Can Tunio near Santa Gertrudis, secluded, very private, and amidst the most gorgeous nature.
The aim being to allow you to "reconnect with your ambitions, passions and life goals" while exploring different facets of Ibiza and meeting inspiring locals.
And what a program Avieta created for us! Highest priority though: time for yourself.
Although the planning proposes a lot of activities, guests are totally free to participate in them or not. You can tailor your Be Again experience entirely to your own rhythm and needs.
Just to give you an idea of the multitude of activities proposed, here an excerpt: morning yoga, grounding session, massages, kayaking into the sunset, picnic by the beach, medical workshop with Max, our Private Chef, meeting with Belinda, the Mid Life Coach, natural cosmetics workshop, visit of Andrea, the "Marmalade Lady", visit of Las Dalias Night Market, coffee workshop at Meke, visit of Ibosim, the local craft beer brewery…
The lot entwined with extensive beach and pool sessions, delicious meals and lots of spare time.
One week during which you can truly relax, soak up the Ibiza sun and fill your heart with joy.
Be Again Ibiza Retreat: more than a vacation
It is not (just) a vacation. It is an experience that is rather hands-on, engaging of all the senses and that makes you realize that there is life beyond the rat race.
That, in fact, life is outside: in the beautiful nature that surrounds us; in every flower, every tree and every sunbeam that reverberates the vibrations of Mother Earth; in every person you meet, every smile you receive and every meal you enjoy…
When you come back from the Be Again retreat, you really wonder why you would want to live any other way than in accordance with what makes you happy.
And as far as I am concerned, it is the little things: good food, healthy living, and time… time for myself and time for the people I love.
So yes, coming back from Ibiza, I feel transformed. Not that I was unhappy before, I just realized that with less of the unnecessary, there is more time for the essential: my wellbeing and happiness.
A notion that was reinforced by the encounters with the many inspiring people Avieta introduced us to. Without exception, all living proof that following your heart and living your passions is not only possible but also the way to inner peace.
I am seriously considering returning to Ibiza as soon and as much as I can. How about you? Have you already been there? What is your experience?
Maybe you have tips you want to share… just leave a comment below. I am always happy to exchange with you!
Some practical information
From Switzerland you can get very easily to Ibiza with Edelweiss Air from Zurich and with Etihad Regional from Geneva. Both propose very accessible rates.