Among the Scottish Whisky regions, the Isle of Islay is the most famous when it comes to peat content in whisky. The island is situated on the West Coast of Scotland at about the same latitude as Glasgow and Edinburgh. The southernmost island of the Inner Hebrides of Scotland, it is often referred to as "The Queen of the Hebrides". The island's capital is Bowmore. It currently houses eight Islay Whisky distilleries, of which six produce only peaty malt.
Smoky, peaty single malts are very much in vogue these days. Once a bare necessity – having to accept the smoke flavor from drying malt with peat fire – has long since developed a specialty that is appreciated by an ever-growing fan base. Our friends at Raise your Spirits are not only aficionados of peaty Scotch – no – they are downright specialists! Which is why we recommend you head down to Vienna for their ultra-exclusive tastings at Das Heinz!
Guests will fully immerse in the world of peat whisky and explore how the significant smoke flavour actually gets into the finished spirit. You will taste samples from the most pungent bottlings currently available from a variety of producers, as well as bottlings from independent companies that like to run Islay peat in their program.
The private tasting takes place in the Extrazimmer at the exclusive Viennese city center restaurant "Das Heinz". A whisky expert will guide you through the tasting process, explain the differences in the design of each product, talk about Scottish whisky culture and answer any questions you may have.
You will get to know the correct tasting techniques in order to be able to identify and name the different taste components in the whisky. The tasting includes eight samples of various peaty malts from the Isle of Islay and gives you the opportunity to explore the differences. Samples may actually vary based on availability. The event we went to featured the selection below.
1. Ardbeg Uigeadail Islay Single Malt
Named 'World Whisky of the Year 2009' in Jim Murray's Whisky Bible, this special vatting combines Ardbeg's traditional deep, smoky notes with luscious, raisiny tones of old ex-Sherry casks. Its "utter silky brilliance" and "complexity on a level only a handful of distilleries in the world can even dream of reaching" (Murray), is the reason Ardbeg Uigeadail, pronounced 'Oog-a-dal' was voted by the 120,000+ strong Ardbeg Committee as their favorite Ardbeg.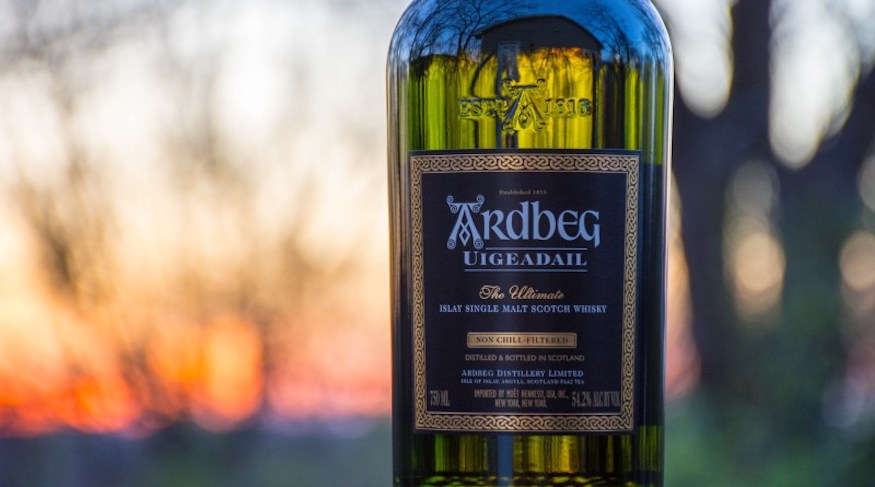 2. Bowmore 15 years Darkest Single Malt
The Darkest Distinction. This whisky is matured in an inspired combination of both bourbon and sherry casks, it's the final three years spent in Oloroso sherry casks that gives Bowmore 15 Year Old, one of the most beautifully balanced Bowmores, the rich, deep color reflected in its name, and its warming finish. It has the color of dark amber treacle and features notes of delicious dark chocolate, sun-dried fruits and a telltale wisp of Islay smoke. Cedarwood, treacle toffee and sherry round up its complex flavor profile.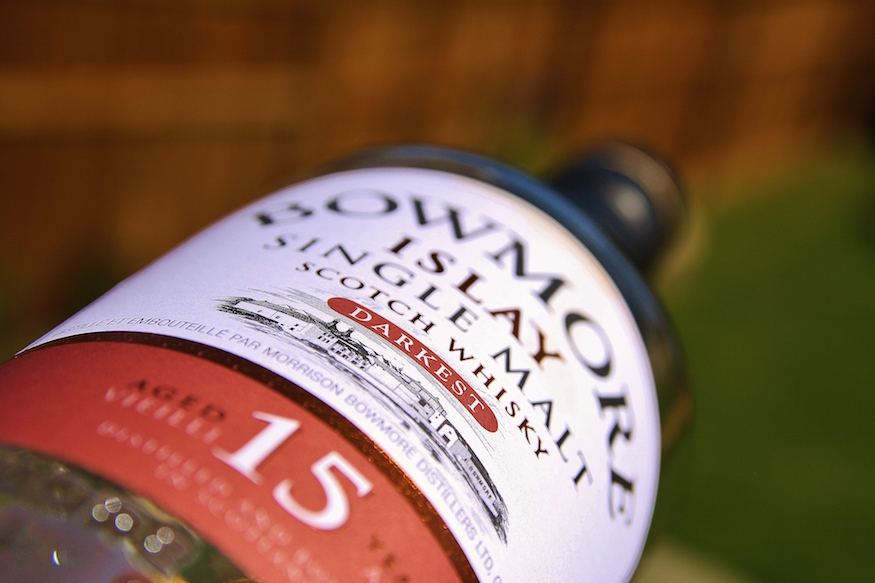 3. Caol Ila 12 years Single Malt
Pronounced 'cull-eela', the distillery is situated on the North Eastern shores of Islay with magnificent views across the Sound of Islay to the spectacular Paps of Jura. Caol Ila 12 years Single Malt is the color of pale straw, with a delicate balance of tastes. Best served simply neat in a rocks glass, adding ice or a splash of water to taste. Smoke and salt notes as well as vegetal flavors that pair really well with tapenade, for example.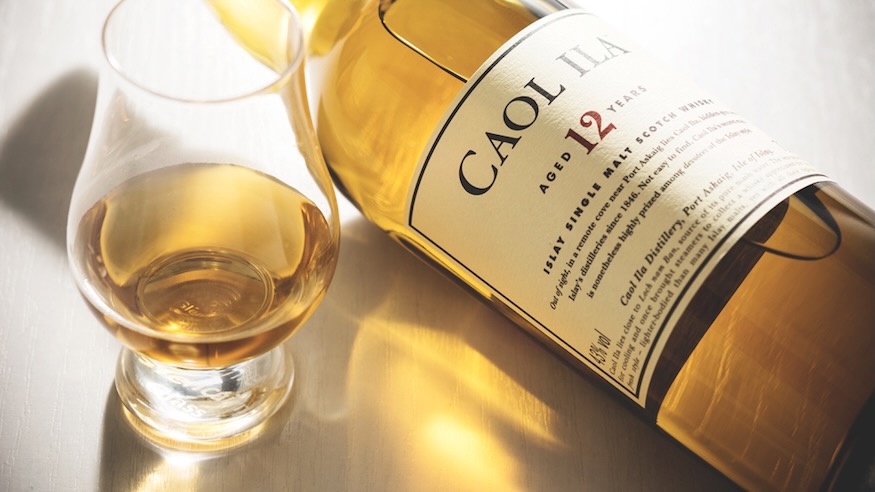 4. Bruichladdich Octomore Single Malt
Octomore is a super heavily peated single malt Scotch whisky. Being experiential is in the brands DNA. So the story started off as a question: "What if the most heavily-peated barley were distilled in the tall, narrow-necked Bruichladdich stills?" Octomore salutes those days when, in 1816, the farm above Port Charlotte still housed a distillery. When the men who tended the fires at Octomore would have grown the barley on their land, and cut the peat from their banks, then sold the spirit they produced very young to a market keen to experience the unique flavors that emerge from this extraordinary island.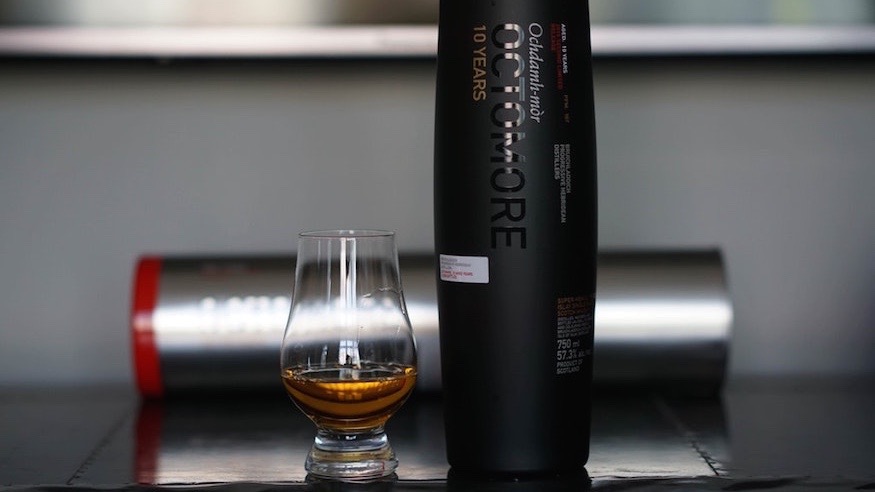 5. Kilchoman Machir Bay Single Malt
Named after the most spectacular beach on Islay, Machir Bay is the flagship of the Kilchoman range. Machir Bay is a unique and complex combination of ex-bourbon barrels and Oloroso sherry butts. Machir Bay was first launched in 2012 when it won the prestigious IWSC 2012 Gold Award and more recently in 2016 it was awarded best Islay Single Malt at the IWC. Machir Bay features notes of vanilla and smoky butterscotch that are perfectly balanced with its rich fruitiness.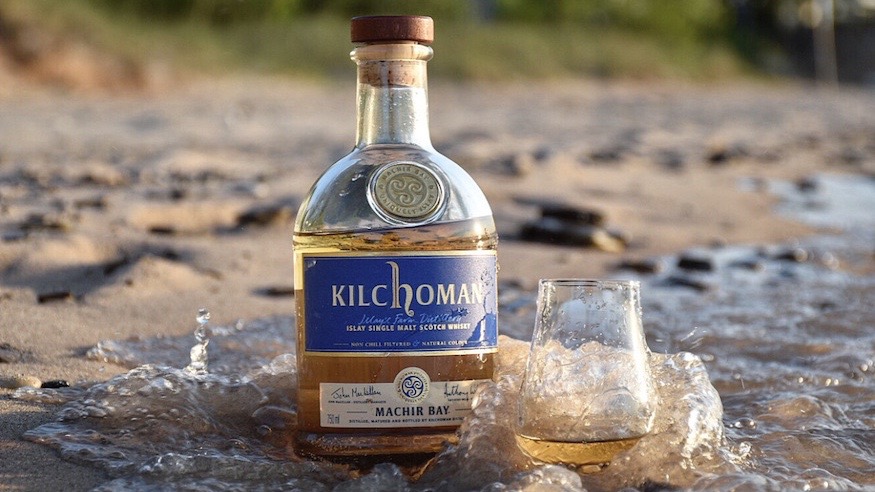 6. Lagavulin Distiller's Edition Single Malt
Double matured in Pedro Ximinez cask wood, this mellow Lagavulin is peat-rich, sweet and very more-ish. Best served with a drop of water. Because of its mighty flavor that is characterized by iodine and hyper peaty notes, this Lagavullin pairs well with mussels, oysters and aged blue cheeses like Gorgonzola, Roquefort or Stilton.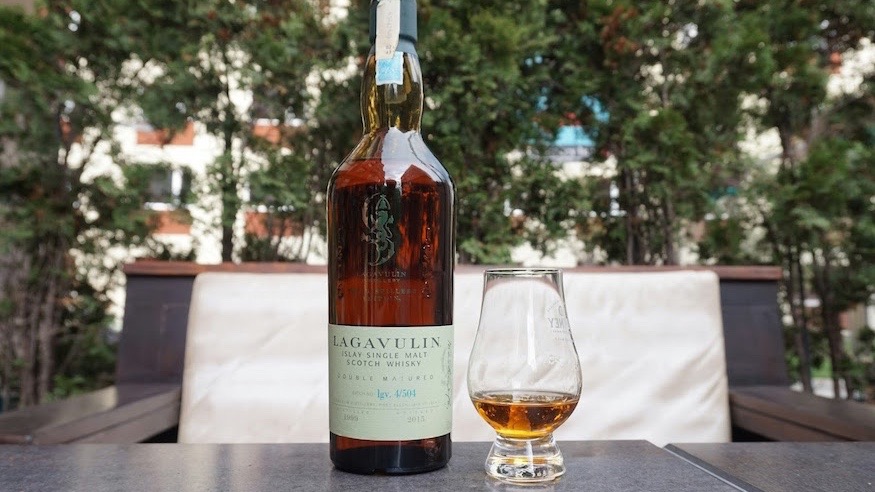 7. Laphroaig Quarter Cask Single Malt
Quarter Cask is a still-maturing whisky that is transferred from Laphroaig's standard ex-bourbon barrels to quarter casks and left to rest in the distilleries warehouse just a stone's throw from the Atlantic shore. This expression offers an irresistible doubling of flavor due to the double maturation in two casks made of American oak. This process represents Laphroaig breathing new life into a once-defunct tradition: the use of the smaller cask size, which ensures increased contact with the oak, creating a soft and velvety edge to complement Laphroaig's distinctive peatiness. On the nose the sensation is toffee and caramel, caused by the vanillas and tannins of the American oak, plus a dryness from the wood oil. The finish is long and alternates between this sweetness and smoke.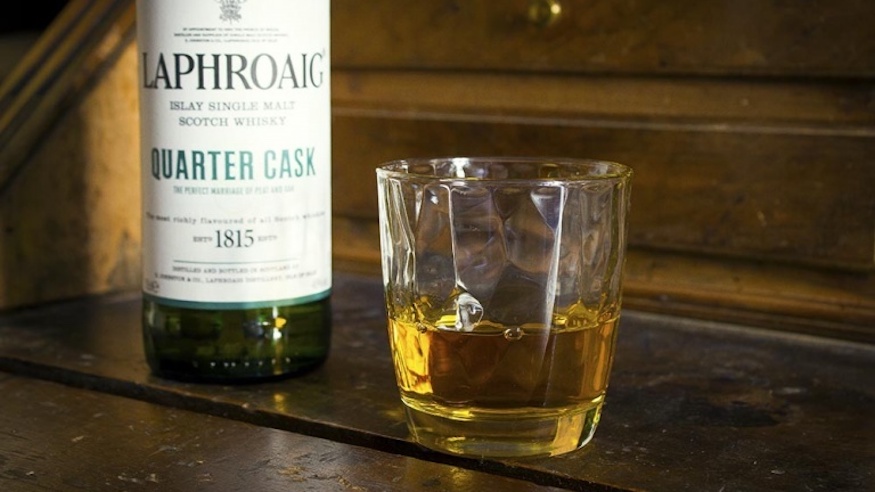 8. Big Peat Islay Blended Malt
Douglas Laing's Big Peat is Islay in a bottle. A blend of several regional Malt Whiskies, including Ardbeg – for its medicinal, earthy quality, Caol Ila – for sweetness, Bowmore – for perfect balance, and (even the now closed) Port Ellen – for a degree of elegance. This is a small batch bottling, without coloring or chill-filtration. Fresh, salty and clean on the nose, with notes of sweet malts dried over peat, this whisky is feisty but simultaneously mellow. A powerfully peaty dram that smacks of ashy bonfires and Islay shores…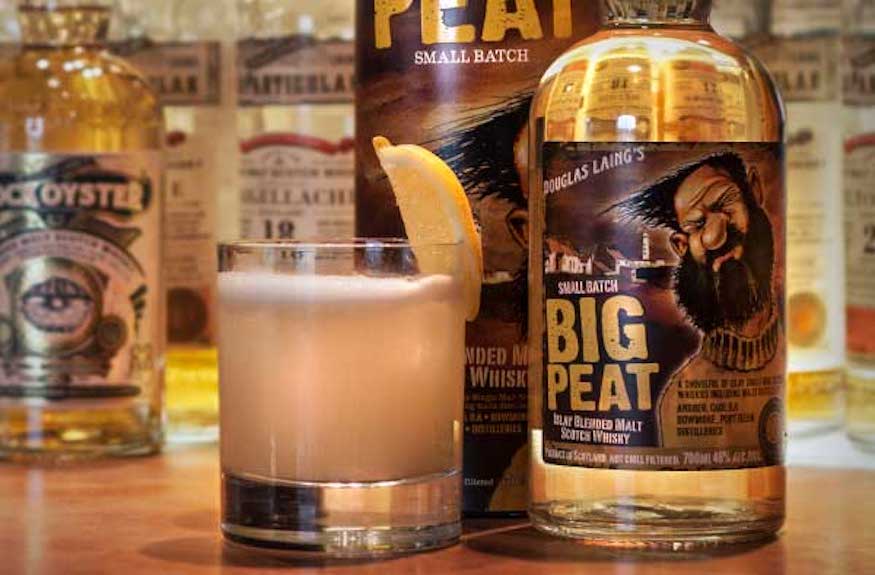 Where: Das Heinz, Rudolfsplatz 12, 1010 Vienna, Registration: info@raise-your-spirits.at, T: +43 660 25 99 921