We have three magic words for you: Truffle, Fondue and Champagne. Add to that art pieces by Richard Orlinski, a curling rink and a cosy popup chalet – et voila – La Petite Foret!
Commonly known as the cradle of international corporations, Geneva sure is a business metropole… but not only that. The city with two rivers is the gateway to the Alps, a peaceful haven with stunning views over Lac Leman. According to the votes cast at the prestigious ceremony of the World Travel Awards, the "Oscars" for the tourism industry, it was, for the third consecutive time, elected Best European City Break Destination of the Year 2018.
Despite its small size, Geneva is rich in cultural diversity. It has a stunning medieval old town, many museums, theatres, numerous beautiful gardens, international events, luxury boutiques, and, of course, several 5-star hotels.
One such establishment is the magnificent Grand Hotel Kempinski Geneva. Besides its spacious, luxurious rooms and gastronomic offering, the hotel is also home to a magical, snow-kissed forest. The concept is simple: create your own Winter Wonderland and spoil your guests with only the best of the best. Black Truffle and Champagne fondue accompanied by a glass of Dom Pérignon…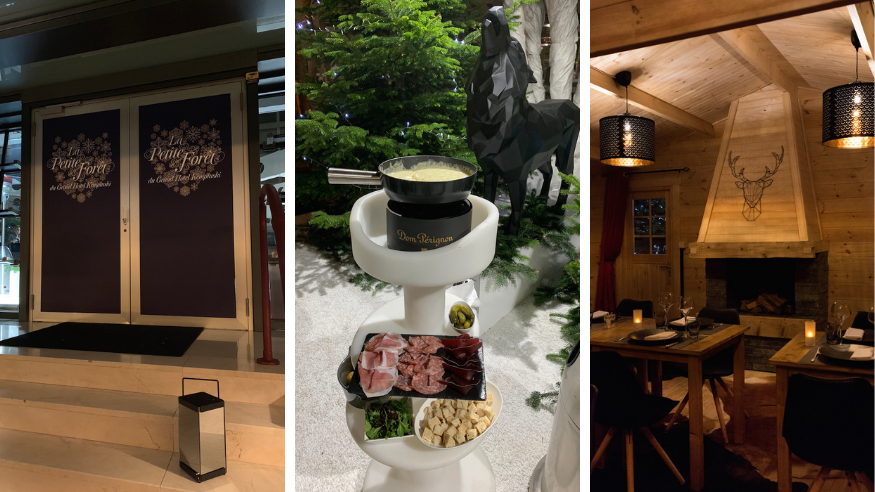 The Winter Concept in collaboration with the prestigious champagne brand Dom Pérignon is recurring every year. It allows gourmets not only to enjoy a typical Swiss fondue dinner in a charming chalet ambience but also to admire artwork by the renown French contemporary artist Richard Orlinski.
Chances are you will have seen his brightly coloured Pop Art-style multi-facetted beasts somewhere before. From his immense "Wild Kong" gorilla sculpture on the Croisette in Cannes and his crocodiles in the sunshine of the Miami Design District, to his 5-metre-tall bear on the snowy pistes of Courchevel.
Eager to rise to challenges, Richard creates his sculptures by cutting them like diamonds and he never fails to rise to a challenge. Just recently, the artist teamed up with Hublot in order to create a special watch that was revealed during SIHH, the Salon International de la Haute Horlogerie.
Dotted around "La Petite Foret" are Richard's sculptures of bears and wolves, who are the guardians of the enchanted forest. A novelty this year is the curling rink, complete with a ski lift cabin in which you can sit, snuggle up and sip champagne.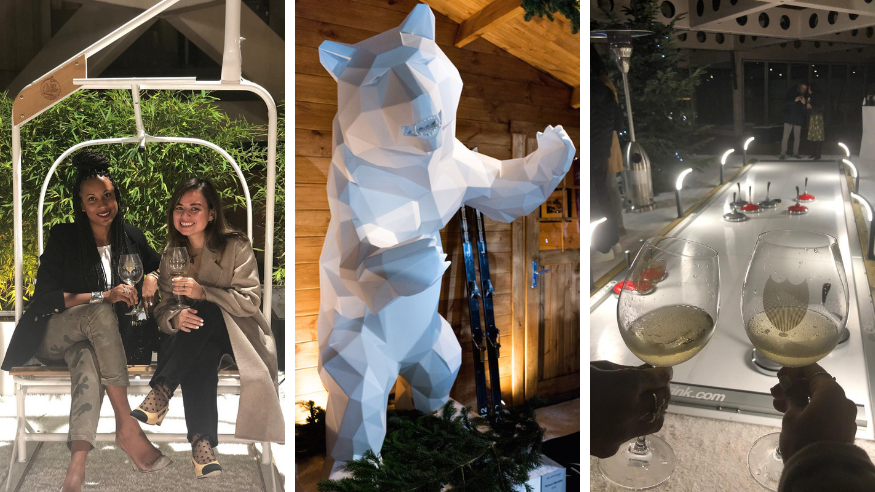 For those of you who are interested to discover "La Petite Foret" for themselves and maybe have dinner there with friends, here some practical information.
What does it cost?
Swiss Cheese Fondue "moitié-moitié" AOP, a selection of cold cuts and pickles, potatoes and a side salad, plus a glass of Champagne Dom Pérignon Brut for CHF 89.- per person.
How to reserve?
For more information and reservations, call +41 (0) 22 908 91 61 or write an e-mail >>>
Where is it?
Grand Hotel Kempinski Geneva, 19, Quai du Mont-Blanc, Geneva, La Petite Foret
We were invited to the Private Opening of "La Petite Foret" and Ana and Nicole had the best time! The proof in the video above. Luckily, we got to take Claire and Nicolas, our friends from Dresscape, who took most of the beautiful pictures you see in this post.
Although we did not have a White Christmas, we have lots of snow now and you can still enjoy authentic Swiss Chalet atmosphere right in the heart of Geneva, because La Petite Foret is open until the end of March!
And to make your day complete, why not check out the hotel's Brunch and Spa offerings? There is a great deal on right now: every Sunday, Brunch & Day Spa for only CHF 149.- All the info and reservations here >>>