The KURE BAZAAR brand was founded in 2012 by Kartika Luyet, a model and TV personality. Since then, the brand produces healthy, natural nail polishes, nail care and lipsticks in the most trendy colours.
This season, Kure Bazaar is expanding its trendy color palette with the Cactus collection and the two new colours "Jaipur" and "Karma".
After a hot summer, Kure Bazaar presents bright colours and takes the vibrant attitude to life into the winter. With their Cactus collection, which also celebrates the 80s, they recall a decade that was characterised by bright colors and wild fashion trends.
The first color of the collection is, of course, orange! The shade "Pop" is a rich, intensely bright, chic orange that combines wonderfully with this year's vintage trend. The shade 'Cactus' – a pretty lime green with hints of yellow – is simply irresistible. Inspired by New Mexico and the colorful city of Santa Fe, "Cactus" will add a touch of madness to even the simplest of outfits.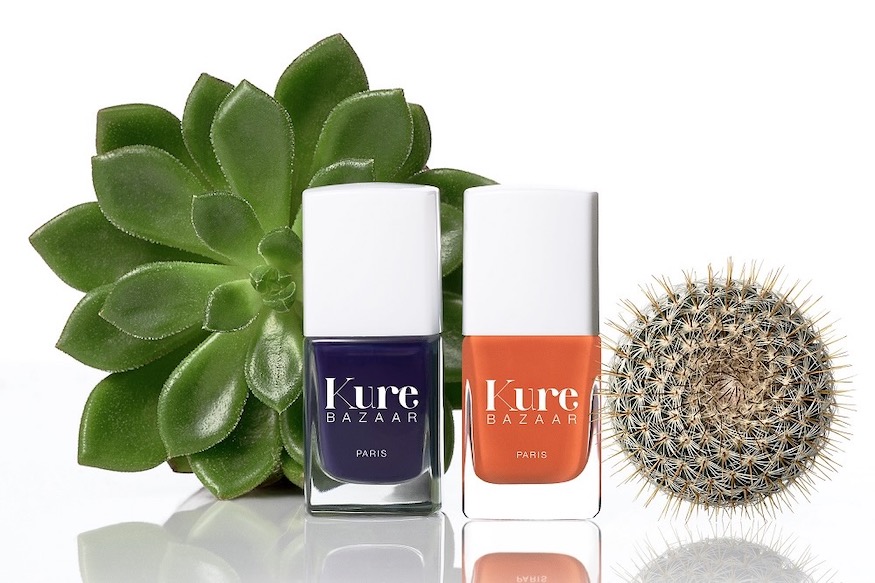 The color "Jazz" completes the trio and depicts a beautiful autumn night with its deep, black violet. The colours "Jaipur Mat" and "Karma Mat" complete the novelties of this season.
Still on the theme of pop colors, this time Kure Bazaar takes you to the heart of colorful India – vitamin-packed shades and names inspired by Indian culture. "Jaipur Mat" is a bright pink with glitter that brings color and softness to the nails in equal measure, while "Karma Mat" represents an enchanting autumnal sunset with its neon orange hue.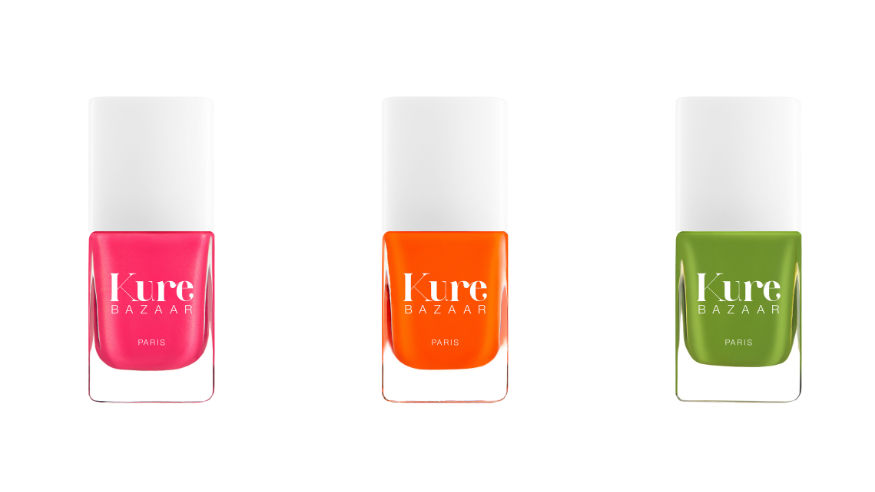 Kure Bazaar presents the first new generation nail polish for beautiful hands and strong nails. After many years of research, the brand has developed a technological innovation that significantly reduces chemical substances without compromising on effectiveness.
The ingredients of Kure nail polishes are up to 90% of natural origin and "10 Free", i.e. WITHOUT additives such as toluene, formaldehyde, dibutyl phthalate, synthetic camphor, triphenyl phosphate, paraben, xylene, styrene, benzophenone-1 and benzophenone-3. This philosophy aims to maintain the vitality of smooth, strong and healthy nails!
In Switzerland, the new lacquers Pop, Cactus, Jazz, Jaipur Mat and Karma Mat are available at www.kurebazaar.ch for CHF 21.50 each.
About Kure Bazaar
The KURE BAZAAR brand was founded in 2012 by Kartika Luyet, a model and TV personality. During her pregnancy, the Swiss-raised beauty began paying attention to the foods and products she was consuming or using. This is how the idea of ​​making a nail polish from natural ingredients came about. This project was realised together with a friend from the cosmetics industry and thanks to the support of a renowned laboratory.
Kartika Luyet was born in Rio de Janeiro in 1977 as the daughter of a Swiss father and an Indonesian mother. She spent most of her childhood in Savièse in the Swiss canton of Valais. Kartika is best known for two commercials for Fiat in 2000 and 2001. KURE BAZAAR has already celebrated success at Paris Fashion Week, where the brand's trendy colors graced the nails of models such as Karlie Kloss and Georgia May Jagger. That was part of Yoshiki Hishinuma's Spring/Summer 2012 show and the 2014 Mugler Fashion Show for David Koma.
Since then, the portfolio has expanded to include natural nail care and lipsticks.

If you would like to keep informed about Kure Bazaar – Product and Brand News, Beauty tips, Gift ideas – subscribe to the Kure Bazaar Letter by leaving your eMail here below.