Angostura Cocoa Bitters: At the occasion of Angostura's launch of Cocoa Bitters in Austria, we invited renown chefs and top barkeeper in Vienna for the creation of a three course cocktail pairing menu. These are the results.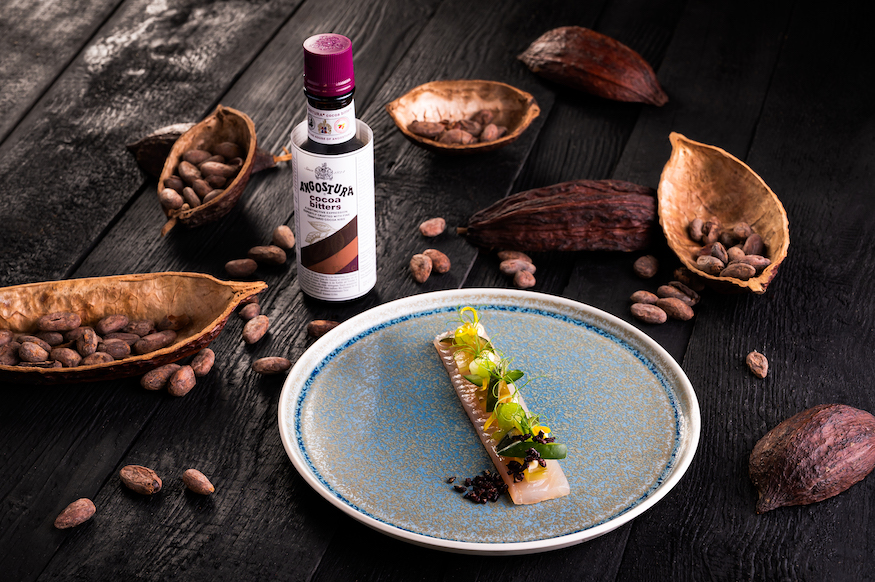 Starter: Kristijan Bacvanin – Wild Catch Reinanke
Step 1 – Prepare Reinanke: marinate the filleted and boned wild-catch fish for 8 hours in a 1:1 curing mixture (1 part sea salt & 1 part granulated sugar), be sure not to use too much of the mixture to avoid the fillet being overdone, when the fish is cured, rinse off the remaining mixture with cold water and pat the fillet dry.
Step 2 – Pickle cucumbers: you can preserve cucumbers in different ways; here are three suggestions: pickled cucumbers (for this you halve small snack cucumbers lengthwise and marinate them with a 1:1 marinade for about 8 hours), miso pickles (wash cucumbers, do not peel, halve lengthwise and core; for the barley miso marinade, mix 1 part miso paste, ½ part soy sauce, ½ part honey, cover the cucumbers with the marinade and let them mature in the refrigerator for 3 days); fermented cucumber (prepare a 3% brine (e.g. for 2.5 kg of cucumbers > 2 l of water + 60 g of salt), arrange the cucumbers in a glass jar and pour the brine over them, epending on your taste, season with caper blossoms, dill, mustard seeds, garlic cloves, and cover the opening of the jar with white bread, leave in the sun for 3 days). The sections of the cucumbers are best used for a cucumber jelly: 500 g of cucumber water is bound with 4 grams of agar agar and 5 sheets of gelatine.
Step 3 – Barley Miso Mayonnaise: prepare a neutral mayonnaise and, towards the end, add some of the miso-cucumber marinade, a little lemon zest gives the mayonnaise additional freshness.
Step 4 – Crispy Venere Rice: cook rice until soft, dry overnight in the oven at 45 degrees, deep fry on very high heat, brush the marinated Reinanke with some Angostura cocoa bitters, cover with the pickled cucumbers, dab mayo and gel nicely onto the cucumbers, decorate with micro greens (preferably coriander) and cucumber blossoms, sprinkle some of the crispy rice on top. Et voilà!!!
Cocktail Pairing: Kan Zuo – Miso Peach Bellini 
5cl Fermented Peach Cordial
2dashes Angostura Coca Bitters
10cl Champagne (Moët & Chandon Brut Imperial)
Pour the cordial and bitters into a chilled champagne glass without ice. Top up with champagne.
Serves: 1
Instructions: Fermented Peach Cordial
10 pcs. flat peaches (approx. 1l puree)
500g sugar
1dash citric acid
1bsp. miso paste
Juice the peaches, let the juice stand at room temperature for 2 days until slightly fizzy. Stop by adding sugar (2 parts liquid : 1 part sugar), citric acid and miso. Pour into a bottle and put in the fridge. Approximately 1 month shelf life.
Main Course: Andreas Döcler – Beef Brisket Sous Vide
Seal the beef brisket in a vacuum bag with olive oil, some thyme, rosemary and Maldon sea salt. Then cook it at 68 degrees for 72 hours! To finish, sear on both sides, season with Maldon salt and fresh pepper. Sprinkle with Angostura Cocoa Bitters.
For the puree: prick the skin of a sweet potato, drizzle with olive oil and bake in the oven at 170 degrees for 45 minutes, then cut open the potato, scrape out the flesh, finish in a casserole with butter and some beef broth, season to taste with salt, fresh pepper, ginger, orange, and nutmeg.
For the jus: prepare a classic demi glacé, repeatedly pour in the stock and let it reduce until you get a strong jus, then season with cranberries, Dijon mustard and the Angostura Cocoa Bitters.
For the Cranberry gel: 500 ml cranberry juice, 7 ml Jack Daniel's, 3 ml grenadine, 3 g honey, 10 ml vanilla vinegar, 15 ml Forum Vinegar (red), 7 g agar agar, 7 g gellan. Boil everything together and let cool. Mix the jelly with the Thermomix to a smooth gel.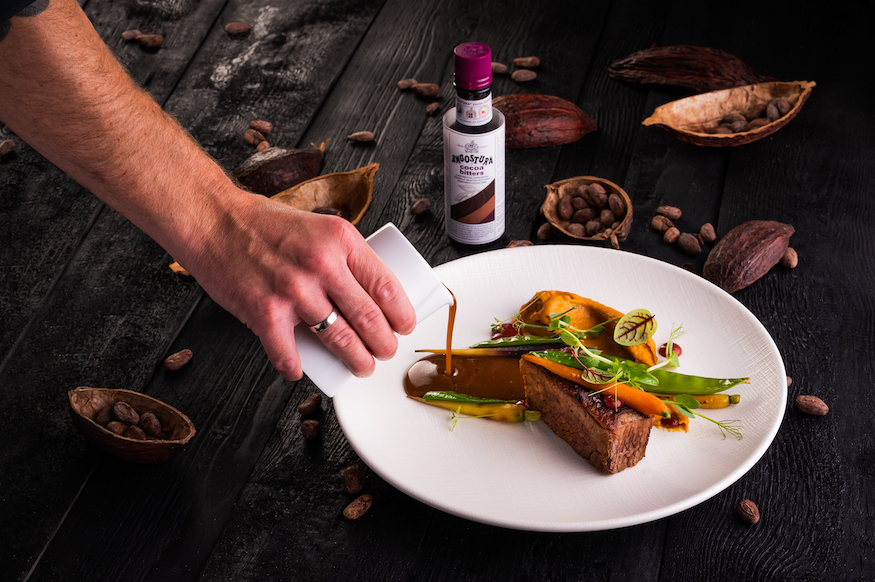 Cocktail Pairing: Katharina Schwaller – Synergy
3cl Angostura 1919
2cl Ayurveda Kapha Cordial
3dash Angostura Cocoa Bitters
1BL Citric Acid
5cl 1724 Tonic (or other very dry tonic)
Jigger all the ingredients except the tonic into a metal mug, add ice, throw a few times using a second metal cup, strain into a chilled champagne glass without ice, top up with tonic.
Serves: 1
Non-alcoholic variant
2.5cl Ayurveda Kapha Cordial
3dash Angostura Cocoa Bitters
0.5cl Citric Acid
7cl 1724 Tonic (or another very dry tonic)
Ayurveda Kapha Cordial: 2 tablespoons ghee, 30g popcorn, 15dash Angostura Orange Bitters, 1 organic orange (zest and juice), 1l water, 0.5l orange juice, 500g sugar, fat wash at 5°C, reduction to 50%.
Dessert: Mario Kisielewski – Chocolate & Cherry
Chocolate Ganache: 250 g dark chocolate, 250 g cream; chop the chocolate in very small pieces Boil the cream in a saucepan and then stir in the chocolate until you get a homogeneous mass. Leave to cool and chill covered in the fridge for at least an hour. Then beat with a mixer until a creamy consistency is reached.
Chocolate Earth: 125 g almond flour, 70 g butter, 125 g icing sugar, 50 g chocolate; chop the chocolate into small pieces and melt over a water bath (caution: do not let it get too hot!), knead all the ingredients into a crumbly dough and then, using your fingers, further crumble the dough into small pieces on a baking tray lined with baking paper, bake at 160 degrees for 10-15 minutes, set aside to cool.
Mascarpone cream: 200g mascarpone, 50 ml coconut milk, 1-2 tbsp agave syrup, 2-3 tbsp Angostura Cocoa Bitters, lime zest of half a lime; mix the mascarpone with coconut milk and the remaining ingredients to a smooth cream and chill.
Cherry sorbet: 500 g cherry puree, 200 g coconut milk, 150 g sugar, 10 g lime juice; with ice machine: briefly bring all the ingredients to the boil, allow to cool and process into a sorbet in an ice cream maker; without ice machine:
bring all the ingredients to a boil and let them cool down, our into a bowl and place in the freezer, stir well every half hour with a whisk, repeat until you reach a sorbet consistency.
Pickled cherries: 300 g fresh cherries, 300 ml cherry juice, 3 tablespoons cherry liqueur, 2 tbsp agave syrup, 1 tbsp lime juice; pit the fresh cherries, bring the cherry juice, agave syrup and lime juice to the boil and reduce by half until a thick varnish has formed, put the cherries in the varnish and let them soak.
Coconut and bitters stock: 300 ml coconut water, 2 tbsp lime juice, 3 tbsp orange bitters, 2 tbsp honey, 2 tbsp coconut liqueur, 1/2 tsp xanthan or agar agar; mix all the ingredients with the hand blender to a lightly bound brew and season to taste.
Serves: 4
After Dinner Drink: David Penker – Spirit, Water, Bitters
3cl Angostura No. 1
3cl Bourbon Whiskey
1bsp Muyu Chinotto Liqueur
3dashes Angostura Cocoa Bitters
1cl vanilla syrup
Stir all components with plenty of ice in a mixing glass until cold, serve in a chilled tumbler on the rocks.
Serves: 1