Bali is my absolute favorite place, so close to my heart. I arrived here without planning and spent two magical months. When I hear this music I feel like I'm back there, sitting on the little terrace with a grateful heart and rambutans in my stomach.
I found love in Bali. Love for myself. And love for my soulmate.
Bali is heaven and hell. You either love it and stay or come back… or you'll hate it. From terrifying traffic to touching smiles from locals, from places full of drunk tourists to spicy local warung food – a place where I cried a lot – because of heartbreak, hot food, old patterns but also happiness. I left Switzerland because it didn't feel like home anymore and I never expected to find exactly this notion, the of feeling home, here on this little island.
After deciding to go to Bali, in my mind there was an idea about going to Ubud – I mean I had to – it's THE yoga place and the movie Eat, Pray, Love with Julia Roberts really put it on the map.
But somehow life brought me to Canggu and the beautiful bamboo huts at Riviera House which I found just after trusting my intuition and looking for other places than just Ubud. The open-air bamboo showers are a dream and life in the bamboo huts is simple but comfortable and you'll feel so free!
Canggu is growing but there is still this beautiful mix of locals and expats or long-term travelers, it's like coming home.
The difference to Ubud is that you are on the coast and have access to three beaches in 5 to 15 minutes. Don't expect white sand and turquoise water, however – it's a surfer spot.
The sunsets are just magical. We went to watch them before or after dinner and enjoyed some fresh coconut water from the small beach stands. After 3:30 pm is the perfect time to play a bit in the water because during the day it's just too hot for beaches.
In Bali, you can either rent a bike or a bicycle (as I did – which is more than enough for Canggu) – cars are a bad idea unless you love to stay in traffic up to 4 hours. From the airport, I would recommend you the taxi app Uber and go-jek around Bali – sometimes it needs some patience.
Just take your bike and drive without a plan – it's the best way to discover truly magical places, not just the touristy ones.
Going to some temples can still be very nice – just keep in mind there will be a lot of people but still… you'll find some magic. I really enjoyed the Uluwatu Temple and the romantic sunset. Make sure to buy your ticket for the traditional dance show early when you arrive there – we missed it unfortunately because there were so many people.
For me, the Kedungu Beach near Tanah Loth was much nicer that the temple itself. It's very local and almost empty – you can get sweet coconuts there that are just delicious as are many of the other local sweets. Just saying balls or pancakes made of sticky rice, filled with rice syrup and dipped in coconut flakes – yummy!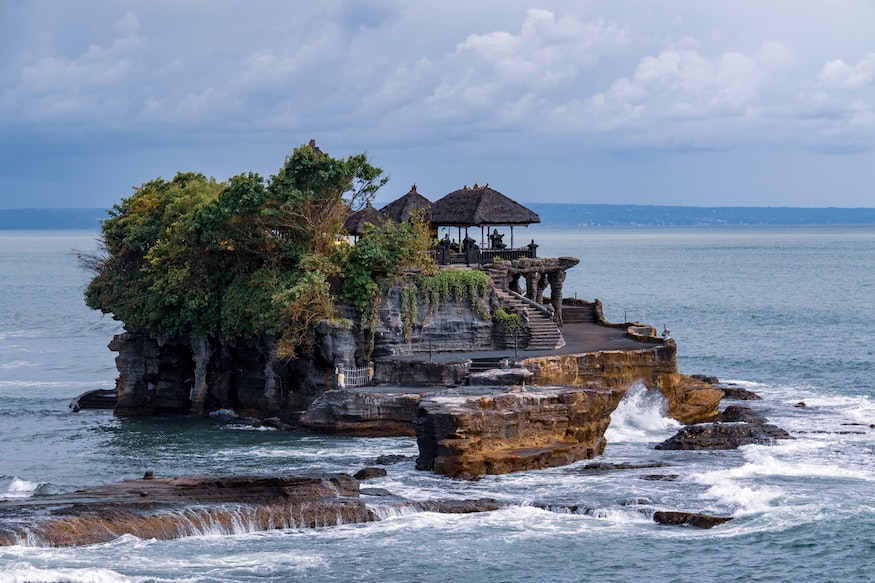 My favorite yoga place was at Desa Seni, green open-air studio. So many different classes and amazing teachers, wow! It's the perfect place to try out different yoga styles and enjoy some free ginger and lemongrass tea afterward. Many classes like the Kundalini one, actually made me cry and helped me letting go and freeing my mind, so as to embrace the present moment.
I also enjoyed some restorative yoga classes on Sunday at Serenity. I fell asleep so often! It really is just super relaxing and perfect if you don't have the energy to move too much. Also, they have very nice raw food. Try the raw bounty and avocado-chocolate-mousse! I can really recommend it.
Bali is a true food heaven! I swear it's soooo good and fresh. I love the mix between healthy raw vegan food and local warungs – little street food "restaurants" where you can get very cheap and delicious local food like Nasi or Mie Goreng. Often, they even propose a buffet from which you can choose different things. A little tip: Warungs from villages that are off path and not so touristy are much spicier! Just go and try it out – you'll love it.
Places I loved to work and eat:
There are also a lot of little warungs that you can't find online – just explore by yourself.  I loved the big market in Canggu where you can get fruits, veggies, spices, tempeh, meat (which looks super disgusting and just laying there in the heat, open without any protection. Urgh! 😉 ), local sweets – watch out for the coconut guy – he's shredding them freshly and it's so good to just eat it like chips or in smoothies and fruit bowls.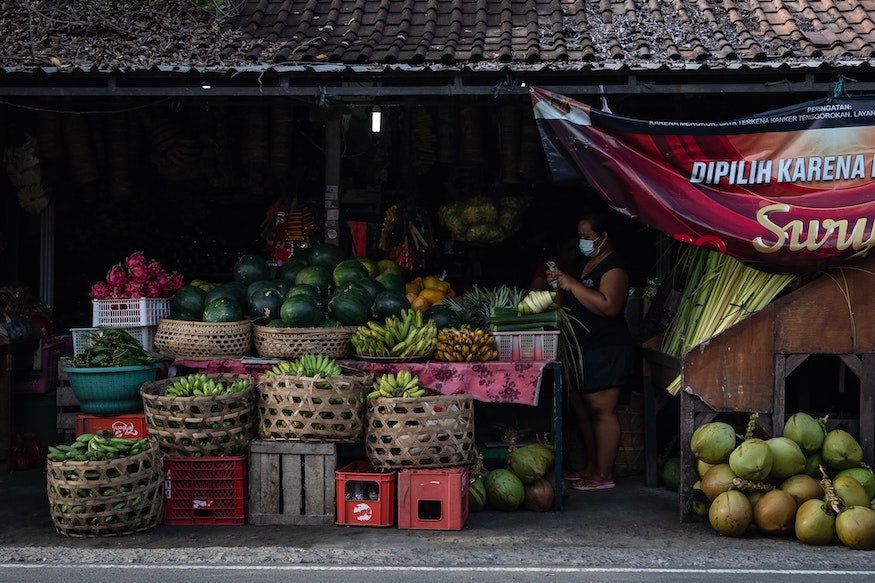 And always remember: Time goes slowler on this island – waaaaaaay  slooooooooower. It's amazing. I would suggest you just go with the flow! And trust your intuition. Bali is a perfect place to embrace your inner voice and go for it. A massage at goldust will get you into a perfectly relaxed mood – beautiful spa and great massages. And it's air-conditioned – woohoo! I swear you'll appreciate a nice cold room from time to time even if you get used to be sticky and hot 24/7.
PS: If you still want to go to Ubud – the village Penestanan is beautiful. Also, try some food at the clear cafe and amazing raw pizza at the alchemy!
PPS: BaliHealing – amazing homeopaths in Canggu that helped me a lot!!! Everyone gets a little Bali fever from time to time, so it's good to know where to go! 🙂