Maybe you are lucky and on vacation, maybe you are not… Either way, we wish you a blissful start into the day with this recipe for Citrus Immune Boosting Bliss Balls.
They are perfect for perking up flagging energy levels, supporting your immune system and aiding recovery after a workout! The combination of vegan protein, goji berries and orange gives these bites a wonderful vibrant colour while helping to lower inflammation in the body and supporting overall immune health. A perfect energising snack, for the office, the gym or the beach!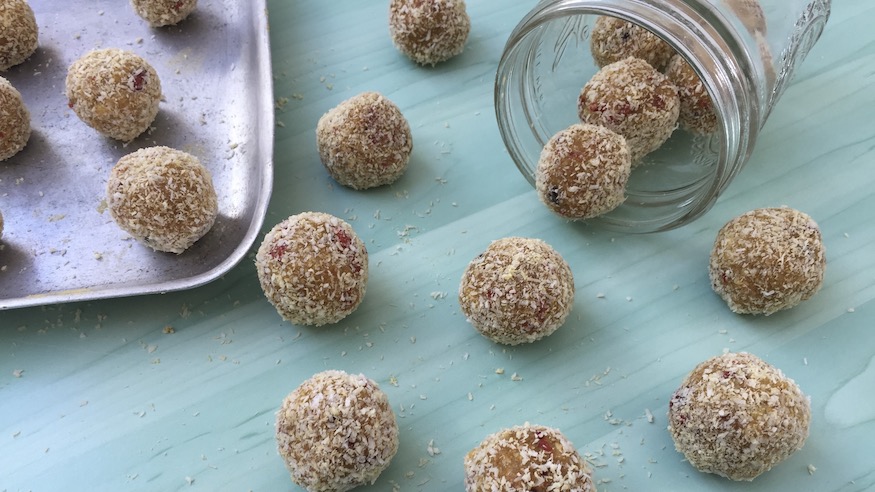 They only take 15 minutes to make and you can keep them in a glass container. These are the ingredients and quantities you need to make 25 Bliss Balls:
30g desiccated coconut
30g vegan protein
2tbsp xylitol
1tbsp lucuma powder
50g cashew nuts
50g gluten free oats
1tsp maple syrup
Pinch of sea salt
65g cashew nut butter or other nut butter
1 small orange peeled
zest of 1 orange
1tsp vanilla extract
30g rice puffs or quinoa puffs
40g goji berries
Additional desiccated coconut with 1tsp vegan protein for rolling.
Preparation Method
Place the coconut, vegan protein, xylitol, lucuma, nuts and oats in a food processor and blend until the nuts are fine. Add the maple syrup, salt, nut butter, orange, orange zest, vanilla extract and blend until smooth. Add the puffs and goji berries and process briefly keeping some texture. Take out spoonfuls of the mixture and roll into balls. Roll in the coconut. Place on a tray or plate. Chill in the fridge for 1 hour to firm up before eating. These will keep in the fridge for up to 1 week or can be frozen for up to 1 month.