Zurich, Sunday…What to do? We have a recommendation for you: brunching like there is no tomorrow!
Think Japanese food, unlimited cocktails, afterparty… think vibrant, think FIVE. Because that is exactly what you deserve, 5-star treatment, right? The city's newest foodie hotspot offers splendid views from its rooftop terrace and restaurant, THE PENTHOUSE.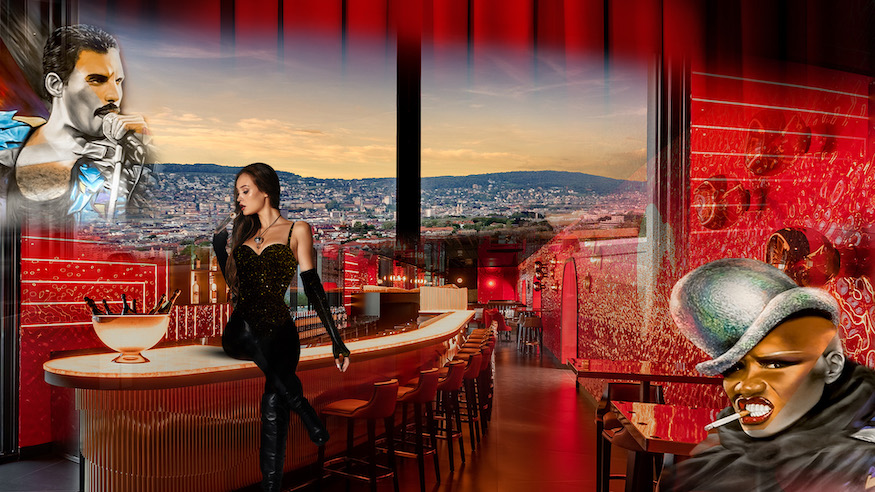 Here, you can enjoy a copious Brunch, every Sunday from 12:30 p.m. to 3:30 p.m. – Indulge in a special, innovative Japanese menu, carefully curated for you by Chef Frederic Faucheux, while sipping on your favourite cocktails.
After brunch is before the party! The venue transforms into a club and invites you to an afterparty in the elegant Penthouse Lounge. On Sundays, from 3:30 p.m., dance to your heart's content! Live music, the best DJs, cool vibes… great way to spend the day!
Also quite something: the eccentric bathroom bar, where anything goes and nothing is off limits. Oh, and did we mention: part of the brunch formula are UNLIMTED à la carte drinks! *Wink wink* Tables with Bottle service are available upon request.
Is there a nicer Sunday than this? World-class food, creative concoctions and live entertainment – all that at one of Zurich's coolest venues, spectacular views over the city on top!
Practical Information
Price: from CHF 120 p.p. for a 4-course set menu and free-flowing beverages
Timings: Sundays from 12:30 p.m. to 3:30 p.m. Afterparty from 3:30 p.m.
Parking: available for a charge of CHF10 for every 3 hours, for 24 hours overnight parking CHF30
Online: thepenthouse.co, @thepenthousezurich
Subject to availability. Advance bookings recommended! For bookings and enquiries call +41 78 410 55 83 or email.
About FIVE Zurich
Often referred to as Switzerland's newest and trendiest dining and nightlife destination, FIVE Zurich is a luxury lifestyle hotel with 45 luxury suites and 42 lifestyle suite-sized rooms overlooking the glittering city skyline or lush forest.
This new party and dining destination features seven international and award-winning restaurants, a rooftop nightclub and an outdoor pool. The spacious wellness spa with indoor pool provides an energy boost.
About THE PENTHOUSE 
Here you dine in amazement with a view of the city skyline from Zurich's trendiest address.
The experience begins in daylight with the award-winning Japanese dining experience that takes guests on a culinary journey. It is the first Japanese dining experience of its kind in Switzerland. Whether sitting inside and immersing yourself in the opulent furnishings, experiencing the private dining area, or lounging on the terrace and admiring the unique view, Instagram moments abound.
As the sun begins to set, the venue transforms into a nightclub. Here, regular live music and the world's most popular DJs provide the soundtrack of the night. On the way to powder your nose? There is the extraordinary bathroom bar to discover, where everything is allowed and nothing is forbidden.
Curious? Then be sure to stop by THE PENTHOUSE ZURICH! Insta: @thepenthousezurich