We are giving away a MEGA Cocktail Box from Fuchs Gastro! All that you see in the picture below – you can WIN!
Below we have listed each item in more detail. From shakers to pestles to tiki mugs: EVERYTHING a (home) bartender's heart desires!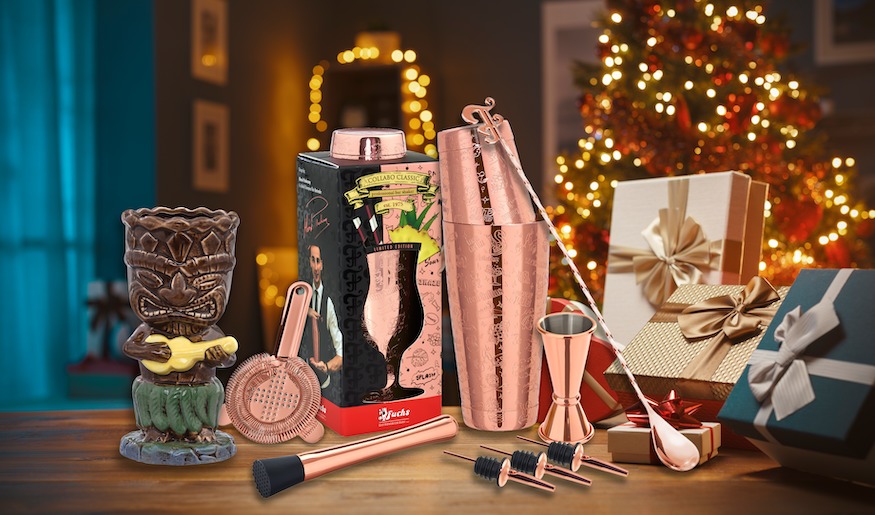 The giveaway is now closed. The winner is:  Pauline S. Congratulations!!
If you would like to keep informed about Gastro Fuchs – Brand and product News, Events, Gift ideas – subscribe to the Fabdrinx-Newsletter by leaving your eMail here below.
To double your chances to win: Like this post on Instagram or Facebook, leave a comment telling us what cocktail you would make with this equipment, and follow Coolbrandz and Fuchs Gastro.
To double again: share this giveaway in your Social Media with the tag @coolbrandz @gastrofuchs so we won't miss any of your communications.
The giveaway runs until 24.12.22 across all our digital channels. Each participation in every channel counts and increases your chance to win. On Boxing Day, the winner of this gift will be determined by lucky draw. Thank you for following our adventures. We are delighted to know you are part of our community. Have fun counting down to Christmas with us and Good Luck!
Collabo Classic – TIN on TIN – stainless steel shaker, copper look with engraving "LIMITED EDITION"
Boston Shaker – ( 28Oz/18Oz ) 800ml / 500ml. Copper colored stainless steel. High stability due to floor weightage! Quick removal from Boston shaker. A lightweight – easier for long, fatigue-free shaking. Stainless steel cools better than glass. High quality stainless steel – no deformation, high sealing. Designed by Marek Posluszny, 4x World Champion Flair Bartender. Limited to 3'000 pieces. Engraving with an individual serial number on each shaker! Food grade. In a representative gift box. Hand wash only – not suitable for the dishwasher.
Cross Strainer – stainless steel – copper look
Ø 8.6 cm – therefore a perfect fit – lies freely on the shaker. The spring is tightly woven and closes all around. Handy shape.
Caipirinhia pestle – professional version – stainless steel
More hygienic than wooden pestle. Smooth, easy-to-clean surface, star-shaped end. Perfect for preparing Caipirinhia.
JIGGER Japanstyle Copper
Due to its slim shape, it fits perfectly between the fingers, 2 cl / 4 cl. Ideal for the style-conscious bartender.
Topo pourer, copper
Suitable for 0.7 liters – 1.5 liters. Stainless steel version, therefore also suitable for oil. Perfect flow rate of 1cl per second. Permanent rubber cork, therefore more durable. Clean pouring also upside down (upside down pouring).
Bar spoon TOM FOX 33cm Copper coloured
Enables elegant work. The head is ideal for layering drinks and handling jellies and garnishes. An eye-catcher at every bar counter! Unique design.
And, last but not least: Tiki Mug – UKULELE, Ceramic Brown, 400 ml