Switzerland has been my home for the last three years and have been several times to Geneva before, but only passing through on my way to the airport. So this time, when I was invited to stay a weekend and explore Geneva, I happily accepted, of course!
Two days… that is not a lot to try out everything that this beautiful city has to offer. Our program was packed with cool stuff to see and do, and this is the itinerary of our trip in detail.
First of all, some fun facts about Geneva:
Geneva is the second largest city in all of Switzerland; the biggest city is Zürich
There are 30 master chocolatiers based in Geneva and one of the oldest chocolate manufacturers in the country: Favarger
Geneva is a melting pot of different cultures and religions: 50 Protestants, 6 Evangelicals, 55 Catholics, 4 Orthodox churches, 1 mosque, 5 Islamic centers, 4 synagogues, 19 Buddhist centers
41% of the population in Geneva are foreigners, with more than 190 different nationalities
Geneva is the gastronomic capital of Switzerland: 140 ethnic restaurants representing 30 nationalities
It is the headquarters of the United Nations and where the Red Cross was born in 1901
Geneva is also the city where the Swiss watchmaking tradition originated. Today, headquarters of more than 12 watch manufacturers following 300 years of watchmaking tradition are located here: Rolex, Vacheron-Constantin, Patek Philippe, Chopard, and all the other big names. There are 80 watch and jewellery boutiques concentrated in a single street: the Rue du Rhône!
What else to do and see in Geneva, the most cosmopolitan city in Switzerland? Find some tips below!
1. How to get to Geneva?
By train: Geneva is literally located in the heart of Europe and very easy to get to by public transport. From Paris with the fast TGV Lyria it only takes about 4 hours to get here. I traveled on a Friday after lunch from Neuchâtel by direct train. Cost of the train ticket CHF 28 with the half-fare pass. Geneva Central Station is conveniently located in the city and from there it takes only a view minutes by tram or taxi to go where you are staying.
By plane: Geneva has thousands of national and international connections. Easyjet is based here, so you can find cheap flights from any European city. From Geneva airport to the city center we went by train. The ride took less than 6 minutes and cost only CHF 4. On the way back from your hotel, the public transport is free with the Geneva Transport Card that you will receive at check-in.
By car: Geneva is very easy to get to by car from everywhere in Switzerland and neighboring France. Keep in mind though that you will need the "Vignette" to drive on Swiss motorways. It costs CHF 40 and is valid for a year. So you stick it on your car window and can come back to Switzerland for the rest of the year without having to pay motorway tax again. With rental cars it is generally included.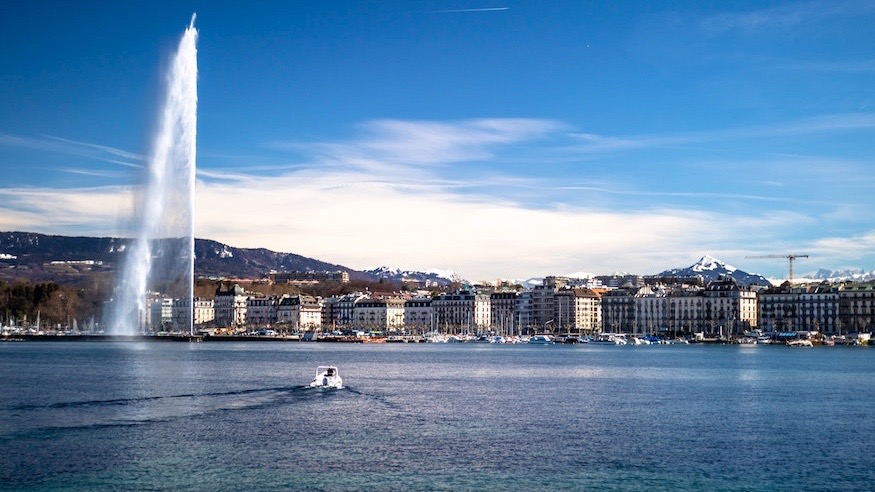 2. Where to sleep in Geneva?
We stayed at the N'vy, a very nice 4* hotel in the city center. The average price is CHF 150 per room per night. The decoration is very nice, the service excellent and in the hotel bar you eat very well. The atmosphere is super jovial. Overall very good value for money!
If you are traveling on a budget and are looking for something even less expensive, you may want to look at Airbnb, which allows you to take care of your own cooking.
However, there are always interesting offers on the official website of Geneva Tourism. Before booking anything, I recommend you look there and see, what seasonal offer might be on and whether there are any advantages on hotel, transport and activities. Right now, for example, and until 31st August, there is the Geneva Resort Pass offer. If you book at one of the partner hotels you receive a pass that gives you access to over 100 activities for free or at a reduced rate.
3. Things to see and do, eat and drink in Geneva
Initium Watchmaking Workshop: make your own mechanical Swiss watch! During this workshop, I discovered a world that was totally unknown to me. Initium watches has an atelier in the historic center of Geneva. The initiation class is an invitation to discover the world of Swiss watchmaking. The 3-hour workshop started with a brief introduction to the history of watchmaking in Switzerland and how Geneva became the cradle of it.
Then, we went on to discover the mechanisms, how a clock works inside, and got to disassemble and reassemble our own watch. Initium offers initiation workshops, like the one I did, and also more advanced experiences where you can design and assemble your own bespoke watch! What is more: depending on the type of experience you choose, you are given the possibility of taking the watch you create as a souvenir! This definitely is a not to miss experience for any watch lover! Great to offer as a gift as well or as a team building exercise.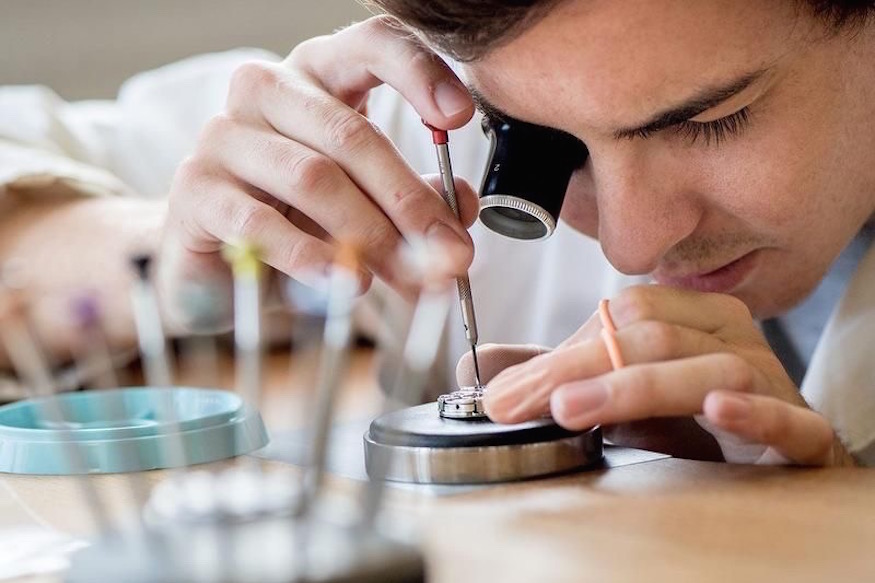 Chocolate Flavours Tour: the best chocolatiers in Geneva! On the second day in Geneva we went to discover the sweet side of life. Local Flavors Tours offers a chocolate tasting tour with stops at the most significant chocolate shops in the city.
The tour lasts about 3 hours and the guide explains why Geneva is the capital of chocolate in Switzerland, how this tradition was born and specific information about each of the chocolate shops you are visiting.
The first stop is the only French chocolate confectionery on the tour, Ladurée. They decided to include it in the tour, not only because it is one of the most famous chocolatiers in the world, but also because it is very special to the city. In Switzerland, Geneva is the city with the most French influence. After all, it is only a stones throw away from the French border! Indeed, Geneva has a little bit of a "Paris flair", with its cute cafés, bistros, and riverside restaurants.
La Durée has won many awards in Europe for the best hot chocolate across the continent. If in Geneva, you just have to try it!
Further stops on the Chocolate Flavours Tour were: Chocolatier du Rhône, Patisserie Pierre & Jean, Chocolatier Philippe Pascoët, and Chocolatier Guillaume Bichet.
I highly recommend this tour! If you have never been to Geneva and want to explore the city with something sweet along the way, it is perfect for you!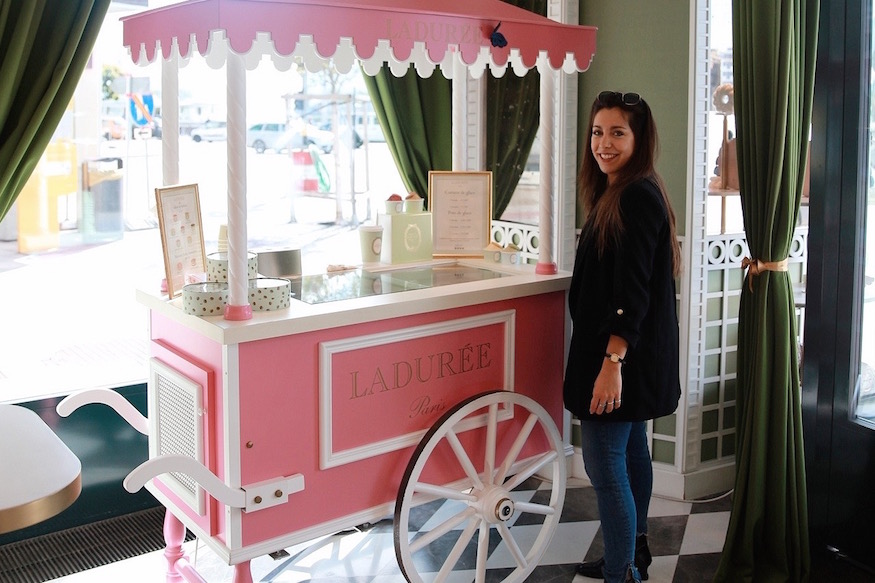 Balila restaurant at Hotel Longemalle: for lovers of Lebanese food
I must honestly admit that I had no idea about Lebanese food before we arrived at Balila. So the tasting menu seemed like the perfect option: 5 cold starters, 5 hot starters, a main course, and a dessert truly delightful! In fact, it was the best hummus I ever had.
In our case it was good since we did not know what to ask for, and in this way we were able to discover a little more about Lebanese culture. The tasting menu is priced at CHF 79, but if you don't eat much I suggest that you maybe share it with a friend. You can still order some small things on the side… You're not going to stay hungry, I assure you.
I fell in love with this place. It is ideal to live a different experience and feel that cosmopolitan air that Geneva has.
eBike Ride by Taxibike: TukTuk ride through the Geneva vineyards
It was one of the funniest experiences in Switzerland for me so far. I have never been on a Tuk Tuk before, let alone in the Swiss countryside.
Taxibike is a company that is specialized in sustainable transport by electric vehicles. We started the tour from the center of Geneva and went to the vineyards on the outskirts of the city. After a 20-minute drive, we arrived at a traditional Swiss family vineyard where we enjoyed a wine and cheese tasting.
It is a fabulous experience and I recommend it. It is really SUPER. You have fun, you drink good wine, you eat good cheese and on top of that you enjoy the Swiss landscapes with the most beautiful vineyards in the region. Ideal for a tour with family or friends!
Chez Calvin: dinner in the city
We finished Saturday in Geneva eating at Chez Calvin. A restaurant in the center of Geneva. We ate really very well and the place was packed, so I recommend booking. The best of all? The creme brûlée!
4. Some tips to organise your trip to Geneva:
If you stay in a hotel, you have the Geneva Transport Card included. It allows you to use all public transport (tram, bus, boat, train) within the city of Geneva for free. You will receive it at the reception of your hotel when you check-in.
Other than that, it is really worth checking the official website of Geneva Tourism for offers that might be on in the period of your travel. Until 31 August, for example, you receive the Geneva Resort City Pass for free when you book at a partner hotel. It gives you access to over 100 activities for free or at a reduced rate!
5. My list of top 10 things you should in Geneva
I hope this guide will serve you well and wish you a great stay in Geneva!
This trip was organized by Geneva Tourism. Original article in Spanish by Mica Lopez on www.unaargentinaensuiza.com. Photos Nvy: Agostina Schenone.