Whether you are hosting a dinner with a group of friends or enjoying a rare, unplugged hour with the person you fancy the most, the cocktails served matter. Here are some layered and versatile concoctions that will satisfy you and your company.
This Valentine's Day, expand your perspective of the world and form a sought-after alliance with one of this exceptional Hennessy V.S Cognac selections.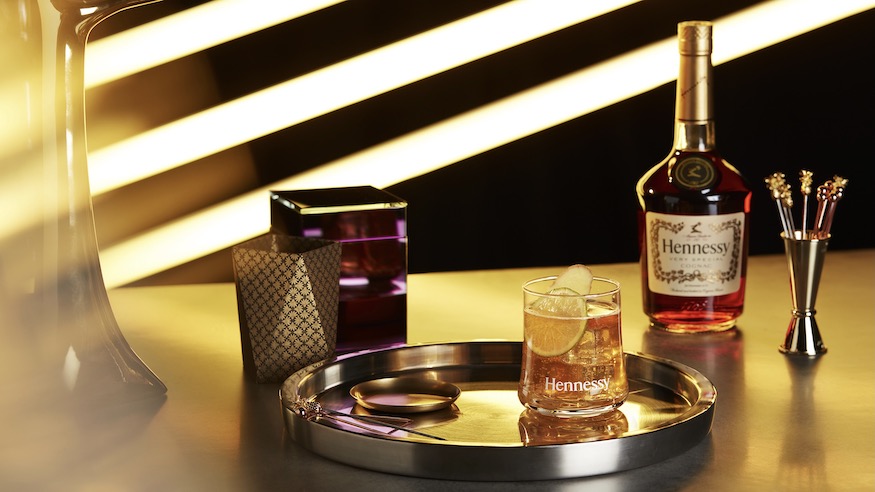 1. Hennessy Mule
This classic vodka cocktail gets a flavour spike from Hennessy Very Special . The spice from the Hennessy is a perfect compement to the ginger beer's (or ale's) kick.
45 ml Hennessy V.S
100 ml Ginger beer
1 Lime Wedge and or fresh ginger slices
Pour the Hennessy and ginger ale into a Rocks glass with ice. Garnish with a wedge of lime or fresh ginger slices. Or both! Watch here >>>
2. Spring Fling 
The mellow spice of Hennessy V.S plays with the sparkling fruit and citrus notes in this drink. Clearly an effervescent salute to the joy of spring!
45 ml Hennessy V.S
15 ml Chambord or cassis
15 ml Simple syrup
30 ml Fresh lemon juice
15 ml Lime soda
1 Lemon wheel and raspberry
Add all ingredients (except soda) to a shaker tin. Shake until well chilled. Strain into a Collins glass with fresh ice. Top with Sprite. Watch here >>>
03. Almond Affair
A playful drink that brings the sweetness of cherry to highlight the red fruit in Hennessy while the warmth of almond pairs well with the barrel spice and vanilla notes.
30 ml Hennessy V.S
15 ml Amaretto
5 ml Maraschino
60 ml Almond milk
1 Cherry
Half-fill rocks glass with crushed ice. Add all ingredients. Mix the ingredients with a barspoon. Top-up glass with more crushed ice. Garnish with a cherry and serve. Watch here >>>
Hennessy V.S
Hennessy Very Special (V.S) is one of the most popular cognacs in the world. Matured in new oak barrels, Hennessy V.S is bold and fragrant. Its beguiling character is uniquely Hennessy, a timeless choice with an intensity all its own. Hennessy V.S offers toasted and fruit notes, with a rich, clearly defined palate and a welcoming exuberance.
Hennessy V.S expresses its vibrant and dynamic personality through unique artist partnerships and annual limited editions. Easy to enjoy, it's a perfect cognac for high-energy occasions and sharing the moment.
The round and robust flavours of Hennessy V.S make it very versatile and ideal for any cocktail possibility, from classic recipes and sophisticated cocktail creations to easy mixed drinks.