Today, we have a wonderful gift idea from Switzerland for you: a Kindschi Gourmet Box filled with specialities from the Grisons! Are you fan of Switzerland and want to surprise someone with authentic Swiss delicacies? Send them an Alpine Greeting!
Stängeli (chocolate stick) filled with Bündner Röteli, Schwiizer apple schnapps, or Gin 1948. Another highlight: Röteli in all its forms, as jam, or vinegar…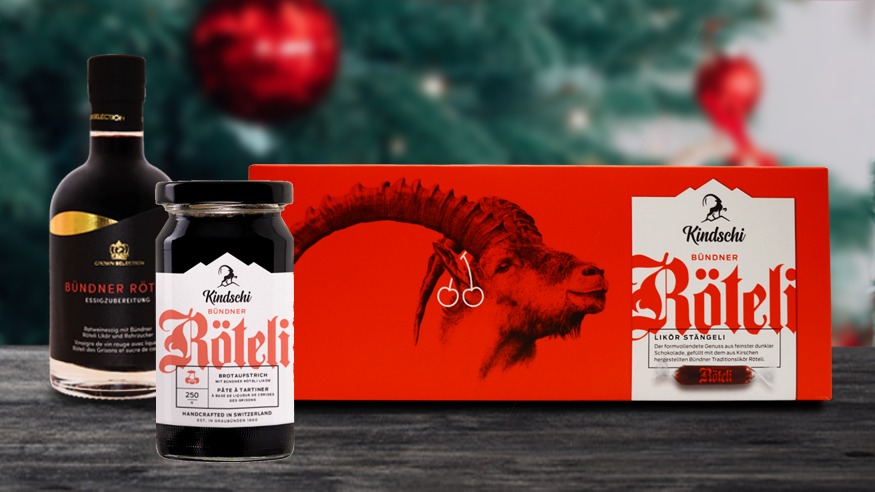 Röteli is a natural spice liqueur specialty from the Swiss canton of Graubünden, which has its origins in the 19th century or possibly even earlier.
To make it, dried mountain cherries are placed in diluted, sugared schnapps together with natural spices, like cinnamon, cloves, aniseed, cardamom, vanilla and lemon peel. This mixture is the secret of the taste and differs locally, and from producer to producer.
After being placed out in the sun, a spice cake forms on top of the liquid. When taking it off, a red-brown liqueur with around 22% (by volume) alcohol is left over: the Röteli.
To this day, especially during the winter months in Graubünden, friend and family reunions are celebrated with a zanign Röteli (Romansh for "little glass"). A larger or smaller bottle of it can be found in almost every local household.
It is said that traditionally, on New Year's Day, the boys who had left school divided up the village among themselves, and each of them visited all the houses in his part in order to present New Year's wishes to the inhabitants. They had to have completed their duty by the beginning of High Mass. As payment they received a few centimes and a small glass of Röteli.
On New Year's Day, the adults also visited Godfather and Godmother and toasted to the New Year with a glass of Röteli or schnapps. The innkeepers showed generosity by treating their regular guests to a shot of Röteli.
In fact, Bündner Röteli is part of the Culinary Heritage of Switzerland. It tastes best ice-cold as a shot, hot in coffee or as a refined ingredient in a dessert.
In the Kindschi distillery, the well-known liquid Grisons specialties are distilled and produced according to traditional craftsmanship. Kindschi's commitment to quality and natural ingredients turns their liqueurs, special brandies and spirits into real specialties. The traditional family business was founded in 1860 and has been a subsidiary of an international beverage company since June 2019.
Today, Kindschi is the largest distillery in Graubünden. It is managed by Rico Kindschi in the fifth generation. In addition to the self-distilled Grisons specialties, Kindschi is known as a traditional house for the spirits and wine trade. International spirits and wines from Switzerland, Italy, Germany, Georgia, Japan, Scotland and all over the world can be ordered from Kindschi in Schiers, online or purchased directly from the in-house shop.
If you would like to keep informed about Kindschi & Söhne – Brand and product News, Events, Gift ideas – subscribe to the Coolbrandz-Newsletter by leaving your eMail here below.