OPI Switzerland launches Repair Mode, an innovation that sees OPI, the #1 global professional nail brand, revolutionising the nail care category.
What is Repair Mode?
Repair Mode is a concentrated, deeply penetrating nail serum to repair and strengthen nails from the inside, unlike products on the market to date. The groundbreaking innovation comes from the patented Ulti‐Plex Technology which, when used as directed twice a day for 6 days, provides the following results:
• 99% nail keratin repair
• 94% protection of keratin protein from damage
• 4x stronger nails thanks to bond‐building inside the nails
Unisex: Repair Mode is a unisex product for everyone. Unlike existing products, it leaves no visible layer of lacquer or shine as it is absorbed by the nail. However, damaged, weakened nails are restructured and unevenness is smoothed out.
Compatible: For those who don't want to miss color, Repair Mode can also be applied under coloured lacquer or gel, because the serum is compatible with all OPI colour lines Infinite Shine, Nature Strong, Nail Lacquer, and GelColor.
Complementary: Thanks to its effect inside the nail, Repair Mode is an addition to OPI's existing nail strengthener line Nail Envy, which strengthens the surface of the nail.
Vegan: Repair Mode is vegan and therefore contains no animal‐derived ingredients or by‐products.
Scientifically and clinically tested: The Repair Mode serum was developed by nail scientists and has been clinically tested.

Why Repair Mode?
"Nail damage happens through daily activities like washing our hands, cleaning, and showering, which break down keratin bonds. Treating nail damage is one of the biggest consumer needs with the lowest product satisfaction", explains Sarah Fairneny, Vice President, OPI Research & Development.
"Our goal was to revolutionize nail care for weak and damaged nails and to combat everyday damage, by developing a technology that could repair broken bonds from inside the nail." Repair Mode repairs and protects nails against breaking, chipping, and splitting – for beautiful, strong natural nails.
How does Repair Mode work?
Repair Mode with patented Ulti‐Plex Technology is the first bond‐building nail serum of its kind. Moving beyond temporary surface‐level strengthening, Repair Mode penetrates and absorbs into the nail.
"Until now, nail strengthening products typically worked by reinforcing the nail with polymer film formers, creating a protective coating over the top of the nail. As soon as the product is removed, so are the strengthening effects.
Ulti‐Plex Technology of Repair Mode, however, penetrates into the nail, building bonds within the damaged keratin to restore and protect.", continues Sarah Fairneny.
Patented Ulti‐Plex Technology biomimics the protein structure of the natural nail to repair nails from within, to smooth and protect them from everyday damage.
Breakthrough Repair Mode repairs and strengthens nails from the inside in a new way, smoothing their imperfections and offering protection from the effects of everyday life.
Similar to how Plex products have transformed hair care, Repair Mode is a breakthrough for the nail treatment category. With Repair Mode, fans can experience their natural nails, restored to their optimum condition in a matter of days.
How is Repair Mode applied?
Repair Mode is applied directly onto the natural nail, is absorbed by it and repairs it from the inside.
Depending on personal needs and preferences – with or without couloured lacquer or gel – there are various application options for Repair Mode:
A. Repair Mode maximum deep repair in a 6-day treatment, without color
B. Repair Mode deep repair + long-lasting color
C. Repair Mode deep repair + strengthening of the nail surface, with color
The application steps for Repair Mode are described in great detail in this Application Guide >>>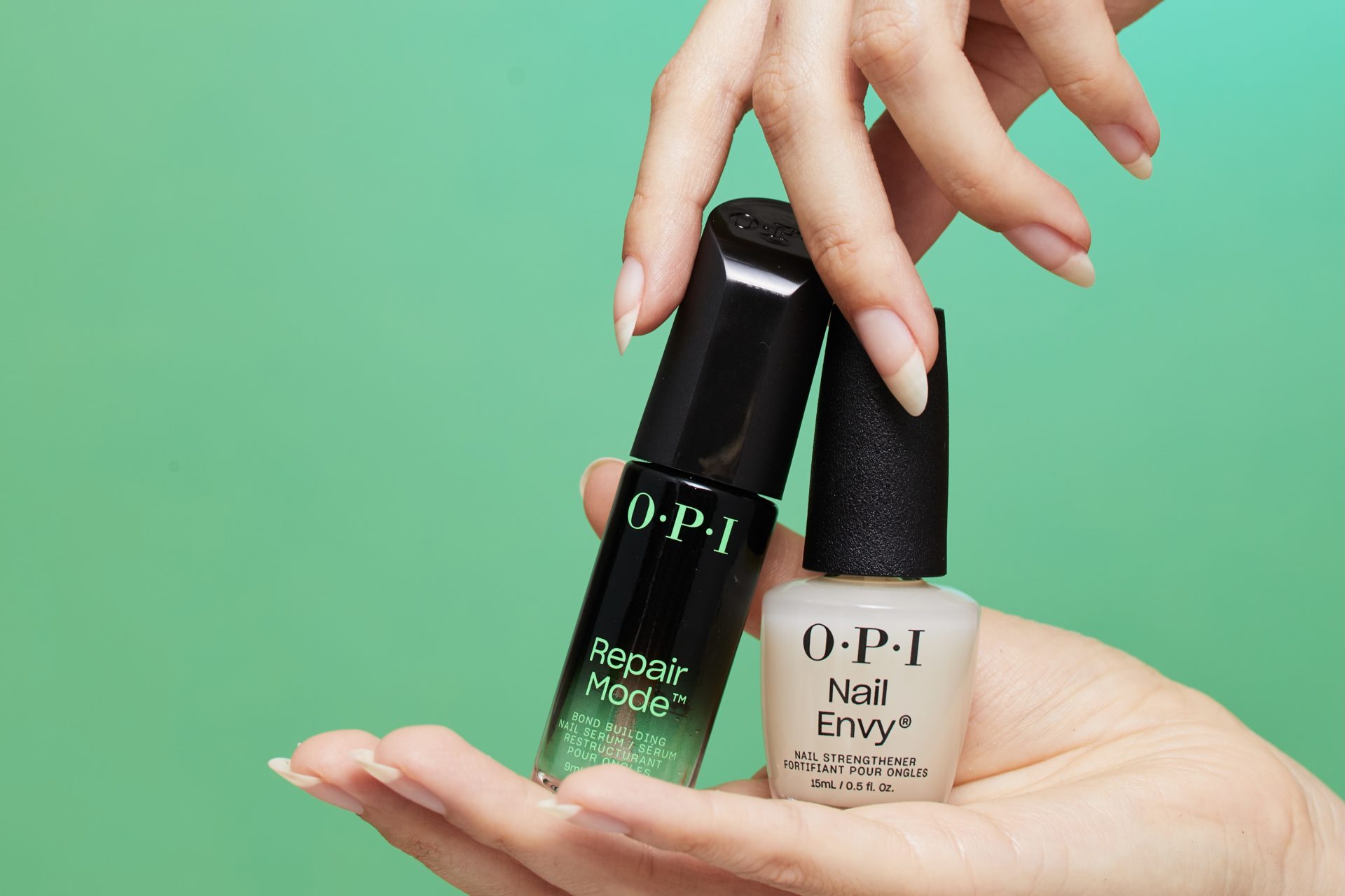 Nail Envy nail strengtheners: optimised formula and new colours
Worth knowing: for the launch of Repair Mode, OPI's popular best‐selling nail strengthener line Nail Envy is receiving a major upgrade with an optimised, vegan formula and new colours in the range.
Featuring Tri‐Flex Technology, the exclusive proprietary polymer coats the nail surface creating a liquid shield that reinforces the nail with layer‐building strength. The new OPI Nail Envy nail strengtheners provide advanced strengthening for 95% stronger nails in just 1 week when used as directed.
The transparent Nail Envy Nail Strengthener is formulated with biotin, vitamins A, C, E, and calcium to nourish nails.
The improved nail‐strengthening formula is also available with color. Nail Envy Strength+Color includes 8 sought‐after colours for all skin tones: from red to various nude colours, blue and white.
Application of Nail Envy Nail Strengthener and Nail Envy Strength+Color: On the first day, apply a coat directly onto the nail, let it dry for 2 minutes and apply a second coat.
Apply an additional coat the following day and do this each day for the 5 following days. Remove on day 7 with nail polish remover. If necessary, repeat these steps.
For dark colours of Nail Envy Strength+Color, it is recommended to apply a coat of transparent Nail Envy Nail Strengthener as a first step to protect the nail from staining. Then proceed with the first coat of Nail Envy Strength + Color as described above.
Of course, Repair Mode is compatible with and complements the transparent Nail Envy Nail Strengthener and the colours of Nail Envy Strength + Color.
While Repair Mode repairs the nails from the inside, Nail Envy provides the nail surface with layer‐building strength – a powerful duo!

OPI Repair Mode and the new Nail Envy are available in Switzerland since June 2023. Online shopping: www.opiswiss.ch, www.perfecthair.ch, www.globus.ch, www.manor.ch. OPI Switzerland online: Web, Instagram, Facebook, #OPISwitzerland, #OPIRepairMode
Test & Review OPI Repair Mode
Thank you so much for your interest in OPI Repair Mode. If you would like to test the novelty and co-create with OPI, apply for a Blogger Parcel. Simply leave your eMail address here below, someone from our team will reach out to you!