Spring is synonymous with indulgence: Easter, Mother's Day, the first picnics, festive tables, nice food, adults drink Champagne… and kids?
Something nice to offer the littles – and healthy and fizzy on top – is fruit spritz, or Schorle! Cool and colourful, tasty and trendy, produced in Winterthur by a small craft beverage producer. Samuel's Schorle is inspired by their son and perfect for all other kids, and their families as well, of course!
This tasty tipple enchants without any additives. Just pure fruit juice, with a spritz!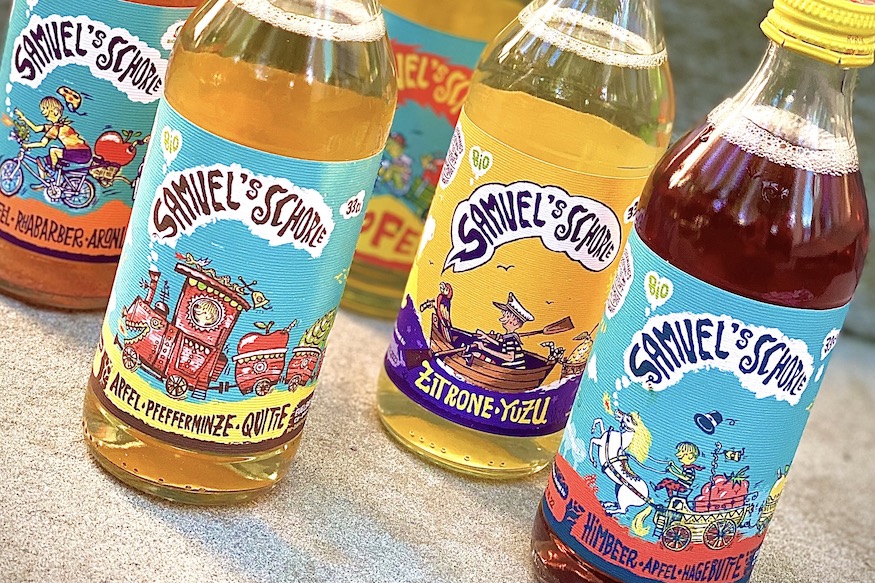 Samuel's Schorle – Taste of childhood
Sometimes, we want something else but plain water. Something flavoured, something fruity… You remember the taste of your childhood? Apple, raspberry, rhubarb… Maybe your grandma turned them into juice or even lemonade!
When choosing soft drinks, for yourself or a child, you probably want full flavour but zero harming substances. Something you can enjoy with good conscience and that does not harm the planet either. Well, as with everything, the best is to stay away from the supermarket and venture out to your local supplier. Maybe there is a farmer not far from you who also makes fruit juices and lemonades, or a micro brewery that offers soft drinks too, a winegrower… Like we have so many in Switzerland.
One of them is Euelbräu, a small craft-beer brewery in Winterthur. Originally created for their son Samuel, the parents and owners of the beverage company wanted to make a sparkling fruit juice drink that tastes good and is a more natural choice for the family.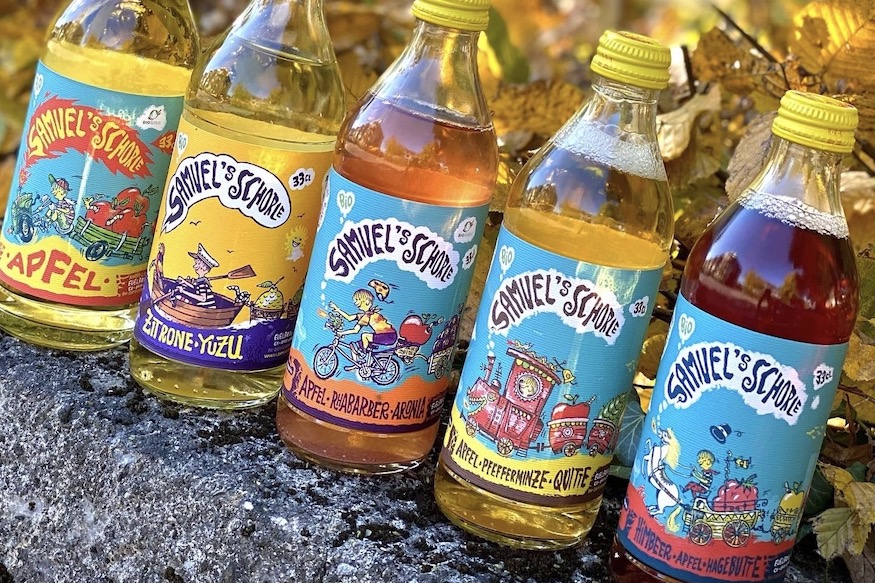 In order to develop a product that provided delicious flavours and a natural alternative to other drinks on the market that are often full of sugar, they decided to use pure organic fruit juices and unsweetened tea. All their spritzers are exempt of preservatives, acidity regulators or other unnatural substances. Moreover, there is no added sugar. Samuel's Schorle contains only the sugar which is naturally in the fruit juices.
All varieties of Samuel's Schorle are organic and vegan certified. The company is committed to creating sustainable and environmentally friendly practices. Whenever possible, all ingredients are sourced from Switzerland. At the base of almost all Samuel's Schorle fruit juice sparkling drinks are tasty teas (such as peppermint, orange blossom, or rosehip tea), which are freshly brewed in-house.
Afterwards, the teas are blended with 100% pure juices to lightly carbonate them. Thanks to a special carbonation process, Samuel's Schorle gets infused with very fine bubbles – which brings out the flavour better and creates a smoother drink. Moreover, oxygen is taken out of the drink which ensures that the taste and color stay stable over time and preserves the quality of Samuel's Schorle's ingredients.
For qualitative and ecological reasons, glass bottles are used. These bottles can be filled up to 50 times and are 100% reusable. Samuel's Schorle is distributed efficiently by beverage dealers.
You see, there are healthier, eco-friendlier alternatives to the soft drinks you find on the supermarket shelves. Often, they are closer to you than you think and offer surprising new flavour compositions!
Follow @samuelschorle, their sweet Insta feed will bring a smile to your face! Order online here: www.samuels-schorle.ch
If you would like to keep informed about Samuel's Schorle – Brand and product News, Points of Sale, Events, Gift ideas – subscribe to the Coolbrandz-Newsletter by leaving your eMail here below.