Beam Suntory Summer Affair – With a view of St. Stephen's Cathedral and centrally located in downtown Vienna, the new pop-up bar in the penthouse of Hotel Topazz Lamée (Lichtensteg 2/3, 1010 Vienna) is THE insider tip for refreshing cocktails in this year's hot summer!
In collaboration with Truth & Dare Bar and Hotel Topazz Lamée, the premium spirits from Beam Suntory will ensure an enjoyable cool down in the city until September 2nd.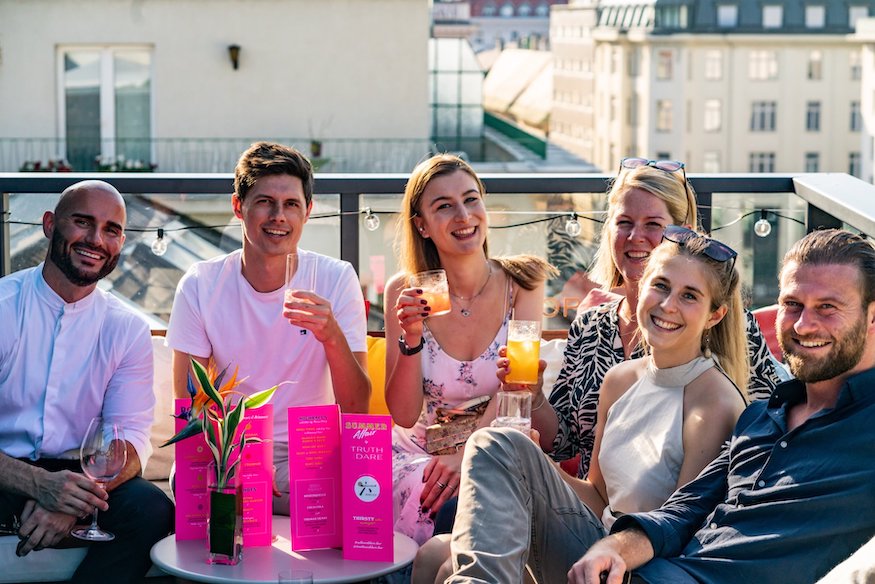 Innovative cocktail creations, stirred, mixed and shaken by master craftsmen, make the new bar a hotspot in summery Vienna. Escape the heat of the city – that's possible here with ice-cold drinks and an incomparable view over the roofs of Vienna, with St. Stephen's Cathedral just vis-à-vis. Since July 1st, exclusive Beam Suntory Signature Drinks are being served here.
For those who like to experiment as well as cocktail connoisseurs: If you value high-quality ingredients, the highest quality and solid craftsmanship and are looking for unusual and refreshing drinks, Summer Affair by Truth & Dare is the place for you!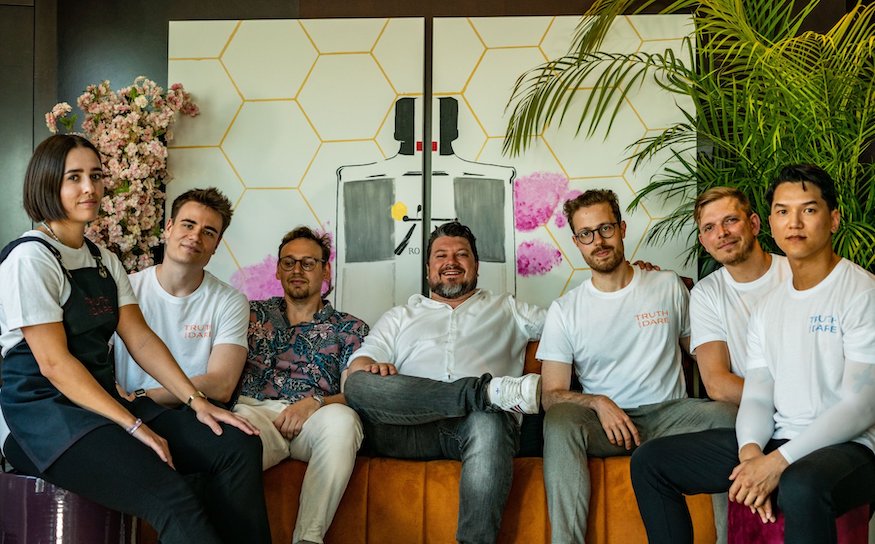 "Summer Affair by Truth & Dare" – Spectacular views and first-class cocktails
The team around David Kranabitl and Dominik Möller from the Truth & Dare Bar (Schönlaterngasse 4, 1010 Vienna) developed the special summer bar menu with premium spirits from Beam Suntory together with the Beam Suntory Austria.
Modern classics such as martinis and negronis, sours and fizzes, daiquiris and mojitos, highballs or tiki cocktails are reinterpreted and staged with great creativity.
Whisky, vodka or gin – there is something for everyone! Trying different drinks is worth it, because the range is large and definitely offers numerous new and exciting cocktail variations!
Whether it's a perfectly mixed cocktail to round off a long day of shopping or sightseeing in Vienna, to start a long evening of Vienna nightlife, or as an after-work drink to pleasantly finish the day… that's what we are all looking forward to this summer!
The new Truth & Dare Pop Up Bar, presented by Beam Suntory, offers the perfect setting.
The bar will be open all summer long on the roof of the trendy design hotel Topazz Lamée, daily from 4:00 p.m. to midnight, and will enrich Vienna's city center with a meeting place for connoisseurs. What better way to enjoy the summer sun than with a appetizers and perfectly made cocktails to cool down?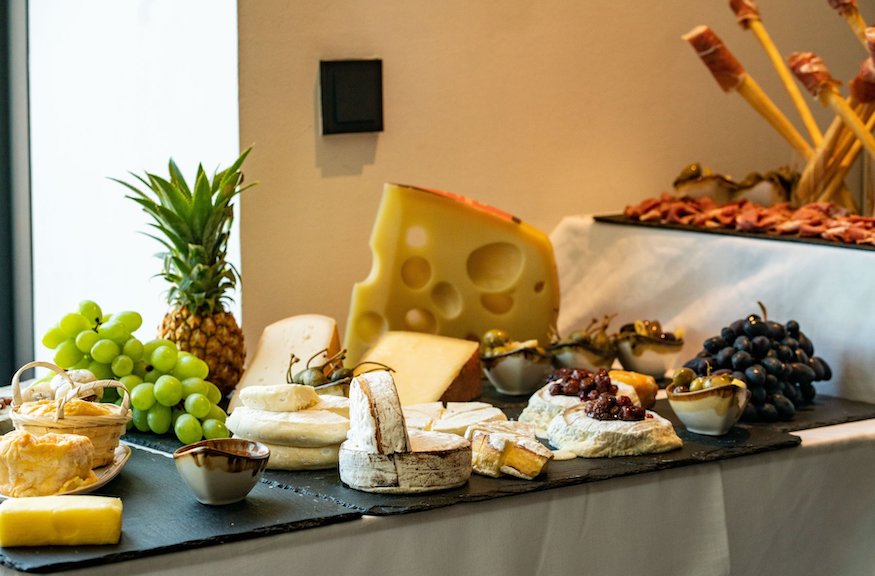 The penthouse with the brilliant view over the city is the new meeting place for the exclusive get-together after work. From this rooftop terrace, St. Stephen's Cathedral seems close enough to touch. After work deluxe!
The air-conditioned interior of the bar probably offers the best setting to treat yourself to one or the other well-earned after-work drink! Here, on the terrace, a pleasant breeze keeps heads cool and the signature cocktails put you in a good mood!
The motto is "Summer Affair by Truth & Dare" and we can look forward to an exciting summer in this cool pop-up bar above the roofs of Vienna!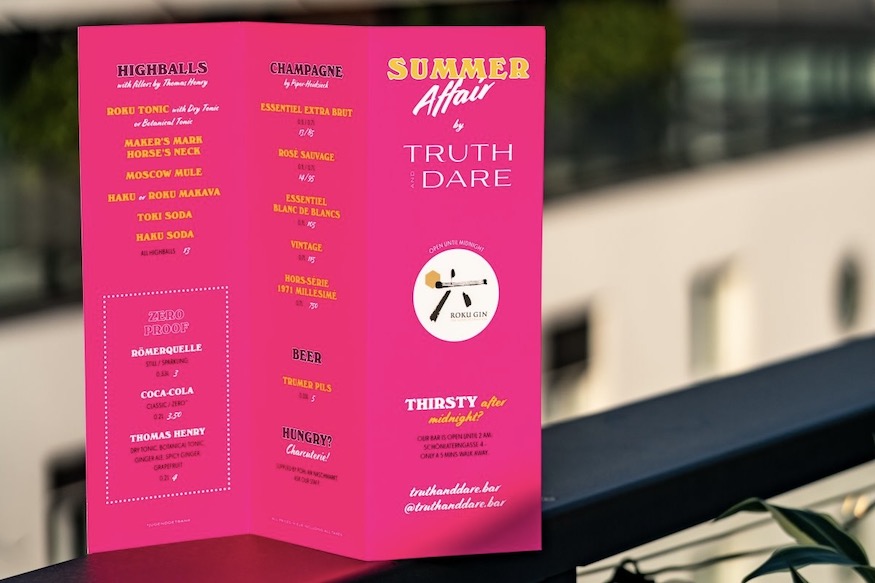 "Summer Affair by Truth & Dare" presented by Beam Suntory and Truth & Dare
The pop-up bar is open from July 1st to September 2nd 2022 (Mon – Sun, 16:00 – 24:00) and offers specially created cocktails from Beam Suntory
Roku Japanese Craft Gin, the handcrafted Japanese gin with six Japanese plant extracts
Haku, the first Japanese vodka from Suntory
Toki Suntory Whisky, a balanced blend of carefully selected whiskies
Maker's Mark, the Kentucky Straight Bourbon Whiskey with winter wheat, full smooth taste and distinctive aroma
Laphroaig, the leading peated Scotch whisky
Roku: Perfectly balanced craft gin
Roku perfected the art of gin making in Japan. This perfectly balanced gin is created in the old Japanese tradition of craftsmanship, with the utmost care and masterful precision.
The House of Suntory from Osaka has been producing the spirit since 1936. Roku means the number six in Japanese, which is a lucky number in Japan. Roku's flavor profile is made up of the combination of the six Japanese botanicals yuzu peel, sakura flower, sakura leaves, sencha tea, gyokuro tea and sansho pepper with eight traditional gin ingredients.
The Japanese botanicals used are harvested individually according to the "SHUN" principle in the right season and at their optimal maturity, when they have reached their perfect taste, and then distilled individually in different pot stills. In this way, the aroma of each botanical can be extracted in the best possible way.
Created by Japanese masters with attention to detail, the result is a complex and harmonious gin, soft and velvety on the palate.
Alcohol content: 43% by volume
Bottle size: 0.7 L
Tasting Notes
Aroma: Scent of cherry blossoms and green tea with hints of floral-sweet notes
Taste: Complex and layered, perfect harmony between classic gin taste and the special notes of Japanese botanicals. With yuzu as the main note. Soft and velvety on the palate.
Aftertaste: Sansho pepper provides a slight spiciness in the aftertaste
Drinking recommendation: To be enjoyed on the rocks or as a Roku & Tonic
Roku Perfect Serve: Roku & Tonic
Roku tastes best over ice or as a unique Japanese gin & tonic.
Prepared with particular care, the Japanese gin & tonic is served with ice cubes and ginger sticks, which particularly emphasizes the refreshing, dominant yuzu note. The preparation is based on the "Spirit of Omotenashi" – the deep connection between guest and host – and is a refreshing ritual that should be shared with friends. Roku online: web, @suntory_rokugin
Toki Suntory Whisky: Balanced blend of carefully selected whiskies
Toki is a blend of carefully selected whiskys from the world-renowned Hakushu Distillery, the Yamazaki Distillery and the Chita Distillery by Suntory. It was created in the traditional way using Suntory's "Art of Blending". It has all the typical features of a Suntory blend: exquisite balance, harmony and unity. Toki respects tradition while challenging existing whisky conventions with a whole new approach to ingredient balance.
Yamazaki Single Malts are often used as the most important component in Suntory Blends. Shinji Fukuyo, Suntory's fourth chief blender, has decided to take a completely new approach to Suntory Whisky Toki. One of the two pillars of the blend is the single malt Hakushu American White Oak Cask, which is characterized by freshness, softness and notes of green apple. As the second pillar, Fukuyo chose Chita, a heavy grain whisky with a clear taste and sweet vanilla notes.
By combining these different whiskys to complement each other perfectly, Fukuyo has eliminated the well-known relationship between malt and grain. With their exquisite balance of complexity, subtlety and sophistication, he saw these whiskys not just as mere scaffolding for the malt, but as true heroes of the blend. The result: a mixture that is as innovative as it is timeless. While this unique marriage of Hakushu and Chita Toki gives its silky flavor and vibrant character, Fukuyo also selected two Yamazaki single malts to add even more depth and complexity to this blend.
Yamazaki American White Oak Cask blends the hakushu and chita components while providing a round flavor and enhancing the sweetness of the heavy chita with its peach and vanilla notes. The Yamazaki Spanish Oak Cask, on the other hand, gives the blend woody and bittersweet aromas. The result is a varied, balanced and silky blend with a subtle sweet and spicy finish.
Tasting Notes
Colour: Clear Gold
Aroma: Green apple, basil, honey
Taste: Grapefruit, green grapes, peppermint, thyme
Finish: Subtly sweet and spicy finish with hints of vanilla, oak, white pepper and ginger
Toki Perfect Serve
The Toki Whisky Highball from The House of Suntory should be served with heavily carbonated water and then develops its complex and rich grain aromas in combination with fresh, green notes such as green apple or basil. For Austrian palates, it is recommended to drink the highball with ginger ale. Toki online: web, @suntorytoki
Haku Japanese Craft Vodka
The first Japanese vodka from Suntory. In contrast to the usual types of vodka, Haku Vodka consists of pure white Japanese rice – instead of potatoes or rye. White rice is considered a noble ingredient in Japan, valued for its mild and subtly sweet taste.
This pure white rice, triple distillation and traditional bamboo charcoal filtration ensure an incomparably smooth, balanced, subtle taste, and reflect the special craftsmanship of Japan. In this way, Haku Vodka combines nature and the spirit of the land of the rising sun and represents the philosophy of Suntory founder Shinjiro Torii: to tirelessly strive for perfection and to commit to an extraordinary promise of quality. Haku is gluten-free and non-GMO.
Alcohol content: 40%
Bottle Size: 0.7L
Tasting Notes
Aroma: Soft with sweet, subtle, floral notes of rice
Flavor: Full-bodied flavor that develops gradually in the mouth, with natural sweetness and complex rice flavors
Finish: Soft with a refined, pleasant and persistently sweet taste
Haku Perfect Serve
Due to its remarkable mildness and subtle sweetness, Haku Japanese Craft Vodka is suitable for pure enjoyment as well as on ice or in a high-quality drink. The Signature Serve Haku & Soda is inspired by Japanese highballs and emphasizes the characteristic taste of Haku Vodka. Haku online: web, @suntoryhakuvodka
Maker's Mark: The special bourbon
Red winter wheat and a burned family recipe. Maker's Mark, one of the mildest super premium bourbons in the world, is distilled in Kentucky according to an old family recipe. The Samuels family had been distilling whisky since 1780. In 1840, T.W. Samuels then the first commercial family distillery.
But the revolution did not come until 1954: Bill Samuels Senior demonstratively burned the old family recipe and developed a higher quality and softer bourbon. The small but subtle difference in taste compared to other bourbons comes from the use of red winter wheat in addition to corn instead of rye.
The careful selection of the best ingredients is responsible for the excellent quality of the whisky. Fresh water from their own springs and yellow corn from small, selected farms in the area are used for the production. Each individual bottle is hand dipped in red wax and sealed. This seal makes each bottle unique.
Maker's Mark online: web, @makersmark
Laphroaig: The finest whisky from the Scottish island of Islay
Laphroaig (Gaelic for "beautiful valley on the wide bay") was founded in 1815 and is one of the most traditional whisky brands: In the distillery on the Scottish island of Islay, the barley malt is dried over peat fire, which gives Laphroaig its exceptionally rich aroma and makes it one of the most peaty single malts.
The island's distinctive peat bog rich in peat moss, mild climate, premium barley and Islay's soft waters combine with the knowledge of the distillers to create the unique flavor of Laphroaig. Laphroaig was chosen Purveyor to the Welsh Court in 1994 – since then, every label has adorned the majestic Welsh crest. Laphroaig online: web, @laphroaig