Bring your own water – wherever you go! The BE WTR nomad bottle is our new favourite accessory!
It comes in the brand's signature nuance of orange, or in elegant white. Fill it up and use again and again – at the office, when travelling, at the gym, or when you venture outdoors.
The nomad bottle makes hydrating easy, stylish and fun. You can get it co-branded with your company logo and personalized.
In short: the perfect gift for yourself, your colleagues and employees. It is made of stainless steel, has double walls, and holds up to 500 ml.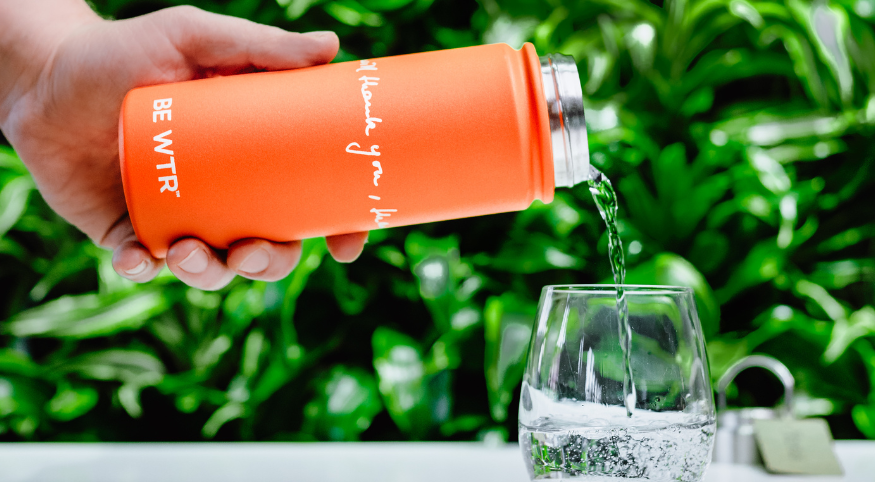 More mindful and sustainable
Have you prepared a list of good intentions for this year: What choices to take, what to do to help make the world a better a place…?
The last few years have been extremely challenging and not all problems that the world faces today can be solved as was intended some time ago. In fact, we are behind our climate goals! Nevertheless, it is important to continue to make little steps.
One is to further reduce plastic waste and CO2 emissions. And that is exactly what BE WTR intends to do!
Appliances: BE WTR – Planet-friendly water solutions
Who does not know the strain of having to carry heavy water bottles? Some already opt for a water maker to turn tap water into sparkling water.
However, the logistics involved in procuring and returning CO2 cylinders is not to everyone's gusto. As is the water that lands in the glass, because using such systems requires the available tap water to be of pristine quality. Or to use an extra water filter solution…
Here comes the next generation of water solutions for the home, the restaurant, or the bar: BE WTR. It's an all-in one appliance that you simply connect to your water circuit. It takes care of filtration as well as cooling and adding bubbles to your water if desired. There are different types of systems depending on private or commercial use. Be it for a single household, family, office, or gastronomy, BE WTR offers an adequate solution.
Just imagine how easy life would be, if you could get clean, fresh, chilled still or sparkling water directly from the tap! The perfect solution for you and for the planet: less pollution, less waste, less CO2 emissions. Plus: 1% of revenue generated by BEWTR goes directly to water related projects.
Brand New: BE WTR AQTiV – Activates tap water
Unleash the power of tap water with AQTiV! Great tasting filtered water with a softer texture – thanks to a a new, patented system that activates the water as in natural springs. The result? An improved taste, a smoother texture and a much better drinking experience.
Swiss patented technology that combines a vortex mechanism with 18 micro-jets for optimal water aeration and a ring-shaped air shield around the end of the jet. The water flows in an accelerated motion, resulting in improved aeration and oxygenation. Just like in nature, when water gushes fresh from its natural source and meets air.
Now you can do exactly the same thing in the kitchen with BE WTR AQTiV!
"The mouthfeel of these elegant BE WTR fittings leaves no taster indifferent." Knut Schwander, responsible for Gault-Millau Western Switzerland.
Mike Hecker, Founder and CEO of BE WTR, says: "We are proud to bring this remarkable innovation to the water sector. The new BE WTR AQTIV takes tap water to a new level. We are replicating spring water from nature! It offers a better, smoother drinking experience and is giving the world an even better alternative to water in plastic bottles."
Iconic Swiss industrial designer and BE WTR partner Antoine Cahen is behind the innovative, patented lever that allows both still and sparkling water to be dispensed with a single gesture. The three different BE WTR AQTiV models are elegant, timeless and durable. They are suitable for modern homes, restaurants and offices.
BE WTR AQTiV is the result of three years of development work in multidisciplinary teams that included mechanical engineers, designers, fittings and materials experts, sensory taste experts, chefs and sommeliers.
It's circular design is inspired by the circular life cycle of water itself. The faucet is made from solid surgical grade stainless steel and is designed for reuse and durability.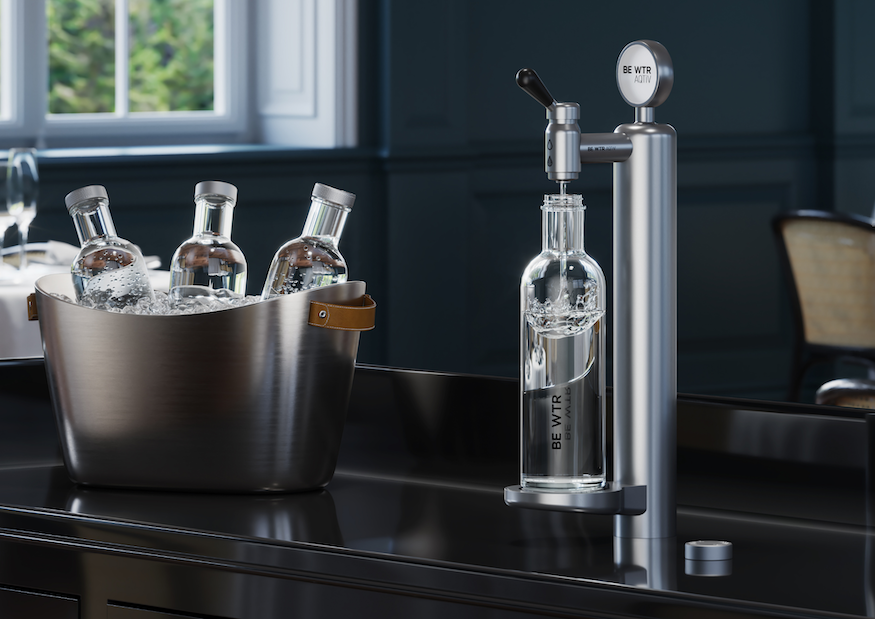 Also cool: BE WTR has its own range of bottles! Glass bottles à 750ml with caps to distinguish still and sparkling water, and the Nomad Bottles shown above for those moments on-the-go.
Find out more about the brand here: www.bewtr.com, @be_wtr, #bewtr
If you would like to keep informed about BeWTR – Product and Brand News, Tips for sustainable living, Gift ideas – subscribe to the Coolbrandz-Newsletter by leaving your eMail here below.