The House of Suntory presents: Hibiki Blossom Harmony, a limited edition blended whisky
Hibiki Blossom Harmony 2022 is a limited edition blended whiskey crafted from whiskies that aged in sakura casks (cherry tree casks), an innovation that pays tribute to a traditional Japanese moment of celebration.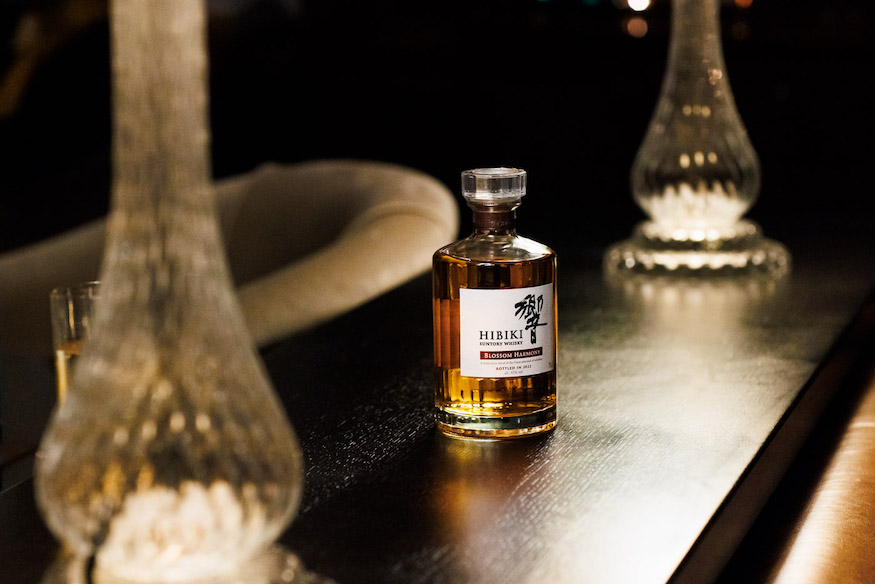 The House of Suntory, founder and pioneer of the Japanese whisky tradition, presents Hibiki Blossom Harmony, a limited edition blended whisky that matured in Sakura casks.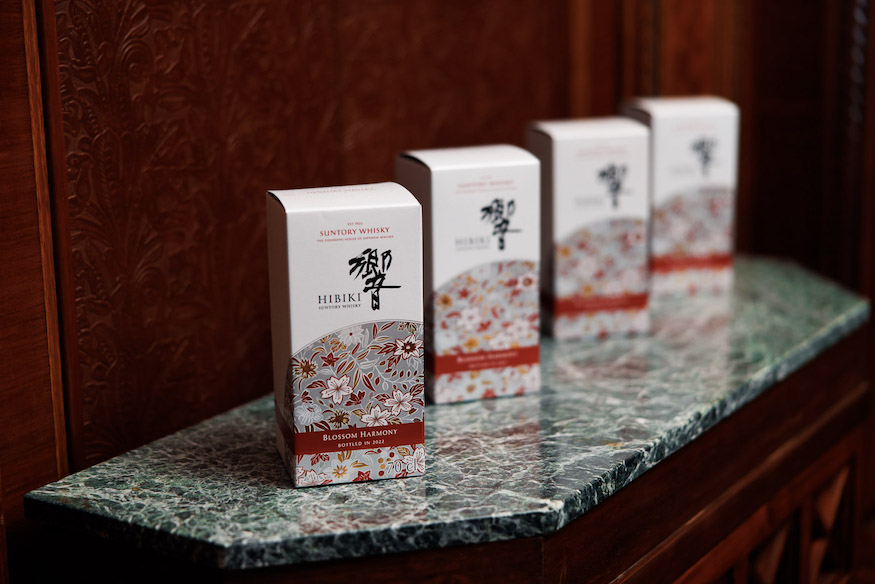 Springtime cherry blossoms in Japan have always been a cause for celebration. The beautifully blossoming cherry trees are the focus of many events and gatherings. The ephemeral splendor inspires the Japanese and reminds them to live life to the fullest and thrive.
Hibiki Blossom Harmony captures this joyful attitude to life by blending a rare selection of Sakura cask aged whiskies with differently aged malt and grain whiskies to create this very special Hibiki.
Inspired by the cherry blossom (Sakura)
Hibiki is a harmonious union of different malt and grain whiskies from the Suntory distilleries Yamazaki, Hakushu and Chita. Always committed to pushing the boundaries of Japanese whisky, The House of Suntory experiments with different types of wood. The Sakura barrel has always fascinated Shinji Fukuyo, the fifth generation Chief Blender.
"The Sakura barrel has fascinated me for five years now – on the one hand because of its symbolism, but also because of its distinctive, subtle floral and spicy aromas and flavors," says Fukuyo. "During the many experiments with different malt and grain whisky components, we found that there was a special alchemy between the grain whiskies and the Sakura cask. It is this special relationship – harmony – that has inspired me to create this blend."
Getting the balance and orchestration right proved to be a real challenge from the start, as the Sakura barrel has a strong character that can quickly become dominant. After many trials, Fukuyo finally found that the grain whiskies matured in the Sakura cask provided a harmonious overall balance and gave the Hibiki a distinctive expression.
It opens with an alluring floral bouquet, followed by Hibiki's signature depth and complexity of honey, candied orange peel, jasmine and chocolatey decadence. The finish surprises with bittersweet spice notes.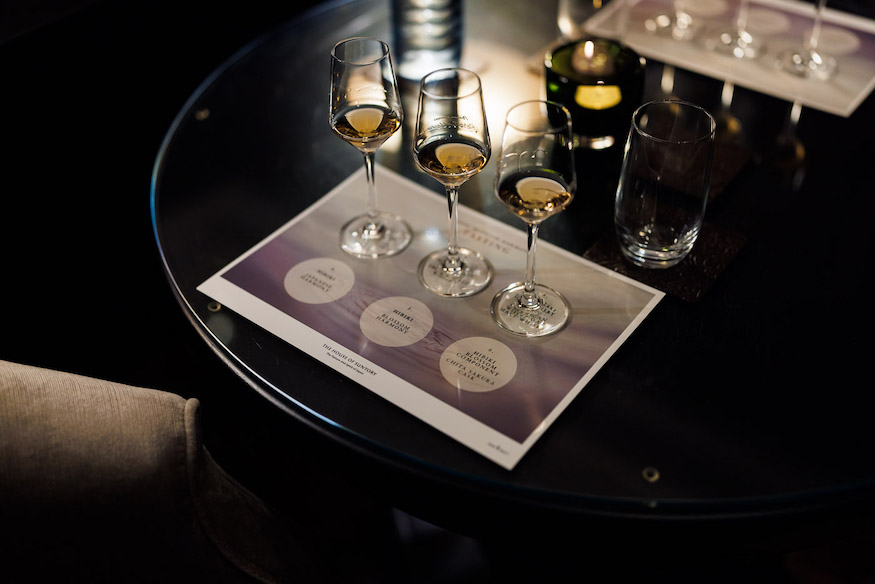 A special kind of harmony
Hibiki means "resonance" in Japanese and embodies Suntory's philosophy "To Create Harmony with People and Nature". As the House of Master Blenders, The House of Suntory has always made great efforts to explore the breadth and depth of what harmony can mean for a blended whiskey. Hibiki Blossom Harmony now celebrates a special kind of harmony.
"Since it's a limited edition, I wanted our Hibiki lovers to enjoy a Hibiki they've never experienced before – something unexpected, something surprising," says Fukuyo. "It's a Hibiki that celebrates a very special moment in your life – like a blossoming harmony. It would mean so much to me if you could enjoy it with someone special, someone who makes you blossom."
In October, we were allowed to take part in an exclusive tasting event in the beautiful Hotel Park Hyatt Vienna. There were welcome drinks, finger food, and a guided tasting of Hibiki Blossom Harmony 2022 with spirits expert Roland Graf. Below some impressions from the event.
Tasting Notes: Hibiki Blossom Harmony
Colour: Amber
Aroma: Floral bouquet, cherry blossom, fragrant olive
Palate: Smooth mouthfeel, expanding fragrance, acacia honey, French pear and a subtle sweetness reminiscent of sakura mochi (Japanese cherry blossom candy).
Finish: Long lasting, rich and brilliant aftertaste
Alcohol content: 43% vol.
Container: 0.7L
The Limited Edition Hibiki Blossom Harmony 2022 is available at selected retailers in Austria – including: Del Fabro, SPAR Schottentor, Ammersin, Weisshaus, Trinclusiv, Expert24, and selected whisky stores (Meinl am Graben, Vinothek ST Stephan).
About Hibiki
The Hibiki brand was founded in 1989 and has since been regarded as the epitome of the art of Japanese whisky production – a product that stands for the nature and people of Japan like few others.
It is not only Japan's most highly awarded blended whisky, but also one of the most renowned and awarded whiskies in the world. Hibiki is a harmonious blend of various malt and grain whiskies from House of Suntory's Yamazaki, Hakushu and Chita Whisky distilleries. The unique composition creates a harmonious entity that unfolds a wealth of flavors and aromas.
More information about the Hibiki brand at: https://whisky.suntory.com/de/de/products/hibiki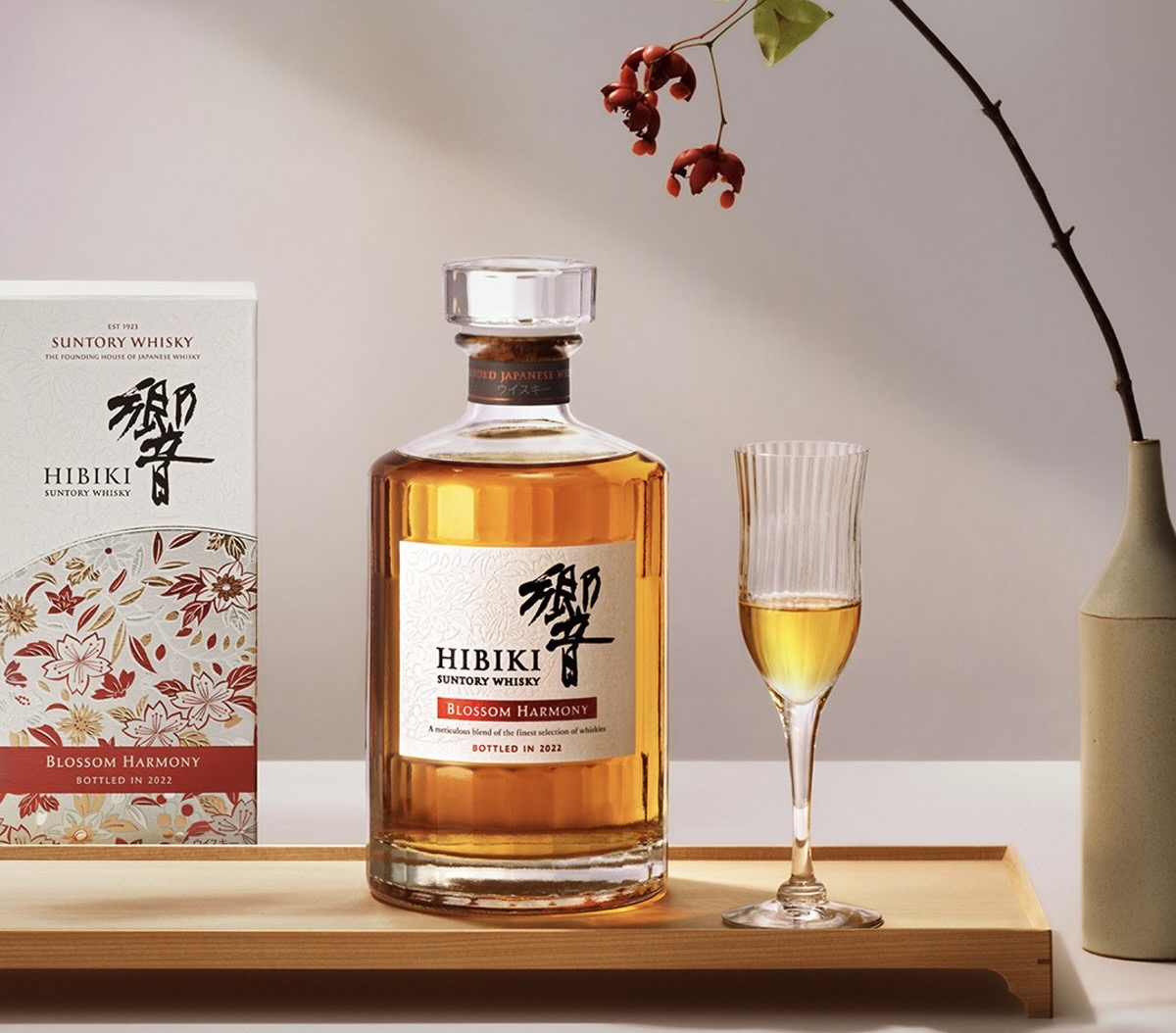 About The House of Suntory
Suntory has been a pioneer of Japanese whisky since 1923, recognized for its House of Master Blenders and the Art of Blending.
The founding father of Japanese whisky, Shinjiro Torii, built Japan's first malt whisky distillery in Yamazaki. His son, Keizo Saji, carried on the Suntory legacy, becoming Suntory's second Master Blender and founding other distilleries such as Hakushu Distillery.
With the following generations of Suntory Master Blenders, Suntory Whisky remains committed to its heritage and innovation. At the International Spirits Challenge in London (UK), The House of Suntory Whisky was awarded "Distiller of the Year" four times (2010, 2012, 2013, 2014).
Online: whisky.suntory.com @suntorywhisky #suntorywhisky, www.beamsuntory.com, www.drinksmart.com