Right after an event in Interlaken, I went to discover the newly opened Hotel Neu-Schönstatt. The road is very curvy and usually, I am not taking that too well. This time, however, I was lucky enough to be brought there by a driver in a Genesis car. So I had the chance to enjoy the amazing views. Trust me, the landscapes are gorgeous. It really looks unreal!
I arrived and was welcome by a nun who directed me to the check in. That was quite novel: Hotel Neu-Schönstatt is positioned as a "Digital Hotel" and, indeed, everything functions digitally. You check in yourself electronically on a machine!
After check-in, I went straight to my room. It was very modern and characterized by clean lines and a splendid view into the garden with a church. I took some time to settle in and then went for a walk to discover the surroundings before dinner. I passed by two cute churches right next to the hotel and again met a few nuns. I thought this must be the most spiritual hotel I have ever seen in my life! I continued my walk towards the lake and discovered the most beautiful view. It is really quite impressive to see the different shades of green in the lake contrasting with the blue of the sky.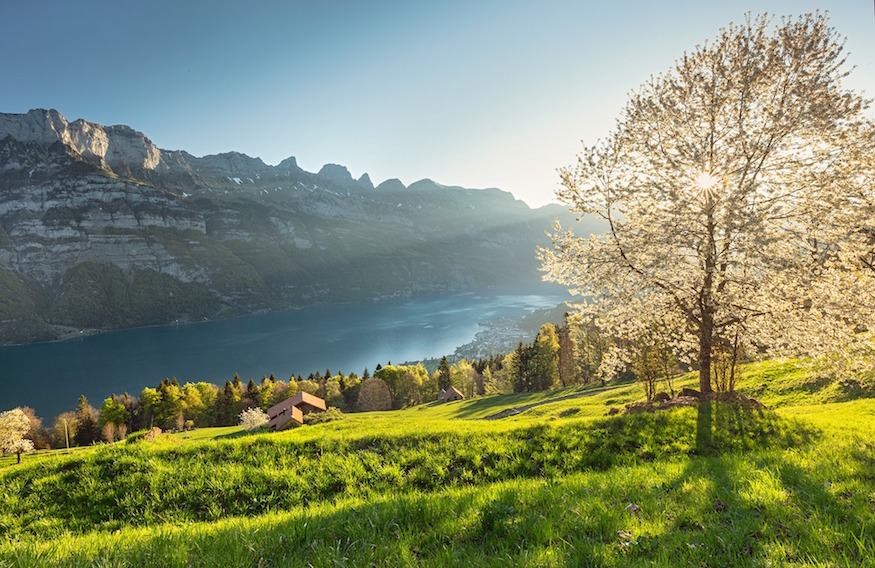 I sat there for a few minutes just to contemplate it. Then I continued walking. On the way, I discovered the train station and a few cute restaurants. The way down the village was easy, but coming back, of course, you had to walk uphill!
I had a little rest before getting ready for the evening. Loved the TV with a button straight to YouTube and visible buttons to change the language. Then, it was time to get dressed and join the other guests.
Walking up the stairs to the rooftop even more amazing views were revealed. We were welcomed with delicious local appetizers. The cheese with strawberries on fresh bread was my favorite; I had never tried it before. It paired perfectly with the wine that was served. Here, I met the photographer. Also a nun, her name was Florence. During a short presentation, we learned all about the hotel. It belongs to the Schönstatt Apostolic Movement; a Roman Catholic Marian movement founded in Germany in 1914 by Father Jose Kentenich, and was renovated after 40 years.
Father Joseph Kentenich saw the movement as a means of spiritual renewal for the Catholic Church, so this explained everything and I felt especially touched, as I used to go to summer camp in Bolivia with the same group. Sister Florence told me they also host summer camps here for kids the same way they do in Bolivia, how cool is that? How small is the world!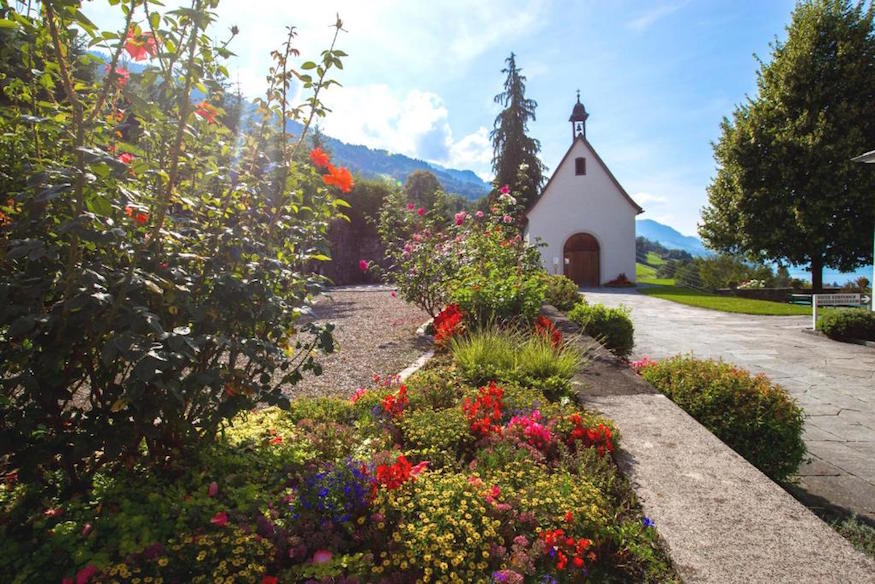 We went for dinner to the hotel restaurant that is also grazed by amazing views and windows surrounded by flowers. I couldn't translate the options on the menu, as they were very specific to the area, so I went for something I know, filets de perches, and it was delicious, fresh, crunchy and flavorsome. After dinner, I went straight to bed as we had a busy agenda for the next day.
The next morning, we started early with a yoga class, that was supposed to happen on the rooftop but had to be moved inside due to the weather. The teacher, Andrea, was amazing; she made sure to explain each movement and to help each person to get better with their positions and movements. She also had incense, Palo Santo, and a singing bowl. I really enjoyed starting the day like that.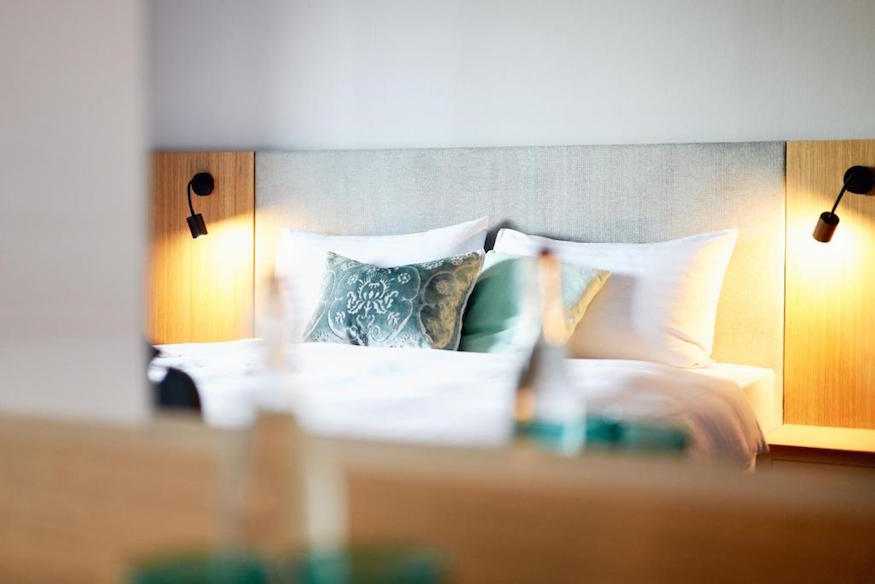 After yoga, I went to take a shower and quickly changed into my walking shoes. Then we had breakfast before heading to the nearby funicular that took us to the highest point on the mountain. Our guide presented all the different activities to us; there are lots and all kids friendly!
We tried the slide. It reaches a speed of approximately 40 km/h and you get to enjoy even more amazing views on the ride. After a little break, we then walked to the cheese manufacture. The way there was flat and all green, really pleasant.
We arrived and got the reward for our efforts: local wine and different kinds of cheese from the area. They were really good; I recommend you try them all!
Then it was time to discover where they keep their cows and – believe it or not – they really do put on classic music for them! And each cow has their own little place in the stables with their name on.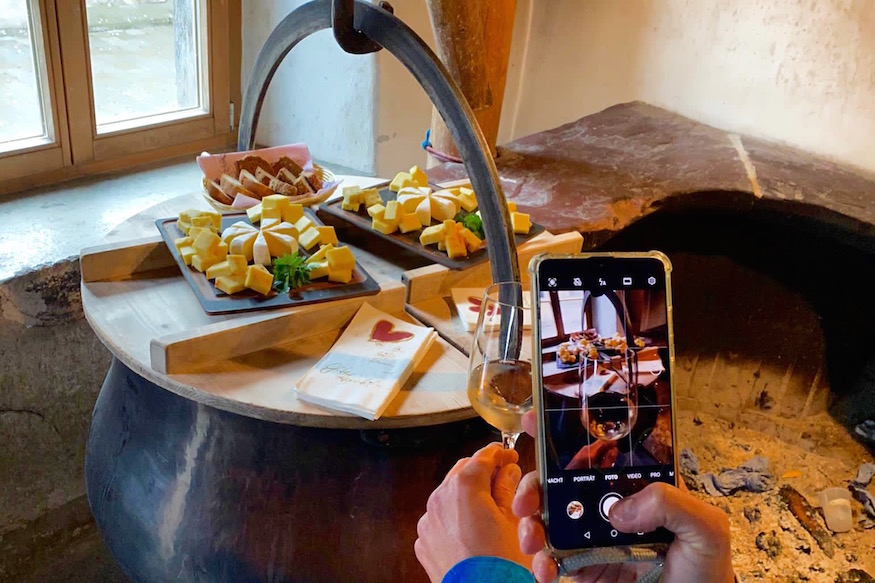 The next activity was lunch and we deserved it after the walk! We arrived at the restaurant, which was really cute all in wood and giving of major Swiss chalet vibes. The menu was toast with the local cheese and a green salad; it was simple but really yummy and fulfilling. Then we walked back and took the funicular down again… a short bus ride to the hotel; then run back with our luggage to catch the train for the next adventure.
The time I had at hotel Neu-Schönstatt and its surroundings was wonderful. I recommend this place for those times when you just want to disconnect and surround yourself with nature. It is also great for spiritual retreats, and perfect for families, lots of activities to do with kids and they are welcome everywhere.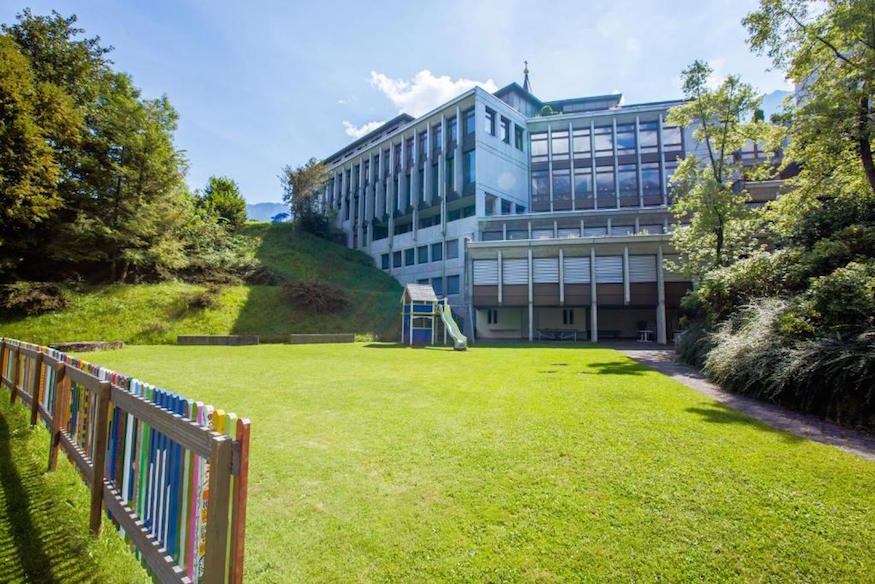 Hotel Neu-Schönstatt Online: Web, Instagram, Facebook, eMail, T: +41 81 511 02 50, Flumserberg Cheese Manufature, Floomzer