Hublot and London-based tattoo studio Sang Bleu are unveiling a trio of timepieces in ceramic – three limited edition Big Bang watches which explore new territories of colour.
Three new creations for their collaboration: Hublot and Sang Bleu are relighting their creative flame to produce a colourful new trio. The new Big Bang Sang Bleu II Ceramic watch is now available in blue, grey and white. Adding to their technical achievement of having successfully created perfectly and evenly coloured ceramic, Hublot unveils a watch architecture that continues to defy tradition.
"With the Sang Bleu II All Black launched last year, we opened the door to working in ceramic with the models that we have been developing with Sang Bleu for five years now. These three new versions go further still. They are the logical continuation of the All Black original version and open up new perspectives on this piece which still remains unique, and whose three-dimensional architecture is seen here in a new light." Ricardo Guadalupe Hublot CEO
"To be able to work long-term with a manufacture is a privilege and an honour. Hublot and Sang Bleu have been pushing artistic and watchmaking boundaries since 2016 and this freedom has enabled us to continually explore new innovations. These three Big Bang Sang Bleu II versions are the fresh fruit of this labour. Introducing these three colours of ceramic opens up brand-new perspectives on the architecture of the dial, the set of hands, the case. The experience and the impact of each piece is brand new, opening up new perspectives on the way in which a timepiece completes and enhances the identity of the wearer." Maxime Plescia-Buchi Founder of Sang Bleu and Hublot ambassador
With its sharp angles, its sculptural case, its multiple facets as if cut in diamond, the Big Bang Sang Bleu II designed by Maxime Plescia-Buchi and Hublot has the ability to amaze and astound. Combining the creativity of the tattoo artist with the technical expertise of the Nyon-based manufacture, the piece displays a radical, complex design, which demands a closer look in order to fully appreciate its multidimensional appearance. The case, bezel, case middle, strap and dial have been constructed with their own geometry and, at the same time, they come together with a seamless fluidity.
With these new grey, blue and white versions, the Big Bang Sang Bleu II displays a new temperament. In the grey ceramic version, the piece offers a modern look reminiscent of the great urban structures at the heart of 21st-century megapolises. The shades of grey that illumine the ceramic evoke steel, titanium and aluminium in turn, strongly accentuating the profoundly architectural design of the Big Bang Sang Bleu II.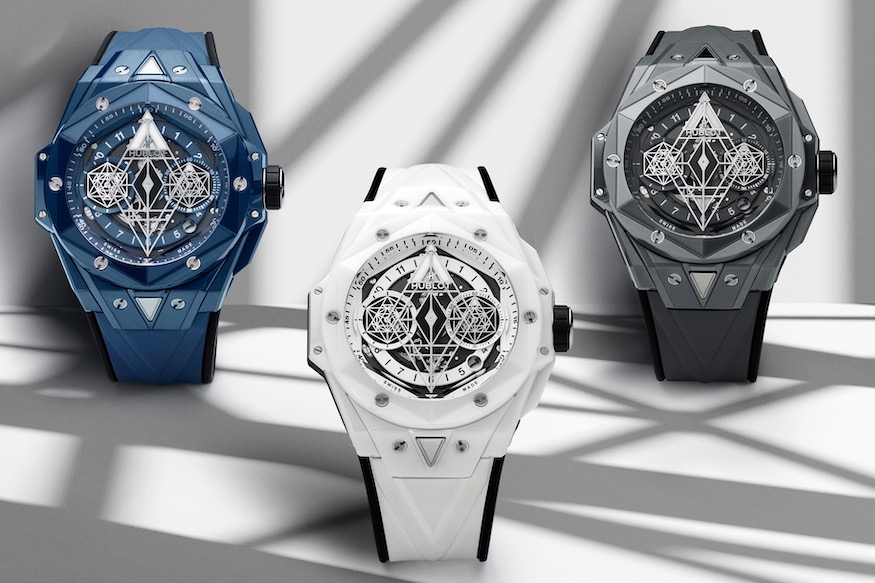 The blue ceramic version is a clear nod to the name of the piece – a royal blue, an echo of the term "blue blood" (sang bleu) which is used in historical literature to describe the nobility of a lineage. Between day and night, light and shade, the piece offers the perfect blend of tones, a real technical feat for a material as difficult to master as ceramic, which is always susceptible to tiny variations when it is fired at very high temperatures. Here, as in the grey version, Hublot and Maxime Plescia-Buchi developed an approach where the dominant colour of the piece echoes the white and luminescent indices and hands. The geometric structure of the hands appears in all its complexity, hypnotic as it is, in constant movement, and forming, for a few fleeting moments at midday, a complete work in perfect alignment and symmetry.
The third version appears simple yet enigmatic. A mirror image of the All Black version which was released last year, this "All White" version features a dazzling play of light in place of the original shade. The faceted architecture of the bezel, case and strap invites closer inspection to appreciate the subtle angles and curves of the piece – the watch is a powerful creation, a ray of light to be worn on the skin, like the tattoos that Maxime Plescia-Buchi uses in his graphic art.
Each of these new Big Bang Sang Bleu II will be available as a limited edition of 200 pieces. They all share a 45-mm case made entirely from high-tech ceramic, housing the UNICO Manufacture self- winding chronograph. Entirely developed in-house by Hublot's engineers and watchmakers, comprising 330 components and equipped with a flyback function, this model offers a 3-day power reserve. Each piece is equipped with its corresponding rubber strap, featuring the One Click system which enables it to be changed instantly with no need for any tools.
About Hublot
Founded in Switzerland in 1980, HUBLOT is defined by its innovative concept, which began with the highly original combination of gold and rubber. This "Art of Fusion" stems from the imagination of its visionary Chairman, Jean-Claude Biver, and has been driven forward by CEO Ricardo Guadalupe since 2012.
The release of the iconic, multi-award-winning Big Bang in 2005 paved the way for new flagship collections (Classic Fusion, Spirit of Big Bang), with complications ranging from the simple to the highly sophisticated, establishing the extraordinary DNA of the Swiss watchmaking house and ensuring its impressive growth.
Keen to preserve its traditional and cutting-edge expertise, and guided by its philosophy to "Be First, Different and Unique", the Swiss watchmaker is consistently ahead of the curve, through its innovations in materials (scratch-resistant Magic Gold, ceramics in vibrant colours, sapphire), and the creation of Manufacture movements (Unico, Meca-10, Tourbillon).
Hublot is fully committed to creating a Haute Horlogerie brand with a visionary future: a future which is fused with the key events and brands of our times (FIFA World CupTM, UEFA Champions LeagueTM, and UEFA EUROTM) and the finest ambassadors our era has to offer (Kylian Mbappé, Usain Bolt, Pelé).
Discover the HUBLOT universe at the network of boutiques located in key cities across the globe: Geneva, Paris, London, New York, Hong Kong, Dubai, Tokyo, Singapore, Zürich and at HUBLOT.com