Carolien Niebling wins the Hublot Design Prize 2017 – Jessi Reaves gets the special mention of the jury – Hublot, the watch brand shining the light on the rising stars in design.
For its third edition, the Hublot Design Prize was awarded to Carolien Niebling and her masterful project, The Future Sausage. The jury also honored the work of Jessi Reaves with a special CHF 25,000 prize. This prize is considered to be a career booster with the aim of shining a light on the talent of an already accomplished designer, by offering them the exposure they need in order for the future their name will be alongside those of the well-known greats. A prize that rewards design in the Hublot spirit, that seeks designers with an innovative way of thinking and creating; an anti-conformist and pioneering form of expression, the desire to constantly push boundaries, and go beyond what already exists.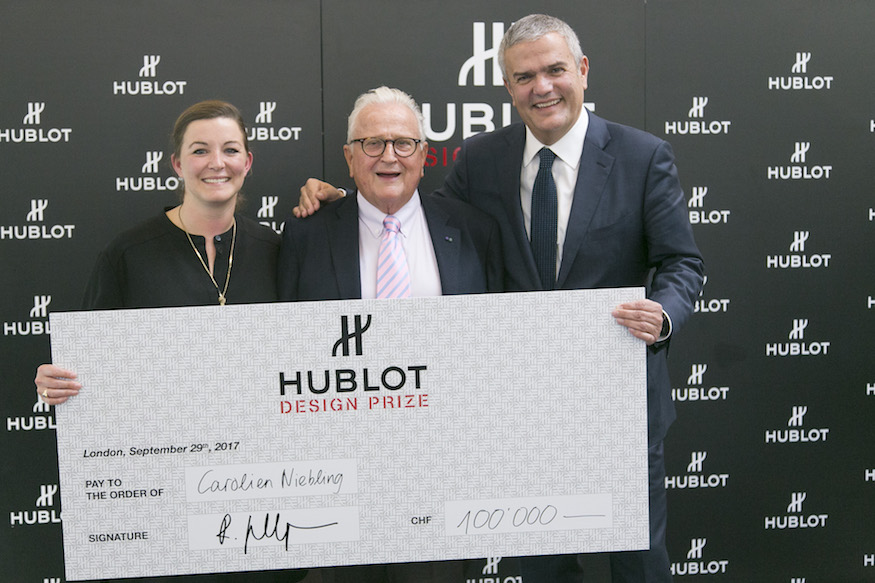 "If I say the word "design" to you, you think of… Le Corbusier, Starck, Dixon, Urquiola, Putman or even Niemeyer, Lapo Elkann, Ferrari: objects, shapes, and personalities that have become iconic, which fascinate us, seduce us and whose name is known by everyone. This is what has predetermined their success, the thing they have in common, their design. Design that Hublot believes occupies a central place. Design that combines materials and creativity that appears to know no bounds. Design is so important to Hublot that it is for this exact reason that three years ago -ten years after the launch of the Big Bang -we created our own prize. The Hublot Design Prize aims to support the work of an already accomplished designer, by providing them with exposure and a boost, in order for their work to one day be considered amongst that of the greatest designers". Ricardo Guadalupe, CEO, Hublot.
Design occupies a central place in the history and success. In 1980, when Carlo Crocco founded Hublot, he afforded his watches a particular design and an innovative natural rubber strap. More than 20 years later, the meeting of Carlo Crocco and Jean-Claude Biver changed Hublot's future forever. In 2004, Jean-Claude Biver and Ricardo Guadalupe created the Big Bang and, with this, its iconic design was propelled amongst the ranks of the greats. More than ten years later, the Big Bang and its unmistakable case cut from various materials, its composite 'sandwich' construction and H-shaped screws through the bezel never fail to surprise and push the limits. Marked by innovation and audacity, combining the best materials with the precision of the Unico manufacture movement, the Big Bang watch seduces with its bold design and limitless creativity. Immediately recognizable, it embodies the design driven spirit of the brand.
Hublot created this prize in 2015 to celebrate and honor design and its Big Bang model. For this year the Hublot Design Prize has taken up residence in the pavilion of the Serpentine Gallery, a summer pavilion that is redesigned each year by architects, designers and renowned creators – none of whom have ever built anything on English soil before. This year, the pavilion was designed by Francis Kéré, the award-winning architect from Burkina Faso. Before this, Zaha Hadid, Frank Gehry, Jean Nouvel, Peter Zumthor, Herzog and de Meuron, to name just a few, have shared their design vision and architecture with the general public with their design of the summer pavilion. It is in this very building that Ricardo Guadalupe, Hublot's CEO, awarded the Hublot Design Prize 2017 to Carolien Niebling. The winner received a cheque for CHF 100,000 – intended to support the designer and to help them realize their work. It is a unique opportunity for the designer to gain exposure.
The Hublot Design Prize 2017 rewards Carolien Niebling's masterful work as well as her playful and original approach. Her sophisticated and extremely comprehensive research took the form of a two-pronged scientific and technical approach that led to a book titled 'The Future Sausage', one of this year's finest publications.
For this edition, the jury also decided to award a special prize for the innovative and experimental work of Jessi Reaves, who opens up a whole new vista and brilliantly asserts her singular vision hovering between art and design.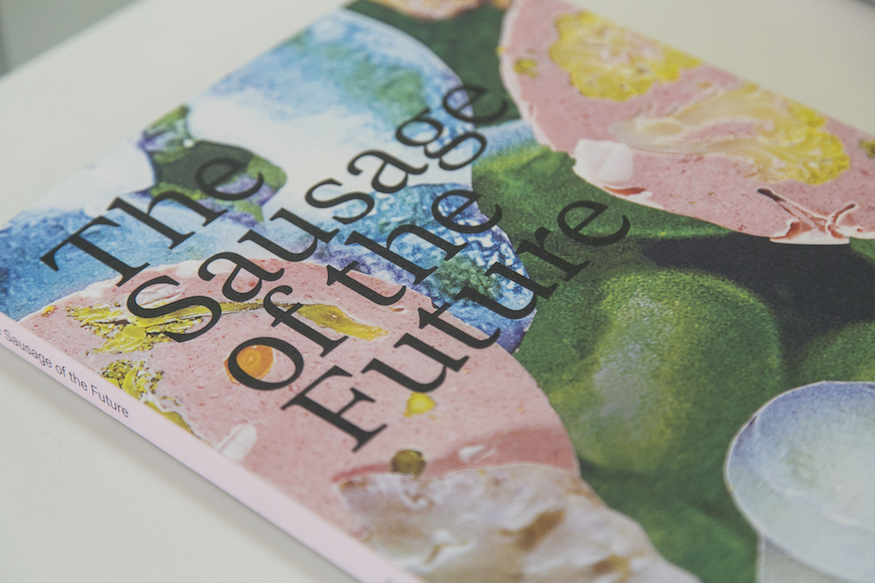 About the Hublot Design Prize
Born from the friendship between Jean-Claude Biver and Pierre Keller (former director of Lausanne University of Art and Design, ECAL), the Hublot Design Prize was created in 2015 to celebrate the ten-year anniversary of the launch of the iconic Big Bang model and highlights the work of the designers of tomorrow. This prize is not intended to pay tribute to the work of a famous designer, nor to support a newly qualified designer, but to provide an already accomplished designer with a platform to launch and increase the exposure of their work, a career boost so that, one day, they will rank amongst the great names in design. Its principle is simple. An independent jury is formed of five experts from the field of contemporary design – each of whom put forward five candidates. In total 25 dossiers are collected, from which eight finalists are chosen to present their creations. A single finalist is chosen as the recipient, while the jury reserves the right to award a special prize to another finalist.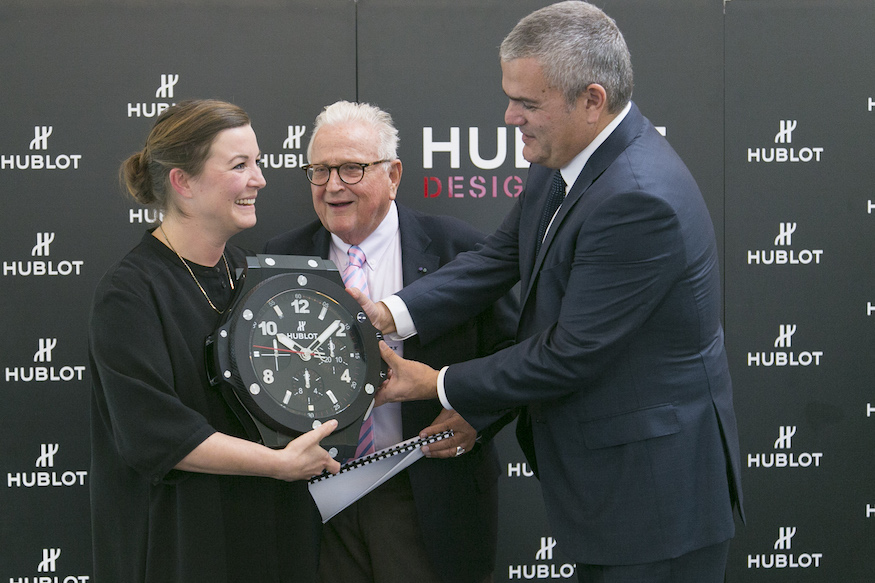 The eight finalists of the Hublot Design Prize 2017
Jun Murakoshi, 1978, www.junmurakoshi.com
A graduate of the Royal College of Art in London and Chiba University in Japan, Jun is a designer who has given life to a new style of fusion: blown glass and embroidery. Two materials that he feels embody warmth and tension and which join together in perfect geometry.
Thomas Eberwein, 1976, www.trauminc.com
Having graduated with a degree in Media & Interaction Design from ECAL, he is the founder of Traum INC, his design studio in London. Between reality and virtuality, he designs a new world made from images.
Eric Morzier & Florian Pittet, 1983, 1984, www.sigmasix.ch
Both studied at ECAL and are founders of SIGMASIX in Geneva, Eric and Florian fuse art and technology in order to create experiences. Using media such as video and light, they produce interactive installations and create unique experiences. Their goal is to use the most advanced technologies all to make it disappear.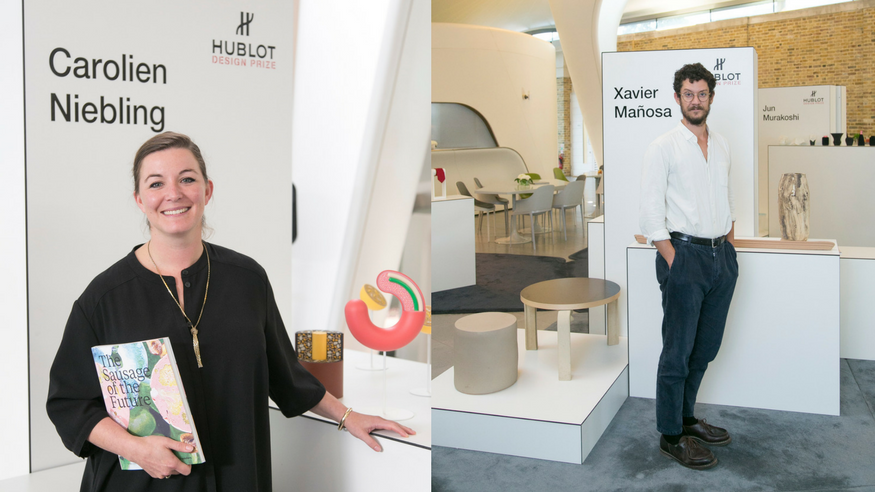 CarolienNiebling, 1984, www.thefuturesausage.com, www.carolienniebling.com
A 2007 graduate of the Arnhem Academy of Visual Arts and receiving a Masters in Product Design from ECAL in 2014, Carolien uses design as a medium that allows her to combine science and food. She carries her research out on the sausage, invented over 5000 years ago, she considers it to be a true design object and has written a book 'The Future Sausage'. The book explores the future of sustainable consumption, which must reinvent itself in order to reduce the consumption of meat in the future.
Xavier Mañosa, 1981, www.apparatu.com
The son of two ceramicists, Xavier has ceramics running through his veins. He has been running the family workshop, Apparatu, for the past ten years. He studied industrial design in Barcelona and is renowned as one of the most prominent ceramicists of his generation. His work is distinguished by his audacity, to which he combines different materials and explores innovative forms of expression. A child of the digital generation, he channels his ultra-contemporary vision into ceramics.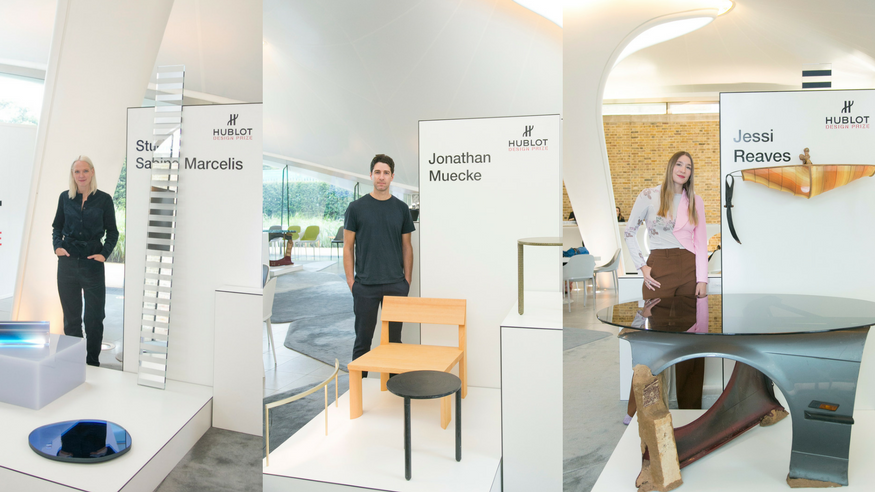 Sabine Marcelis, 1985, www.sabinemarcelis.com
She studied Design at the Victoria University of Wellington and then at the Design Academy Eindhoven. In 2012, she founded an eponymous studio in Rotterdam and works on spatial design and installations by concentrating on materiality. She is best known for highlighting the properties of a material, harmoniously using the shape, color and light to create the best possible result. For Sabine it's all in the measurements.
Jonathan Muecke, 1983, www.jonathanmuecke.com
Graduating with a degree in architecture from Iowa State University and with a Master of Fine Arts from Cranbrook Academy of Art, he reinterprets ordinary designs with the aim of showcasing their qualities and distinctions. Working in his studio in Minneapolis, he generally only uses one material at a time. He has a minimalist approach that plays on the notion of positive and negative space and functionality. In 2014, he created the Design Miami Pavilion.
Jessi Reaves, 1986, www.bridgetdonahue.nyc/artists/reaves-jessi/
Born in Oregon, she graduated from the Rhode Island School of Design. Her work is heavily influenced by her past. Before becoming an artist, she worked as an upholsterer-decorator and now she regards her sculptures as pieces of furniture. Her creations explore the link between furniture and art. Her style: Functional objects but also the representation of said functional objects.
The Hublot Design Prize Jury
An independent jury formed of experts from the field of contemporary design, presided over by Pierre Keller, Head Judge. Former Director of the Lausanne University of Art and Design (ECAL), he is also Chairman of the Board at the Centre for Contemporary Art in Geneva (CAC). Marva Griffin Wilshire, Founder and Curator of the Salone Satellite, she is also the International Press Director of Milan's Furniture Fair (Il Salone del Mobile Milano), the part of the fair dedicated to showcasing young designers under the age of 35. Ronan Bouroullec Born in Brittany, together with his brother Erwan, they are the rising stars of design in Europe and the most promising industrial designers in France. Hans Ulrich Obrist, a figure of contemporary art, he is one of the most influential curators of his generation, a critic and art historian, today he is the co-director of the Serpentine Gallery in London.
SaveSave