OPI Nature Strong for all those who don't want to choose between natural and high performance: long-lasting, highly pigmented color with a high shine finish that stays on for up to seven days without fading.
The formula's natural origin, plant-based ingredients are derived from sugar cane, manioc, wheat, potatoes, and corn, providing up to 75% natural origin color and 65% natural origin Top Coat.
Featuring 30 shades inspired by nature and a Top Coat for maximized shine and protection, the new formula offers high quality natural lacquer that applies easily, dries quickly, and removes simply with lacquer remover.
With a range of neutral earth tones, bright pops of color, and bold, timeless hues in crèmes and shimmers, all 30 shades showcase nature's grace and wonder in a naturally sourced formula.
The nature-inspired hues capture the role color plays in earth's natural elements and empower consumers to express themselves consciously. Dusty rose, carnation pink, and bright yellow (Knowledge is Flower, Big Bloom Energy, Make My Daisy) embody a love of blooms big and small. Cobalt blue, lavender-gray, and a cool blue (Shore Is Something!, Right as Rain, Raindrop Expectations) channel water in all its forms; and deep purple, shimmery burgundy, and radiant pink (A Great Fig World, Raisin Your Voice, Simply Radishing) offer a nod to favorite organic fruits and vegetables.
Each shade practices consciousness of the environment and sustainability with a crafted bottle and cap made from 20% post-consumer recycled materials. The premium formula is free of animal-derived ingredients and by-products.
OPI has teamed up with The Vegan Society, the oldest and original vegan organization in the world, they established the international Vegan Trademark in 1990 to improve product labelling. The Trademark helps people identify a product that is free-from animal ingredients and has not been tested on animals.
By including the trademark on packaging and assets it provides confidence about our vegan credentials. In addition to being vegan, Nature Strong by OPI is also non-GMO so consumers can take the best care of themselves, their nails, and the world around them.
Application: To use Nature Strong, apply two coats of color, and seal with one coat of Top Coat.
Where to buy: POS, Perfecthair, Globus, Manor. Recommended retail price: CHF 24.90/15ml bottle, Online: Web, Facebook, Instagram
About OPI
As the number one salon brand worldwide, OPI is committed to providing high-quality products and services to both salons and their customers, along with a focus on industry safety and innovation.
With exceptional formulas, fashionable colors, and iconic names, OPI's heavily pigmented lacquers are super-rich, long lasting and chip-resistant – offering an affordable luxury to consumers. OPI is available in more than 250 shades.
OPI Infinite Shine is a no-light three-step long wear lacquer system offering long-wear, high-shine and ease of application and removal, as an alternative to OPI Nail Lacquer, the classic cline. Each lacquer features OPI's exclusive ProWideTM Brush for the ultimate application.
Currently, OPI is available in over 100 countries and retails a full line of professional items including OPI GelColor with up to three-week wear, nail treatments, finishing products, lotions, manicure/pedicure products, files, tools, gels and acrylics.
The 30 OPI Nature Strong colours include:
Dawn of a New Gray: A soft misty gray that feels like a fresh start. Strong as Shell: A bold crème white that will empower you day in and day out. We Canyon Do Better: Move mountains with this soft nude pink. A Clay in the Life: A pale clay neutral that feels second nature. For What It's Earth: A vibrant orchid pink that will keep you down to earth. Intentions Are Rose Gold: A lustrous rose gold that is beyond pure. Raisin your Voice: Make yourself heard with this bold and shimmery burgundy. Give a Garnet: A rich garnet red that will make you feel like a gem. Thistle Make You Bloom: A shimmery hot pink that will make you bloom. Emflowered: A petal pink coral that will emflower you to stand out. Force of Nailture: A deep charcoal blue that will make you a natural force. Onyx Skies: Reach for the stars with this almost black onyx crème. Shore is Something: A bright ocean blue that's something to remember.
Once and Floral: A bright gerbera pink that's like a bouquet on your nails. A Bloom with a View: A bold rosy red that will always be budding. Big Bloom Energy: Bloom big with this perfectly sweet carnation pink. Let Nature Take Its Quartz: Channel healing energy with a pale rose quartz pink. All Heal Queen Mother Earth: Go green with this rich crème teal that's one with the earth. Make My Daisy: This bold daisy yellow is sure to brighten your day. Cactus What You Preach: Make a statement with this bright desert turquoise. Eco-Maniac: A deep plum purple that's as crazy about earth as you. Knowledge is Flower: The more you know about this dusty crème rose, the more you'll grow.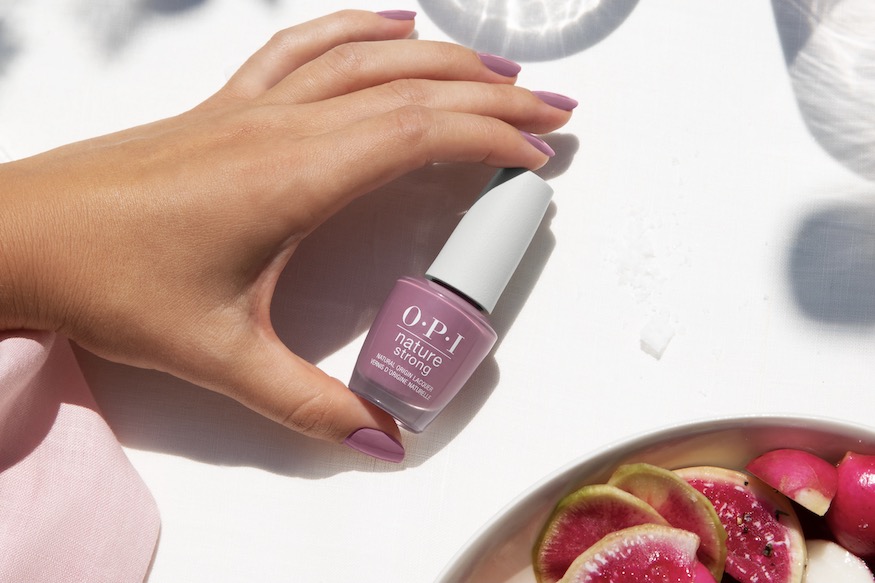 Simply Radishing: A radiant radish inspired pink you'll want to dig up. Right as Rain: An almost lavender gray that will wash over you like rain. A Great Fig World: A bold crème purple that will make you feel like a fig deal. Achieve Grapeness: Anything is possible with this shimmery purple grape. Natural Mauvement: Start a mauvement with this empowering pinky purple pastel. Spring Into Action: An empowering pastel lavender that's as bold as you are. Raindrop Expectations: A cool white with the perfect balance of rainy blue undertones. It's Ashually OPI: A serene ash gray that makes a subtle statement.