To most of you drinks enthusiasts out there this man will need no introduction. To those who don't know: @mixellany2 on Instagram is no other than Sipsmith Master Distiller, photographer, award-winning author, consulting drink historian Jared Brown. For Fabdrinx, Erhard met him for a short interview at the Sipsmith Event and Blackbox Cocktail Challenge at The Birdyard Bar in Vienna.
Among industry professionals and spirit connoisseurs, the name Jared Brown is commonly associated with flavour accuracy, spirit development and optimization. With his wife, Anistatia Miller, he specializes as a cocktail and bar historian. Together they have issued several books on spirits and bartending including the bestseller "Shaken Not Stirred: A Celebration of the Martini" and the award-winning two-volume tome "Spiritous Journey: A History of Drink, tracing alcoholic beverages from 7000 BC to the 20th century."
At their home in the Cotswolds, the inseparable cocktail couple not only has a book collection of over thousand books on drink, they also have their own research garden where they grow fruit trees and botanicals; a quasi inexhaustible reservoir of ingredients that they can develop and experiment with.
Experimenting with flavors has always been Jared's passion. From an early age drinks and distillates fascinated him. With a degree in hospitality and several years of experience in the industry, he later became an author on beverage and bar related topics for the Observer, The Telegraph, Financial Times and other publications. He also co-founded the Museum of the American Cocktail and is director of Exposition Universelle des Vins et Spiritueux.
When we got the invitation to participate in the event we were, of course, delighted. After all, it is not every day that you get the chance to pick the brains of a legend like Jared. Together with several of Austria's best bartenders, we headed to The Birdyard for an evening filled with insights, tastings and hands-on experiences.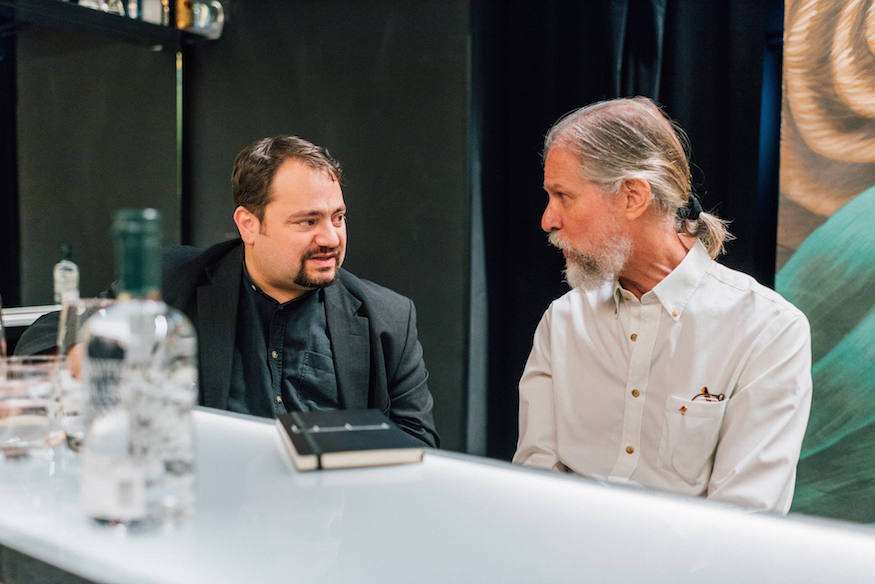 Jared, how has your incredible sense of taste developed?
I realized very early on that I have a special relationship with tastes and smells. While other children my age were happy about any kind of sweets, I have already discussed the specific tastes of things with my mother. We also had a large garden; so knowing different plants was quite natural to me.
So you always had a knack for growing your own plants?
Well, between the ages of 16 to about 43, I had no garden at all. And cultivating herbs and plants in the middle of New York was rather difficult. But in my work as a chef, the ingredients and their quality have always been my prime preoccupation. It is the same with gin, for example. The ingredients are what make a gin.
When developing gin, where do you get your inspiration?
With regards to gin, the inspiration clearly comes from my love for the Martini cocktail. When I lived in Boise, Idaho, between 1998 and 2000, I often went to a certain grocery store with Anistatia because it offered many things that could be used as gin botanicals. At that time, we also started distilling the plants one by one to get to know the essences and their tastes. We made over 100 such distillates in order to learn.
As you are approaching the topic from the perspective of a chef, how important is knowledge about chemical processes and technical equipment?
Not so much. The technical device is just a tool. It depends on the selection and treatment of the plants. For example, the juniper berries that everyone needs for making gin. It is important to dry them well, as only then the essential oils can be extracted. That makes Juniper an all-season ingredient. On the other hand, other plants (especially fruit), have to be used when fresh and thus make the production depended on the season.
What would be your advice for someone who wants to start out with the production of spirits?
Do not make gin! The market is already saturated today. It would be better to think regionally and to remember traditions. I work a lot with old recipe books that I find in archives. First, I try to follow the recipes to the letter and then I adapt them to meet modern taste requirements. So my recommendation would be to find something local, try it out and then try to make it the best there is.
In your opinion, what makes a good bartender?
Definitely a solid base. Young bartenders need to know the basics about the drinks they process and not only need to know about the basic cocktail classics but also how to make them well. By handling and tasting different types of spirits and brands, they can develop a comprehensive understanding that ultimately enables them to try cocktail variations in different directions. From there, creativity often is a natural process.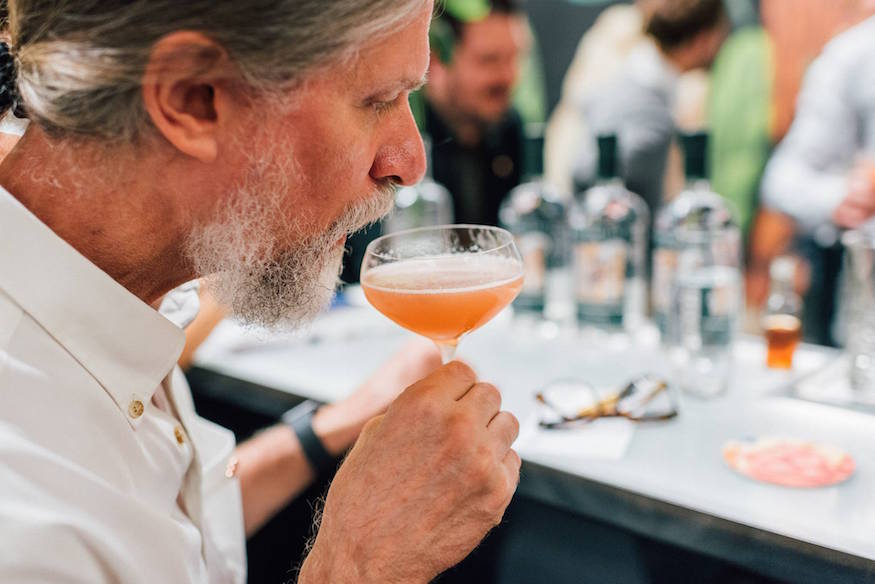 Blackbox Cocktail Challenge
During the second part of the event, the participating bartenders were challenged to get creative with mystery ingredients from a Blackbox. The five best attempts were rewarded with a certificate and an invitation to a private tour with Jared Brown at the London Sipsmith Distillery. These are the winning cocktail recipes:
Smokey Swan by Dominik Oswald (Hammond Bar, Vienna)
5 cl Sipsmith London Dry Gin
0,5 cl Smoked Venison Sipsmith
3 cl Ginger lemon liquor
0,5 cl Lime juice
Technique: stir
Garnish: Juniper dust
Glass: Coupette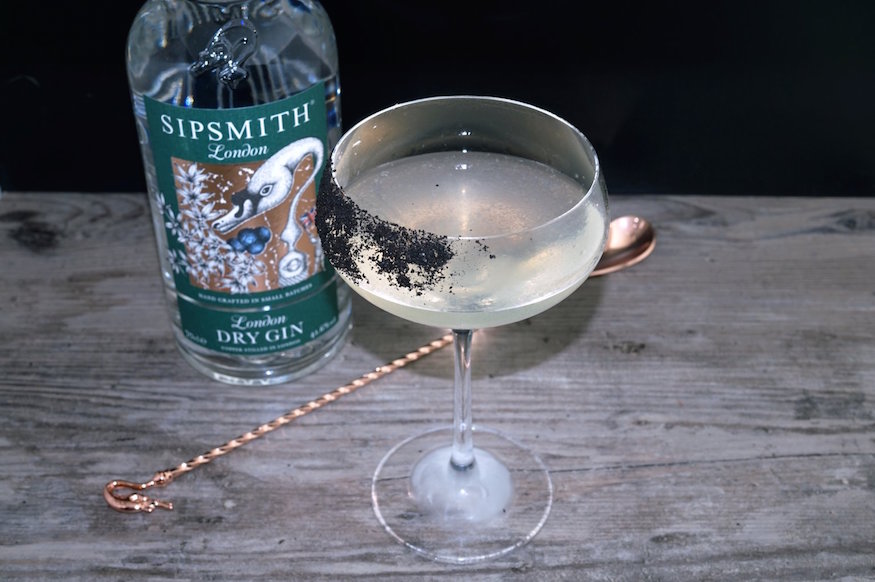 Birds Nest by Alex Öhler (Mr. Mendez Bar, Vienna)
4 cl Sipsmith VJOP
2 cl lemon juice
2 bsp rhubarb jam
Black pepper
Pinch of salt
Soda
Technique: shake
Garnish: lemon peel
Glass: clay mug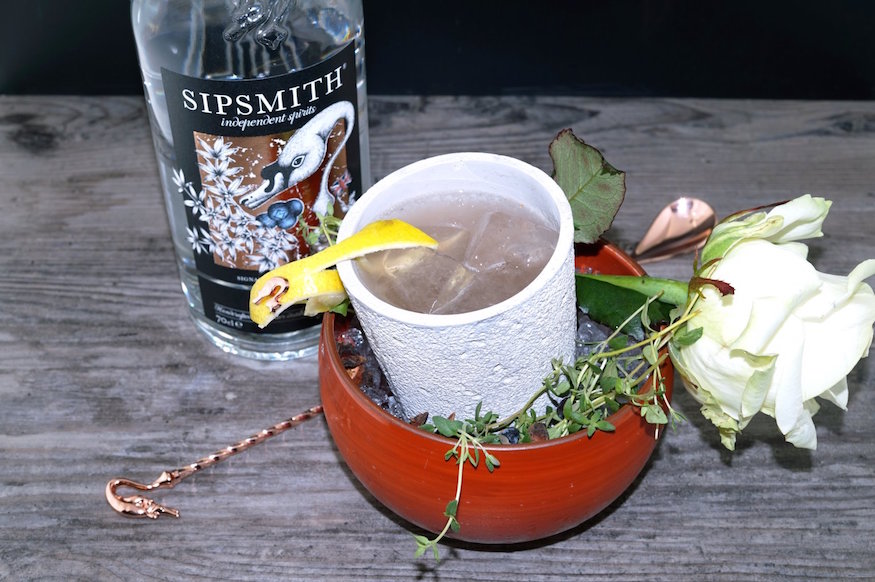 Ginger Dry by Justin van Heerde (Roberto American Bar, Vienna)
5 cl Sipsmith London Dry Gin
4 cl Sipsmith VJOP
2 cl Fresh lime
2 cl Dry Curacao
2 cl Lemon ginger sugar syrup
Technique: shake
Garnish: none
Glass: in a Coupette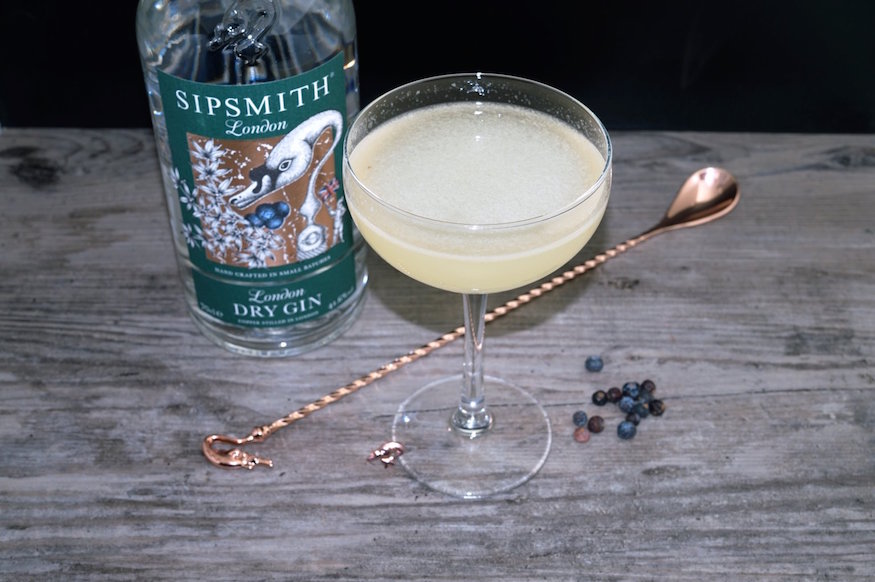 Queen Mum's Dirty Little Secret by Moritz Horton (Frau Dietrich Bar, Linz)
5 cl Sipsmith VJOP
1 cl smoked venison Sipsmith
3 cl Chartreuse Yellow
2 cl Lemon Ginger Liqueur
1 bsp Orange Curacao
10 mint leaves
Pinch of salt
Technique: shake
Garnish: mint
Glass: tumbler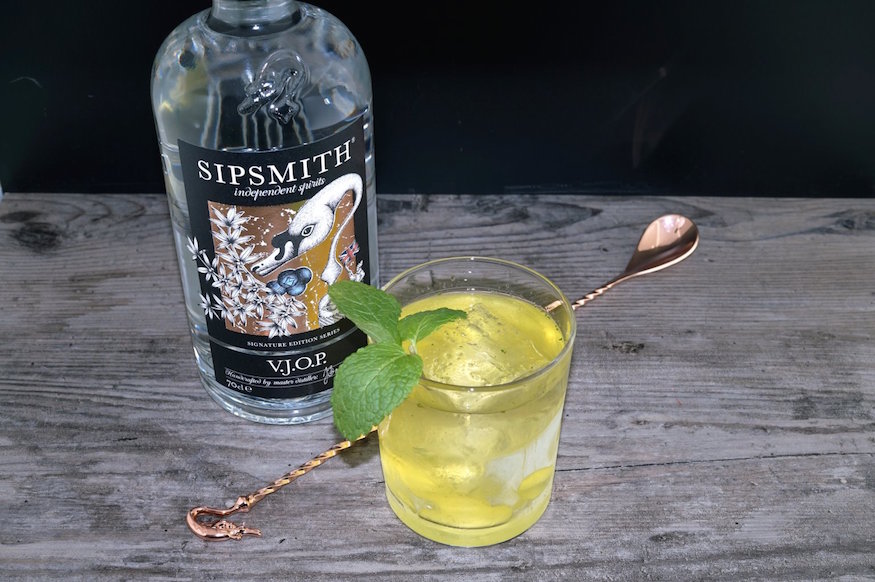 The Prodigy by David Penker (26East Bar, Vienna)
4 cl smoked venison Sipsmith
2 cl Sipsmith Sloe Gin
0,5 cl Sake Vermouth
3 dash Burlesque Bitters
Technique: throw
Garnish: white rose petal
Glass: Coupette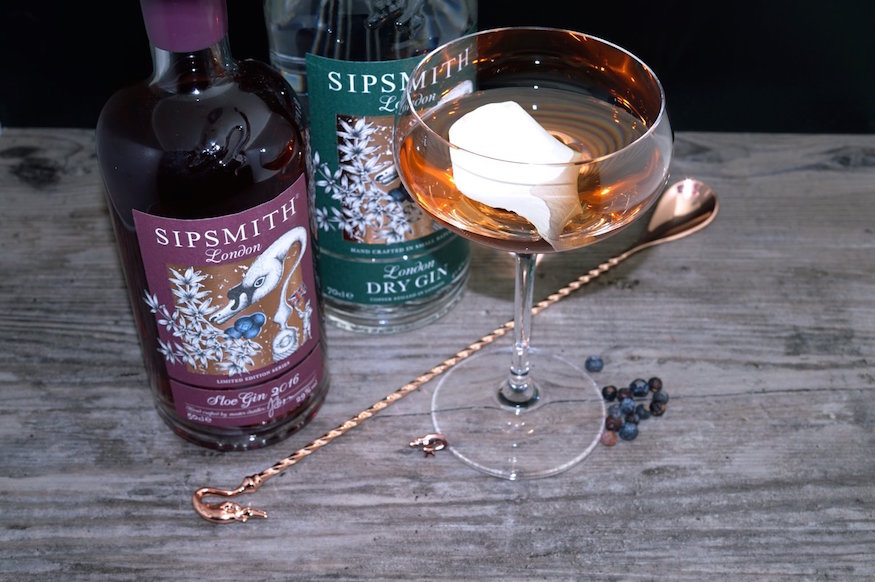 About Sipsmith London Dry Gin
Genuinely from London, Sipsmith is produced in the district of Hammersmith since 2009. Sam Galsworth, Fairfax Hall and Jared Brown founded Sipsmith Independent Spirits and started distilling in an old garage that was barely large enough to fit the still. Independent Spirits, why? All three came from the industry and had arrived at a point in their lives where they felt the desire to consolidate and do their own thing: a craft brand. A new gin distillery was born in London, the first in nearly 200 years.
Not without some difficulty at first because the owners were challenged to get a license from the UK government. Until then, the antiquated law prohibited new producers from entering the market. Once the legislation overturned, the way was paved for the gin revival the city has seen since then. Reminiscing the Acts of Parliament that regulated the distillation oft he spirit over time, Sipsmith dedicated a special edition exclusively for the House of Commons, sold exclusively in the Jubilee Gift Shop there.
The first of Sipsmith's copper pot stills is named Prudence and was handcrafted by Christian Carl, Germany's oldest still manufacturer. Its shape resembles the neck of a swan, the animal that also graces the label of all Sipsmith products. Later Patience and Constance completed the Sipsmith family of copper stills. Each bottle of Sipsmith is equipped with a small label on the back of its neck indicating the corresponding batch. The number can be entered on www.sipsmith.com where it will reveal the events that shaped the world on the day of bottling. To find out more about Sipsmith, join the brand online >>>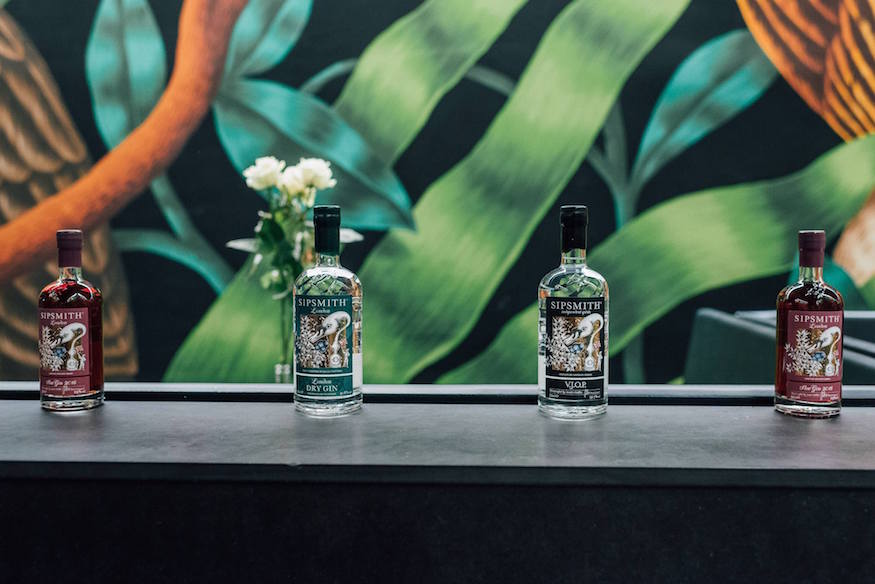 Photos: © Daniel Willinger | Optical Engineers