Sisters A. Chocolate that is the name the sister duo Olena and Oleksandra from Lutsk in the West of Ukraine have given their little enterprise: a bean-to-bar chocolate manufacture.
The family business Sisters A. Chocolate was launched in 2021. Since then, the small chocolate manufacture produces quality bean-to-bar chocolate. Olena and Oleksandra have chosen to work with fine flavour cocoa because it produces the best chocolate.
"Chocolate for us is about loving what you do, creativity, quality, sustainability, and the ability to create and share positive vibes. We like simple, honest products that do not need to be decorated with unnecessary ingredients or packaging."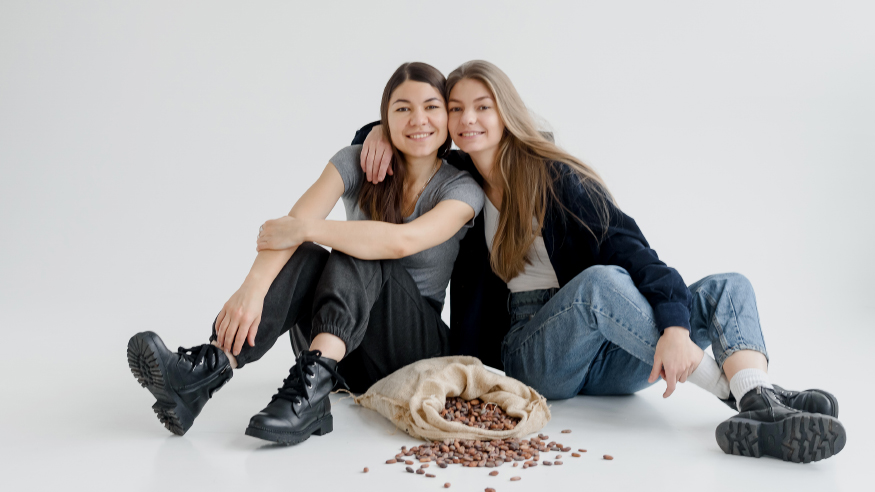 Bean-to-bar: a philosophy of respect for nature, farmers and craft
Like coffee and wine, cocoa is a terroir product. Genetics, climate, fermentation method – all this determines the ultimate taste of the chocolate.
Bean-to-bar, or Origin chocolate, is made from aromatic cocoa beans which grow in special geographical microclimates and which provide the unique taste profile of each chocolate.
As the sisters care about the quality of each component of their chocolate, they independently choose suppliers, and control all stages. In their manufacture, they take care of the entire process: roasting, processing and grinding them in a blender to a delicate consistency, right up to the finished chocolate bar.
The actual roasting of the cacao beans makes it possible to control the taste profile of the chocolate. Thanks to the gentle processing of cocoa, at Sisters A. Chocolate, the taste and aroma of nature are preserved. The content of cocoa beans is so high, that the chocolate retains the maximum taste and aroma inherent in nature.
Sisters A. Chocolate uses only cocoa beans, cocoa butter and a little coconut sugar. "We chose coconut sugar for sweetening because it is more environmentally friendly, has a low glycemic index (35-40), and also gives chocolate a special taste." Some bars contain added nuts, fruits or spices.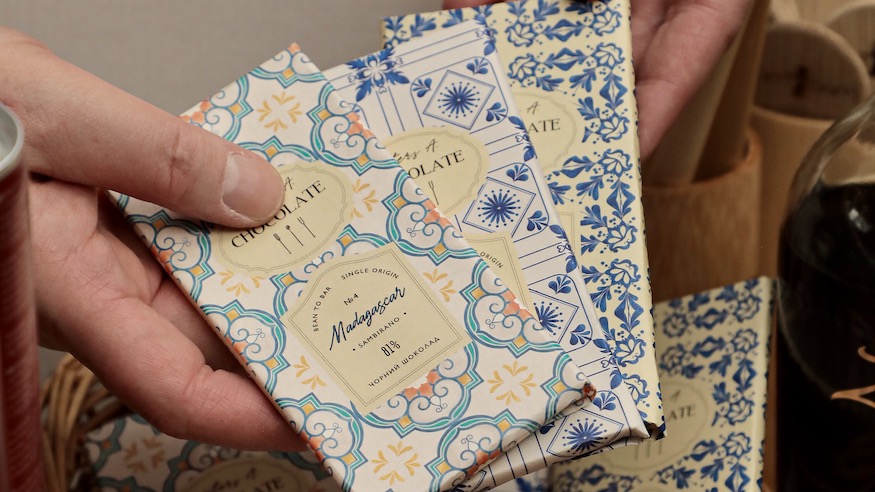 Sisters A. Chocolate at Veggie World Berlin
Every year, the highlight in the calendar of many vegans and people interested in plant-based, eco-responsible lifestyle, is the Veggie World series of events. From Amsterdam to Zurich, many cities have already hosted one or several editions of the fair for vegan lifestyle.
This year, because of the particular circumstances, we decided to invite producers from Ukraine to our Coolbrandz stand. Among them, Sisters A. Chocolate!
We presented three of their extraordinary chocolates: Madagascar Sambirano 81%, Venezuela Sur del Lago 81%, and Hispaniola Dominican Republic 88%.
Sisters A. Chocolate bean-to-bar, craft chocolate online: sisterschocolate.com, @sisters.a.choco, Featured image: @diansoroka