Are you planning a special event in Zurich: family get together, private dinner, an anniversary, product launch, or office party? Are you looking for an original venue that offers the infrastructure to amaze and entertain your guests?
Together with our partner BE WTR, we picked three cool places in the Limmat city that enchant by their location, concept, and cuisine!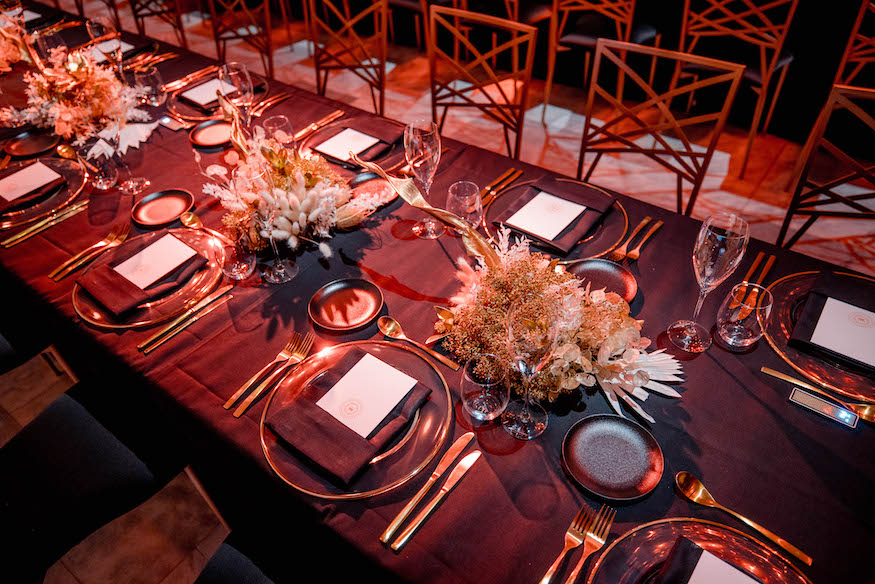 1. AURA 800° Grill & Bar Zurich
The AURA is located on the premises of the old stock exchange in the heart of Zurich, just a stone's throw from Paradeplatz. More than 2'000m² offer event hosts ample possibilities. Restaurant, bar and smoker's lounge as well as a multifunctional event hall and club… no limit to tailoring any event to your gusto!
The restaurant is stylish and urban. It offers modern crossover cuisine and celebrates grilled food of all kinds. The drinks menu is extensive, comprising cocktail classics and signature concoctions.
Address: AURA, Bleicherweg 5, 8001 Zürich, Switzerland, +41 44 448 11 44
Online: www.aura-zurich.ch, @aura_zurich, @auraclubzurich
2. Tao's Restaurant & Bar Zürich
Situated in the pulsating city center of Zurich – in the Augustinerhof – not far from the lively Paradeplatz, Tao's is an oasis of tranquility that celebrates Eurasian lifestyle. Dark wood, Asian decor, and a verdant garden characterise this gem. The cuisine is Thai and Japanese influenced, a lounge bar invites for delicious drinks.
Whether for a business lunch or after an extensive shopping tour on the Bahnhofstrasse – here you can relax, enjoy the special ambiance and outstanding hospitality. The terrace is the ideal place to enjoy beautiful spring and summer evenings.
Planning a larger event? The restaurant, bar, smoker's lounge and club extend over 500 square meters. Whatever the occasion, you will surely find the right offer.
Address: TAO'S, Augustinergasse 3, 8001 Zürich, Switzerland, +41 44 448 11 22
Online: taos-zurich.ch, welcome@taos-zurich.ch, @taos_zurich, @taoslounge

3. Collana Bar e Caffè Zürich
Italianità on the Sechseläutenplatz! The Collana offers authentic, seasonal Italian cuisine. Antipasti, salads, meat and fish are part of the daily menu. The pasta is handmade; crafted in-house at the Commercio Manifattura. The art of coffee is also celebrated here: from classic espresso, to cappuccino and caffè corretto – coffee lovers will appreciate the quality of choice.
On weekdays, breakfast is served until 11am. A wonderful start to the day. Even better: the brunches at the Collana! They are copious and a favourite with locals and visitors of the city. Served until 4pm, so take your time. No need to hurry… Or take away a bite of culture: grab a Pepito! Inspired by the street food dish that is popular in Latin America, the sandwich was first sold over the counter in Niederdörfli in 1980. Its popularity even led to the name and recipe being nationally copyrighted in 1997! Today, you can collect fidelity points with the Pepito Pass and enjoy every 9th Pepito for free!
Address: Collana, Theaterstrasse 9, 8001 Zürich, +41 44 250 59 10
Online: collana-bar-caffe.ch, @commercio.gastronomie, @commercio.arthouse
This content is proposed to you in collaboration with our partner BE WTR, the next generation of water solutions for the home, the restaurant, or the bar.
BE WTR is an all-in one appliance that you simply connect to your water circuit. It takes care of filtration as well as cooling and adding bubbles to your tap water if desired.
There are different types of systems depending on private or commercial use. Be it for a single household, family, office, or gastronomy, BE WTR offers an adequate solution.
The newest release, BE WTR AQTiV, is a Swiss patented technology, that actives tap water as in natural springs.
For more information: www.bewtr.com, @be_wtr, @bewtrsa