The French group Etam is expanding its presence in Switzerland with a new boutique. On December 9, 2021 the flagship store at Confédération Centre in Geneva was inaugurated.
The boutique in Geneva is a strong sign! In a time, when retail is severely impacted by the COVID pandemic, inaugurating a new flagship just before Christmas says: we have thrown our anchor and we are here to stay!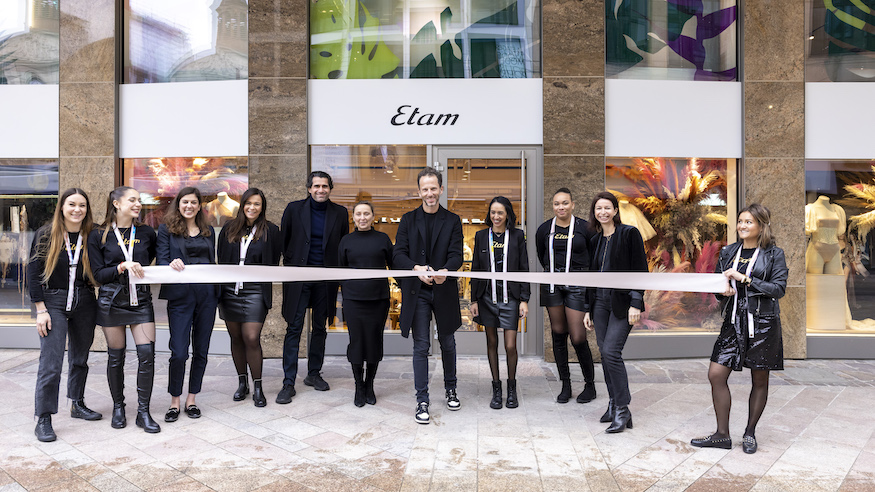 Currently, there are 13 stores in French speaking Switzerland, and Etam is definitely flirting with the idea to conquer the German-speaking part as well, Zurich to start with. In its efforts of expansion on Helvetic ground, the group has acquired the stores from Naf Naf. By converting the existing infrastructure to Etam, many jobs will be preserved.
Etam does not fear competition from online sales and plans to open 20 lingerie stores across the country. In fact, Patricia Tranvouëz, CEO of Etam since 2019, and Laurent Milchior, President of the Etam group, firmly believe that physical stores are essential relays for online sales. This type of phygital strategy is the future for many retailers, and Etam is no exception.
If you ever shopped lingerie, for yourself or a friend, you will know just how important it is to try it on. Yes, the web provides inspiration and shoppers stroll through the pages in search of THAT particular piece, but when it comes to fit, digital just will not do. Buying undergarments is something very personal and intimate, and it really is best to go to the store and have an advisor help you find the right size and shape for your body.
What is Etam's secret? Well, the collections are attractive, the shows opulent, and the prizes affordable. Attention, Aubade and Beldona, a new player is coming to town!
Kudos for commitment on sustainable developments: the brand aims to reach carbon neutrality in 2030 and over 50% of their products are made from recycled or natural materials. You can also return your used bra, which Etam collects and gives to various associations, in so far as still usable.
As part of its "We Care" CSR program, Etam is embracing a new initiative on the subject of the lifecycle of fashion items. In Spring 2021, it started collecting bras from customers who returned them to the store. These items then experience a second life: they will either benefit women in difficulty or enter a recycling circuit.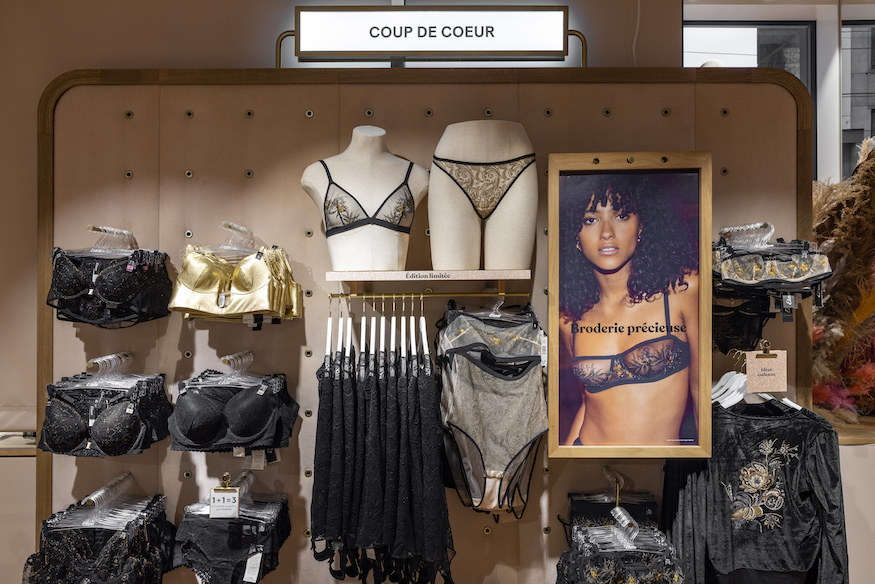 About Etam
Etam is the number one French lingerie brand and has almost 900 stores in over 50 countries (420 of them in France). The traditional brand was founded in 1916 and is still run as a family business. Etam is the story of a sensual and self-assured femininity that has inspired the brand for more than a century. Today, the brand relies on lingerie and the French Liberté state of mind to gain a foothold in all its markets. Below some impressions from the opening event in Geneva.
Photos: EGGevents/XavierFerrand