OPI Repair Mode: Tested and Reviewed by Swiss Influencers – OPI Nail Care Giveaway in the value of CHF 185
When OPI Switzerland launched the new and revolutionary nail serum Repair Mode earlier this year, we invited Swiss influencers to put the serum to the test. The feedback we received was unanimous: it is a truly cool product!
All five of our invited creators confirmed: After applying OPI Repair Mode as prescribed, formerly damaged nails really do transform and become healthy, strong, and beautiful again.
You can find more details by scrolling down. All have created Reels to document their personal experience with the product.
What is more: now YOU can try the new OPI Repair Mode as well! We are giving away a nail care set from OPI Switzerland worth CHF 185, including all the products you see here in the picture from @ermel.nda. Subscribe to the giveaway below!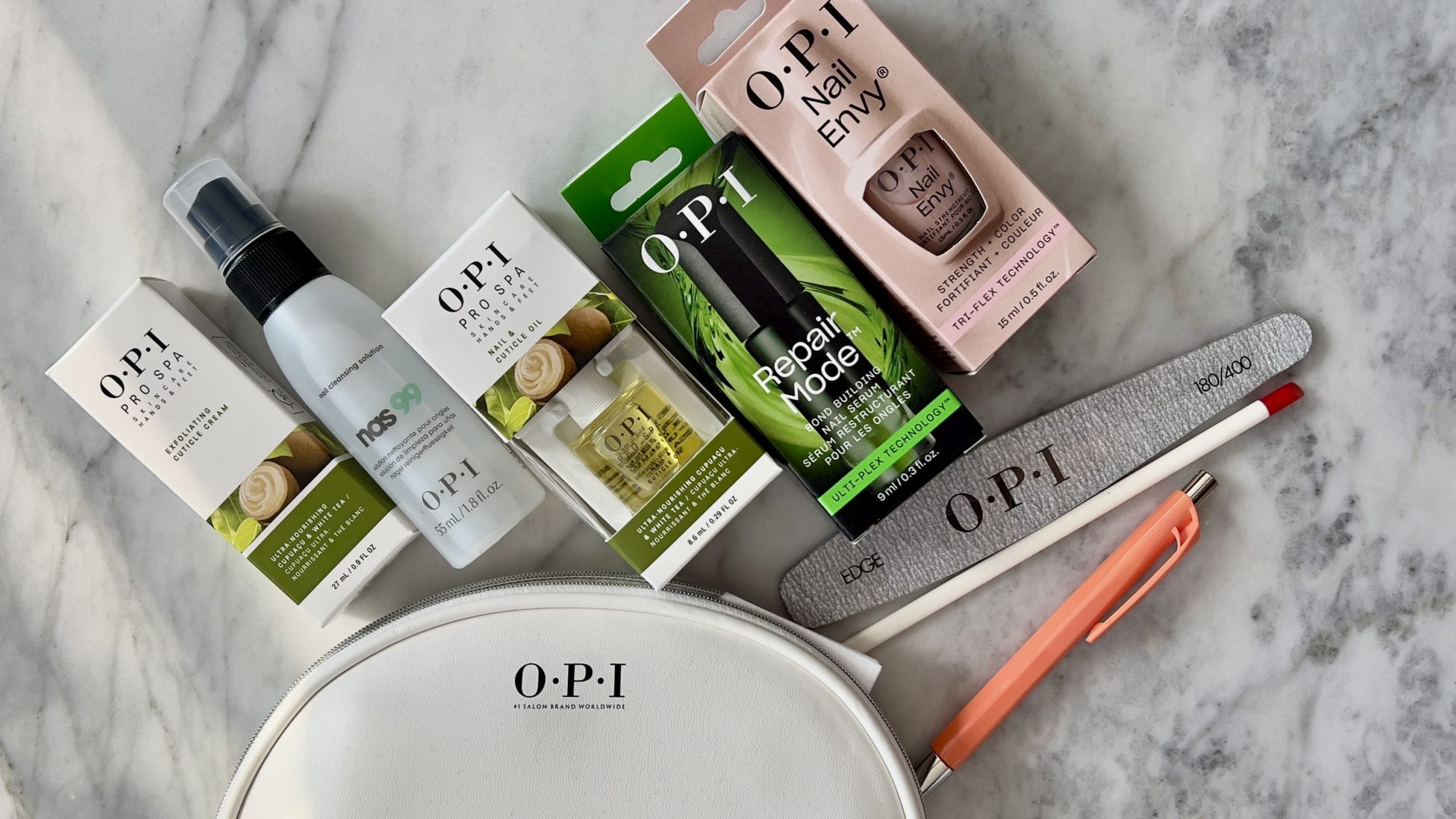 Thank you so much for your interest in OPI Repair Mode. If you would like to test the novelty and have an address in Switzerland, drop your eMail here below until 30.10.23, and subscribe to the giveaway. Maybe you will be the lucky winner!

To double your chance to win: follow Coolbrandz and OPI Switzerland on Instagram, and share the giveaway in your stories with the tag @coolbrandz and @opi_swiss so we don't miss any of your communications.
The giveaway runs until 30.10.23 across all our digital channels. Each participation in every channel counts and increases your chance to win. On 31.10.23, the winner of this gift will be determined by lucky draw. Good Luck!
OPI Repair Mode: How it works
Repair Mode is a concentrated, deeply penetrating nail serum to repair and strengthen nails from the inside, unlike products on the market to date. The groundbreaking innovation comes from the patented Ulti‐Plex Technology which, when used as directed twice a day for 6 days, provides the following results:
• 99% nail keratin repair
• 94% protection of keratin protein from damage
• 4x stronger nails thanks to bond‐building inside the nails
Unisex: Repair Mode is a unisex product for everyone. Unlike existing products, it leaves no visible layer of lacquer or shine as it is absorbed by the nail. However, damaged, weakened nails are restructured and unevenness is smoothed out.
Repair Mode is vegan and does not contain animal‐derived ingredients or by‐products. The serum was developed by nail scientists and has been clinically tested.
Read more about OPI Repair Mode here >>> OPI Repair Mode: Tested by Dr. Veronica Kiriak
Veronica has just recently received the Swiss Influencer Award in the category Newcomer. She is a model, actress, blogger, presenter, but above all she is a medical doctor. Specialised in aesthetic medicine and therefore well-versed in the field of health and beauty, Veronica also champions plant-based nutrition. The perfect candidate to test the new vegan OPI Repair Mode nail serum!
Repair Mode with patented Ulti‐Plex Technology is the first bond‐building nail serum of its kind. Moving beyond temporary surface‐level strengthening, it penetrates and absorbs into the nail.
That makes it very different to other nail strengthening products that typically work by reinforcing the nail with polymer film formers. Although they are creating a protective coating over the top of the nail, the strengthening effects are removed as soon as the product is removed.
Repair Mode is revolutionary in so far as that it penetrates into the nail, building bonds within the damaged keratin to restore and protect. The patented Ulti‐Plex Technology biomimics the protein structure of the natural nail thus repairing it from within. Nails become healthy, naturally strong and smooth.
OPI Repair Mode is a fantastic product to protect nails from everyday damage. Watch how to apply OPI Repair Mode in this Reel >>>
View this post on Instagram
OPI Repair Mode: Unisex, colorless, no shine
Nail damage is a problem men encounter, too! Therefor, we asked Michael, alias @scooby75, to test the product for us.
Michael is a Swiss Model, Content Creator, and also an entrepreneur with his own beauty studio and shop. On Instagram, he loves to slip into a superhero costume every now and then, and we thought, if OPI Repair Mode really has the superpower to transform damaged nails from within, who better to test that than Michael?
"Nail damage happens through daily activities like washing our hands, cleaning, and showering, which break down keratin bonds. Treating nail damage is one of the biggest consumer needs with the lowest product satisfaction. Our goal was to revolutionise nail care for weak and damaged nails and to combat everyday damage, by developing a technology that could repair broken bonds from inside the nail." explains Sarah Fairneny, Vice President, OPI Research & Development.
Repair Mode repairs and protects nails against breaking, chipping, and splitting – for beautiful, strong natural nails. Sounds like a job for a superhero? Watch >>>
View this post on Instagram
OPI Repair Mode: One nail serum for the whole family
Damaged, brittle, and sensitive nails is also something children and teens can experience. Frequent contact with water and soaps can be one of the causes.
OPI Repair Mode nail serum was developed by nail scientists. It is scientifically and clinically tested, and safe for everyone to use. Adults, teens, and kids… if applied as described, it repairs and strengthens nails from within, in just a matter of days.
We asked Patricia to test the new breakthrough Repair Mode with members of her family. As a mother of three, this Switzerland based Creator knows about damaged nails all too well.
After a long summer holiday, everyone in the family could benefit from  this special treatment to remedy the effects of beach, sun, and sea on their nails!
Said and done! Patricia captured the routine and her experience in a Reel for you. Click through and view >>>
View this post on Instagram
Cuticle care and nail repair with OPI
When Swiss beauty blogger Ermelinda came back from vacation, not only her nails were damaged, but also her cuticles. So we recommended to remedy at that before starting the nail treatment with OPI Repair Mode.
"One week of cuticle care and nourishment with OPI PRO SPA Exfoliating Cuticle Cream and Nail and Cuticle Oil showed remarkable results", Ermelinda was happy to report!
And that is a pro tip for everyone out there with the same kind of challenge: please, never tear or cut cuticles! Always gently push them back with the cuticle stick, exfoliate and then nourish with cuticle oil.
Once the cuticles were taken care of, Ermelinda then started to apply OPI Repair Mode to her damaged nails: as directed twice a day for 6 days. Everything the product promises was right! Within days, her nails visibly transformed. They became stronger, overall healthy looking, and naturally beautiful.
If you would like to see the result, click through to her Insta @ermel.nda, and watch this Reel >>>
View this post on Instagram
A Powerful Duo: OPI Repair Mode and Nail Envy
Repair Mode is applied directly onto the natural nail, is absorbed by it and repairs it from the inside.
Depending on personal needs and preferences – with or without couloured lacquer or gel – there are various application options for Repair Mode. All options and steps are described in great detail in this Application Guide >>>
For the launch of Repair Mode, OPI's popular best‐selling nail strengthener line Nail Envy also received a major upgrade with an optimised, vegan formula featuring Tri‐Flex Technology. The exclusive proprietary polymer coats the nail surface creating a liquid shield that reinforces the nail with layer‐building strength.
There are also new colours in the range: from red to various nude colours, blue, white, and transparent, of course. All formulated with biotin, vitamins A, C, E, and calcium to nourish nails.
Swiss lifestyle blogger Priscilla tested OPI Repair Mode in combination with the new Nail Envy for us. You can see the step-by-step application and results in this Reel >>>
View this post on Instagram
We hope you enjoyed reading this article and watching our Swiss influencer testimonials. If nail damage is a problem you or someone you know encounters, we recommend to try this product. It is a great gift for yourself or a loved one.
And if you are participating in our giveaway: Good luck, everyone!
OPI Repair Mode and the new Nail Envy are available in Switzerland at: www.opiswiss.ch
OPI Switzerland online: Instagram, Facebook, #OPISwitzerland, #OPIRepairMode