This "Pork Rolled Rice" can be a nibble for any party. Whenever I attend a party, I'm already very hungry, it's always too long and requires a lot of patience to wait for the main meal! But I don't want to fill myself up with crisps. I like to have something nice before the main dish. Maybe, you feel like me? Therefore, I thought I share this really easy to make recipe for nibbles with you.
Rice is often served as a final course in Japan, to fill any spaces left! But what I have prepared for you comes in small, bite-sized portions and is eaten before the meal. It is a simple yet tasty aperitif and I believe it helps to keep your fingers from those fatty, salty crisps and peanuts! It's easy to prepare in advance, and also to take with you to a party.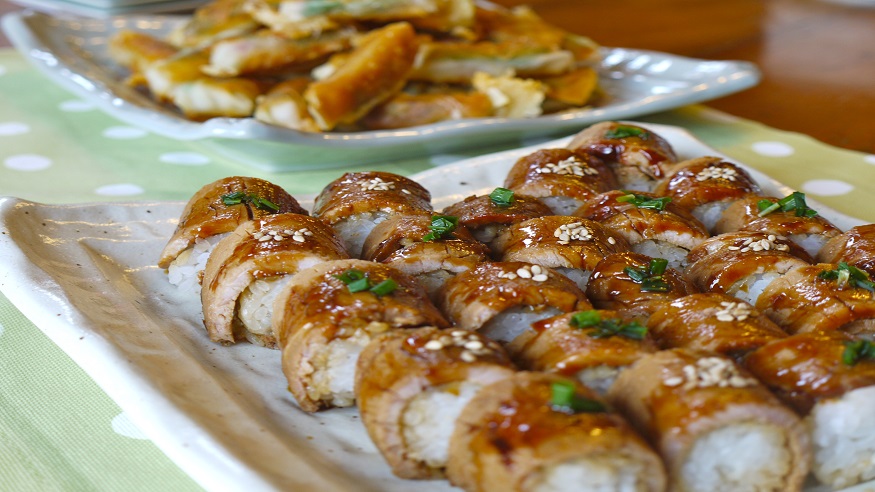 For this recipe I recommend that you cook 660 grams of rice (300g Japanese uncooked rice) because it is the easiest minimum portion to cook. You may not need it all. Adjust the rice portion to your taste. And here it goes:
Ingredients (for 8 rolls / 48-64 pieces)
300g thin (1mm) sliced pork (or 16 thin slices)
3 tbsp soy sauce
3 tbsp mirin (Japanese sweet cooking sake)
1 tbsp sake (Japanese rice wine)
1/2 tsp ginger juice
1 tsp liquid honey
660g Japanese cooked rice (cook 300g uncooked Japanese rice)
Sesame seed for finishing touch
Instructions
Step 1: Sauce; mix soy sauce, mirin, sake, ginger juice and honey in a small pan. Marinate the meat with 1/3 of this sauce. Heat the 2/3 of sauce on a medium heat until it boils. Continue until the sauce became a little bit thicker. Set aside.
Step 2: Heat a frying pan on medium heat and add a little cooking oil. Sauté the meat slices one by one. Try to sauté them as flat as possible. Set aside.
Step 3: Cover a sushi mat with cling film, then put the two slices of the cooked pork on it side by side. Put the rice (60-80g, depending on how big you want it to be) on the middle of pork. Then roll the meat with the rice in the middle, like sushi but with the thinly sliced pork on the outside instead of seaweed.
Step 4: Cut the roll into slices. Brush with the sticky sauce, and sprinkle with sesame.
Step 5: Enjoy!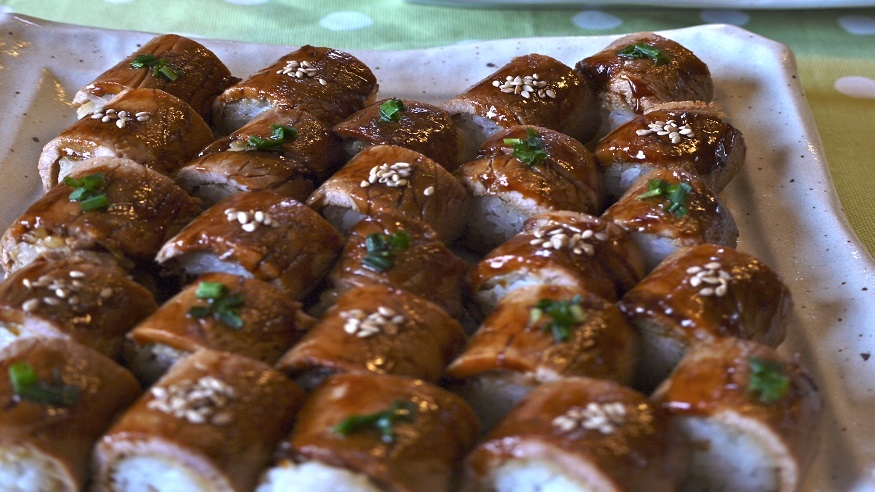 Drinks Pairing with this Dish
The perfect beverage to go with this meal, is a nice, slightly sweet, slightly sparkling citrus flavoured drink. We recommend the Mikan Sparkling Sodas from Kimino, a small collaborative of family farmers and craft drinks producers in Japan.
Kimino Sparkling Mikan Juice is made with hand-picked Mikan (called Unshu Mikan, similar to tangerine oranges) in the Wakayama prefecture on Shikoku Island and pressed with Hyogo mountain water and organic sugar cane.
Unshu Mikan are semi-seedless, easy-peeling citrus fruit of Chinese origin, but introduced to the West via Japan. Mikan grow well in warm weather and because they soak up a lot of sun while growing, the fruit are very sweet and flavour-rich.
Kimino Mikan Sparkling Juice contains 44% of juice, 0% fat, 0% cholesterol, 0% sodium, 0% protein, and 0% carbohydrates, 2% potassium and only very little added sugar from organic sugar cane. 55 calories per serving of 250 ml.
Kimino Mikan Sparkling Water contains 18% of juice, 2% carbohydrates, 1.1% potassium, 0.5% calcium and 0% added sugar, 0% fat, 0% cholesterol, 0% sodium and 0% protein. 18 calories per serving of 250 ml.
Andreas Lugmayr is not only a seasoned barman and events organiser, he is also the exclusive Distributor for Kimino Sparkling Drinks in Austria. Initially thought as fillers for his select spirits, he started to import Kimino Sparkling Yuzu and Ume in 2020. Both were welcomed with enthusiasm by professional bar and restaurant owners as well as consumers.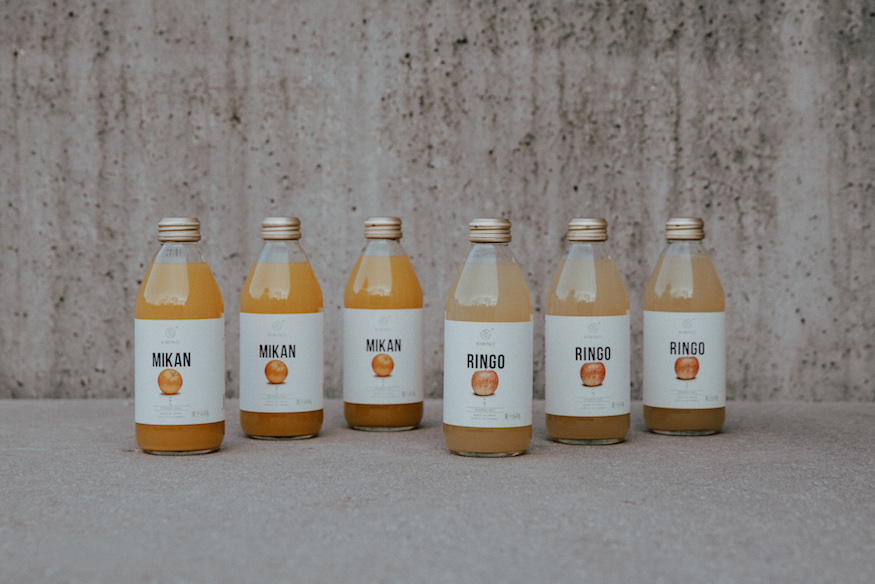 Hence the decision to enlarge the portfolio by two more flavours: Ringo and Mikan, as well as the whole range of sugar-free sparkling waters in their slick cans. Contact and orders via: www.andreaslugmayr.at