"We roamed the fields and river sides, When we are young and gay; We chased the bees and plucked the flowers, In the merry, merry month of May." – Stephen Foster
May, commonly referred to as the month of merriment, was rather busy for us. With most Corona measures being lifted almost everywhere, events start to take place again. We receive invitations to travel, explore and dine, and also organise our own events. Besides that, we met many cool people from near and far this month, teamed up with some new partners, and moved ahead with some developments.
Below the chronology of our May highlights. Enjoy scrolling through!
May, 1st: VeggieWorld Berlin
We prepared this event in April already, partly in order to help some Ukrainian brands connect with their audiences in Germany, partly to promote our partners.
VeggieWorld is a series of events that take place in different cities in Germany, but also Switzerland, France, and more and more locations across Europe. Here, everything is about vegan lifestyle. And, as we had previously connected with Ukrainian producers of bean-to-bar, vegan chocolate and other vegan products, we thought it would be a good occasion to feature them in Berlin.
It wasn't an easy task to get products to Germany. The logistics are challenging because of the war that Russia is waging upon Ukraine. In the end, however, we managed to have everything in time for the event. And not only that! We also got to meet some of our new friends in person: Konstantin and Alexandra from Aumi joined us in Berlin, so did the German representatives of Healthy Choice, and Diana Soroka, a very talented photographer from Ukraine we knew through Instagram.
So, together with Mario from Bambam Barware, we were a mixed team at the Coolbrandz Stand representing Austria, Germany, Switzerland, Ukraine… and Ibiza!
A big thank you again to the organisers from VeggieWorld for supporting us, as well as our partners Paido Soda, La Paille Verte, LAW Gin, and Vodka4Peace for helping us with the stand, all the brands from Ukraine who were part of this adventure: Aumi, Healthy Choice, Rawcat, Sister A. Chocolate, and Diana for the lovely pictures!
May, 5th: Cinco de Mayo
Every year, on the 5th day in May, Mexico is celebrating its liberation from French occupation. The conflict began in 1861 and ended with Mexico's victory in the Battle of Puebla on May 5, 1862.
Cinco de Mayo commemorates this historic date by celebrating Mexican culture, pride and values. Of course, there is more to Mexican heritage than nachos, tacos, beer, mariachi bands, mezcal and margaritas, but let's be honest: those are the perks we get to enjoy today thanks to those people of Puebla who defended their homeland so heroically at the time.
Since then, the celebration gradually grew into a festival for Mexican heritage and culture. It really took off in the 70s when Mexican restaurants started to rise in popularity and brewing companies started to cash in on the concept. By the 90s, Cinco de Mayo was largely associated with a day to consume beer, tequila and Mexican food.
However, in response to the consumerism surrounding Cinco de Mayo and the commercialisation of Latino culture, efforts are being made in recent years to bring the historic events that are at the origin of the celebrations back into the center of attention by re-enactments of the Battle of Puebla, parades, folkloric dancing, colourful costumes and fireworks.
We celebrate Cinco de Mayo because Mexico is part of our own story, and so, as every year, we add tequila cocktails to our Mexican feast!
May, 8th: Mother's Day
This year, we were looking for an original idea for Mother's Day, something that is more than just flowers and chocolate.
And we remembered this fantastic immersive experience we had with Ruinart: basically a combination of flower workshop and champagne tasting. It was meant to awaken all the senses and at the same time teach us about how each champagne's bouquet is shaped by the environment. Flowers, fruit, herbs, soil… all these elements in the vicinity of where the grapes grow have an impact on the taste of champagne, itself an expression of the terroir.
We got to compose our own bouquets of flowers using empty champagne crates and wooden boxes. Great upcycling idea, that made the whole experience not only enjoyable but also environment friendly, one of the key values of Maison Ruinart.
So here is an idea to surprise your mum with a lovely gift: either make a bouquet and present it in a original way together with her favourite champagne, or see if there is not a flower shop close to you that offers a similar experience. After all, the gift your mum will probably most enjoy is spending quality time with YOU!
May, 14th: Final Eurovision Song Contest
Now that was something this year! Fan of Eurovision or not, you just had to watch! This edition was highly significant. Russia's war on Ukraine evoked an unprecedented wave of solidarity, even among contestants and Ukraine's entry, Kalush Orchestra, was the favourite of many.
The performance by Kalush Orchestra was THE emotional highlight in Turin. The band around lead singer Oleh Psiuk won the contest with a staggering 619 points!
The winning song "Stefania" is dedicated to the frontman's mother. He thanks her for always trusting him and for not waking him up when storms were raging outside. Many see the song as an anthem for Ukraine, and the band Kalush Orchestra as an ambassador for an entire country.
The day after the final show in Turin, the band released an official music video for the winning song "Stefania" on their YouTube channel. Staged images show mothers in military uniform carrying their children through the ruins of war in Ukraine. It shows tears and defiance, strong women. Even if the song wasn't originally intended that way, he wants it to become the "hymn of our victory," says Oleh, who was a star in his country long before ESC, recognisable by his trademark fashion item: the pink bucket hat.
Rewatch Kalush Orchestra's highly emotional performance at the ESC Final in Turin below; and the band's video here >>>
May, 15th: Opening Ukrainian Popup Store
Ever since February 24th, we were looking for ways to help Ukrainians abroad and in Ukraine.
That is how, via Instagram, we connected with Julia from Foodmate.Kyiv. She organised a Ukrainian popup store in the newly opened Wunderlocke Hotel in Munich. Here, not only food brands were present but also fashion, ceramics, candles…
However, we managed to organise a corner for our friends from Aumi there as well.
The next Ukrainian popup store is planned 6th – 7th August in London, again at a Locke Hotel. All the info here >>>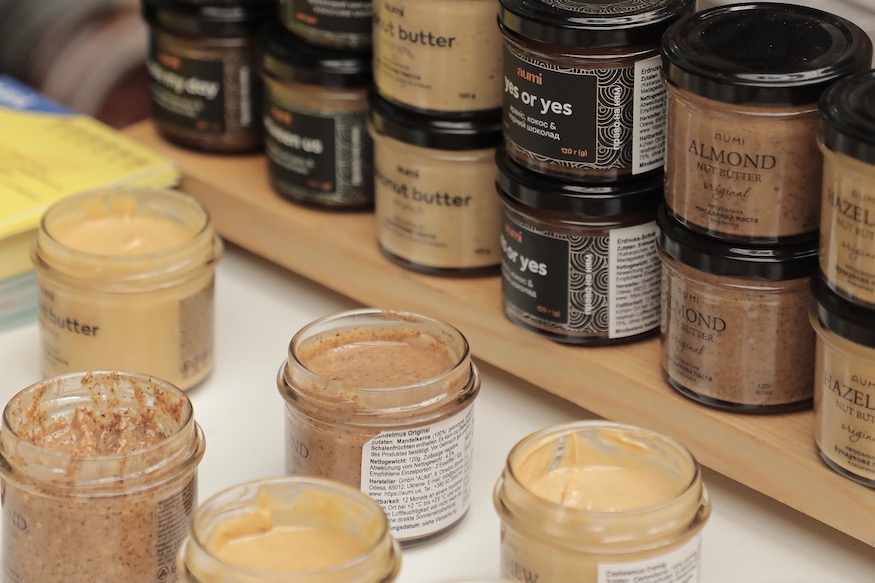 May, 20th: World Bee Day
Every year, since 2017, the 20th May is dedicated to raising awareness for bees worldwide.
On this day in 1734, Anton Janša, the pioneer of beekeeping, was born. To honour him, and to acknowledge the role of bees as pollinators for the ecosystem, Slovenia proposed to proclaim the 20th May as World Bee Day, a proposal that was approved by the UN Member States.
The history of beekeeping is inextricably linked to Slovenia and its agricultural industry. Janez Vajkard Valvazor already mentioned beehives in the form of houses and the people who took care of their tiny inhabitants in his book "The Glory of the Duchy of Carniola".
In the 18th century, significant progress in the field of beekeeping was made by Peter Pavel Glavar. He described the method of beekeeping in Slovenia and introduced some important technical innovations, such as the method of breeding queens, breeding queens outside a hive and transporting bees to pasture.
The most outstanding figure of Slovenian beekeeping is Anton Janša, the first beekeeping teacher at the Viennese imperial court, who in the 18th century completely revised the hitherto beekeeping methods based on his findings and laid the foundations of modern beekeeping. Reed more here >>>
The most outstanding figure of Slovenian beekeeping is Anton Janša, the first beekeeping teacher at the Viennese imperial court, who in the 18th century completely revised the hitherto beekeeping methods based on his findings and laid the foundations of modern beekeeping. Janša was the first beekeeping teacher in the court of the Habsburg Empress Maria Theresa. By introducing beekeeping methods that were successfully used by Carniolan beekeepers, he caused a real revolution in the beekeeping of the time.
This year, we revisited Joanna Buchanan's sweet bee collection for the occasion.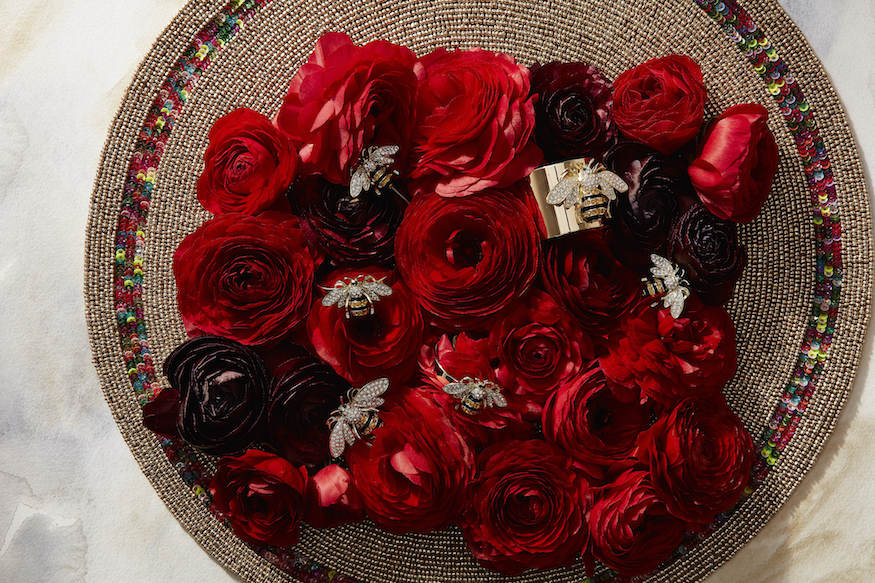 May, 26th: Dinner at Sky Lounge
Picture this: summer evening, your love or bestie, sunset, cocktails, then dinner… Oh, oui! It's what we got to experience – and not for the first time!
Sky Lounge is the name of the rooftop terrace at 5-star Hotel Royal Savoy in Lausanne. It is just such a lovely spot! Particularly at the Golden Hour, for an afterwork or aperitif. The 360° views over Lausanne are stunning. The sun reflects off Lake Geneva and procures that special light. To sit there, deep in conversation over cocktails or champagne, and watch the sun set on the horizon… priceless!
It's very elegant and romantic, too. So if you want to make it a date night, there is no better place!
The food concept is "Sunny dishes to share" and comprises a selection of small plates with all sorts of tapas, appetisers, and bar food, so you can share and try different things. On the menu, you will find Iberian meats, cheeses, grilled vegetables and fruit. The cocktail selection pairs fabulously with the food!
We took Burratina from Puglia, Cod croquetas, Focaccia toast with roasted vegetables, and Fraise Melba for dessert. The whole accompanied by two signature cocktails: "Botanist Experience" which is a purple eye catcher, and "Basil Instinct" which will have everyone who didn't order it green with envy. See the full menu here >>>
May, 28th: Collabalchemy Popup
Another highlight in May was this day! Ana from Bombom Bijoux has put together an initiative called Collabalchemy. It is basically a loose regroupment of small, artisanal brands to conjointly organise events and popup stores.
It is fantastic to finally be able to get out there again, create something, and meet people in real life. Not just for selling, but simply networking and socialising. We all missed it so much.
Collabalchemy is a series of events and you can check here to know the agenda, or to apply if you are a producer of craft products.
The first event counted brands like  Bijoux Onatura, Casaluna Boutique, Lanxel Candle Studio, Nakimi, Tasheedo among the vendors; and of course Ana with her own brand Bombom Bijoux.
At the same occasion, we met Vlada and Irina. both professional models from Ukraine. They have now moved to Ticino in Switzerland and offer their services of modelling and content production under their entity @liberta21__. It was a pleasure working with them for our first photoshoot!
May, 29th: Kyiv Day
Every year, on the last Sunday in May, citizens of Kyiv celebrate the anniversary of their city. The Day of Kyiv commemorates the foundation of the Ukrainian capital.
First observed in May 1982, which marked the celebration of the 1500th anniversary of Kyiv, this year, what normally is an annual highlight for residents and tourists with food stalls, performances and fireworks, was overshadowed by Russia's war on Ukraine.
All the more reason to integrate the event in our May review and to remember how beautiful Kyiv is.